The Go-Go's Farewell Tour (Broward Center- Fort Lauderdale, Capitol Theatre- Clearwater)
* The Go-Go's Farewell Tour.
Jeff Eats or for that matter Mrs. Jeff Eats were never big fans…
That said, we just picked up 2-$75 (face) tickets for 40 bucks a piece on goldstar.com for this coming Wednesday Night's show at the Broward Center. Looking forward to seeing if the birds aged more gracefully than Jeff Eats and Mrs. Jeff Eats have!
If Broward doesn't work for you guys, The Go-Go's Farewell Tour plays-the Capitol Theatre in Clearwater tomorrow night Tuesday, August 2nd at 8pm. You can catch tickets at gogos.com and rutheckerdhall.com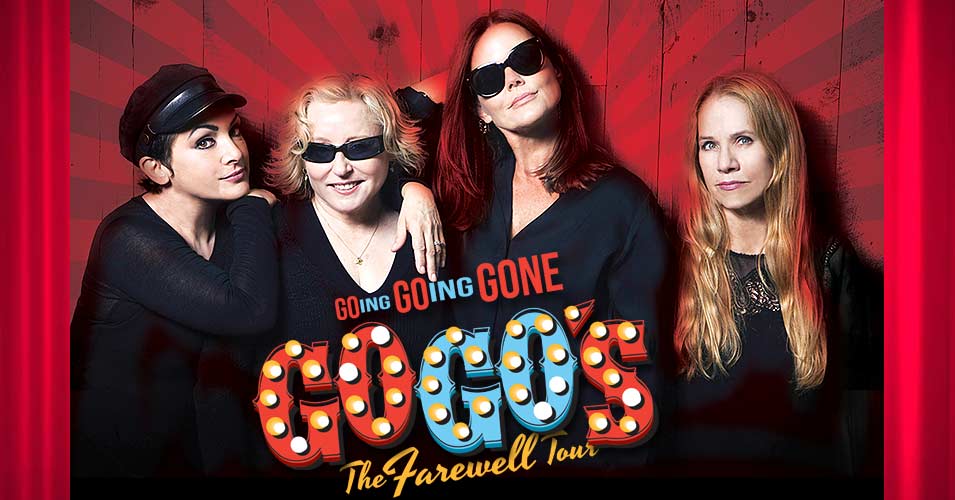 from goldstar.com
The Go-Go's Farewell Tour
$25.50 – $37.50
$40.00 – $75.00
Broward Center – Au-Rene Theater
Fort Lauderdale, FL
From their halcyon days as America's sweethearts to their superstardom as pop and punk rock pioneers, The Go-Go's have cemented their place as one of the top female rock acts of all time. Their debut album Beauty and the Beat reached No. 1 on the Billboard 200 chart, remaining there for six consecutive weeks. You can see The Go-Go's Farewell Tour in concert at Browsrd Center's Au-Rene Theater in Fort Lauderdale, where they continue to bring their raw energy to hit songs like "Vacation," "We Got the Beat," "Head Over Heels" and "Our Lips Are Sealed.
Wednesday August 3, 2016 / 8:00pm
$25.50 – $37.50 $40.00 – $75.00
Broward Center – Au-Rene Theater
201 SW Fifth Avenue
Fort Lauderdale, FL 33312
954-462-0222
______
from rutheckerdhall.com

The multi-platinum rock group The Go-Go's will embark on their farewell tour this summer to commemorate a groundbreaking 38 years in the music industry. The tour kicks off at the Capitol Theatre on Tuesday, August 2 and features members Charlotte Caffey, Belinda Carlisle, Gina Schock and Jane Wiedlin performing their timeless catalog. Special guest singer-songwriter Kaya Stewart will open the show.
"After a 38-year run, we are gearing up for one last blast of a summer tour," says the band about the farewell trek. "We feel so lucky and so grateful to have had the incredible support of our fans for so long. We can't wait to get out on the road and give the people what they want: some loud fast music and a great party!"
Tickets are $121.25, $86.25 & $71.25. Performance is at the Capitol Theatre, 405 Cleveland St, Downtown Clearwater.