Mad Minis Ice Cream Sandwiches (Whole Foods, BJ's)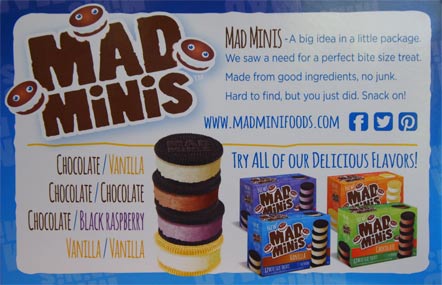 ***** Mad Minis Ice Cream Sandwiches.
Real simple tale to tell you guys…
Last Sunday- Jeff Eats and Mrs. Jeff Eats' niece Gabin had a birthday party for her 6 year old son/our great nephew Asher- and these Mad Minis Ice Cream Sandwiches were one of the desserts (or for you guys out there who don't know how to spell- deserts) served!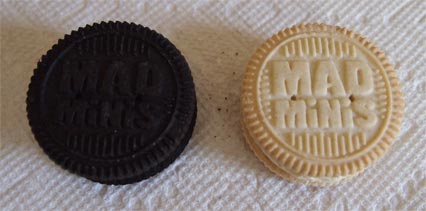 Long story short, absolute dynamite dessert! Sort of like The Three Bears' situation…not too big, not too small, but just right! Of course, Great Uncle Jeff Eats tried all 4- flavors and then re-checked the chocolate/chocolate… I'm thinking you guys get the jist of the story!
Did some checking (madminifoods.com)- and these bite sized ice cream sandwiches are currently available in South Florida- at Whole Foods Market and BJ's – with a 12-pack fetching $2.50 give or take a few cents!