Comedian Kevin Farley (Boca Black Box- Boca Raton)
* Comedian Kevin Farley.
I know that the face looks familiar- Kevin Farley is the younger brother of the late comic genius Chris Farley!
Jeff Eats and Mrs. Jeff Eats haven't seen Kevin Farley's stand-up act- but we're game!
Look! Just because Jeff Eats' brother is a top-notch internist, doesn't mean that Jeff Eats who graduated from Brooklyn Law School in 1973 is also a top-notch internist! Now- no ifs, ands or buts that I do some real nice heart bypass surgery- but I'm real weak diagnosing the common cold! I think you guys get the point!
Like I just said, Jeff Eats and Mrs. Jeff Eats are game- we just picked-up two tickets for this coming Saturday Night's show!
The bet here is that Farley's show will be absolutely hilarious- we'll see!
The Skinny:
Kevin Farley
Friday, July 8th & Saturday, July 9th (8pm)
Boca Black Box
8221 Glades Road #10
Boca Raton,FL 33434
Box Office: (561) 483-9036
Tickets: bocablackbox.com goldstar.com (discount tickets)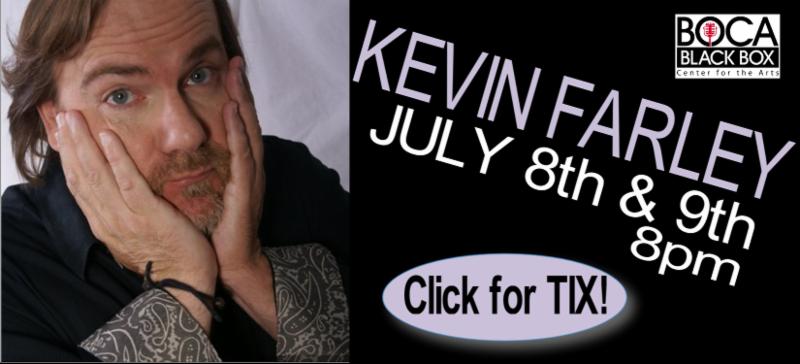 from bocablackbox.com
Kevin Farley is an actor, production designer, singer, dancer, occasional composer and stand-up comic! Farley appeared in numerous TV series programs such as That '70s Show, 3rd Rock from the Sun, Joey, Just Shoot Me, Curb Your Enthusiasm and many more. Multi-tasking is easy for Farley – he does it all with a fabulously contagious sense of humor, both on screen and off. Book your seats while you can, he will only be here at 'The Box' for two days! Get Tickets