Dairy Queen's Funnel Cake a la Mode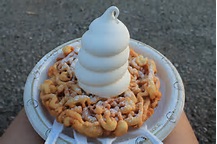 ***** Dairy Queen's Funnel Cake a la Mode.
Simple tale to tell, about an hour ago Jeff Eats stopped by the Dairy Queen located at 2901 North Federal Highway, Pomapno Beach 33064, (954) 943-8390 to treat myself to a Blizzard- and low and behold- I discovered that last month Dairy Queen added a- $4.29 piping hot freshly made funnel cake topped with soft serve to its menu!
Anyway,
I passed on the Blizzard and got me-one of those Funnel Cake a la Mode "things"- and now I'm telling you guys that you gotta try this "thing"- off the chart delicious!
You can check – Dairy Queen locations at DairyQueencom.
By the way, the Dairy Queen I went to – is open Sunday-Thursday, 11am-10:30pm and Friday-Saturday 11am-11pm.
Printed down below is the 5/31/16 press release that "announced" the Funnel Cake a la Mode's arrival that Jeff Eats totally missed at the time.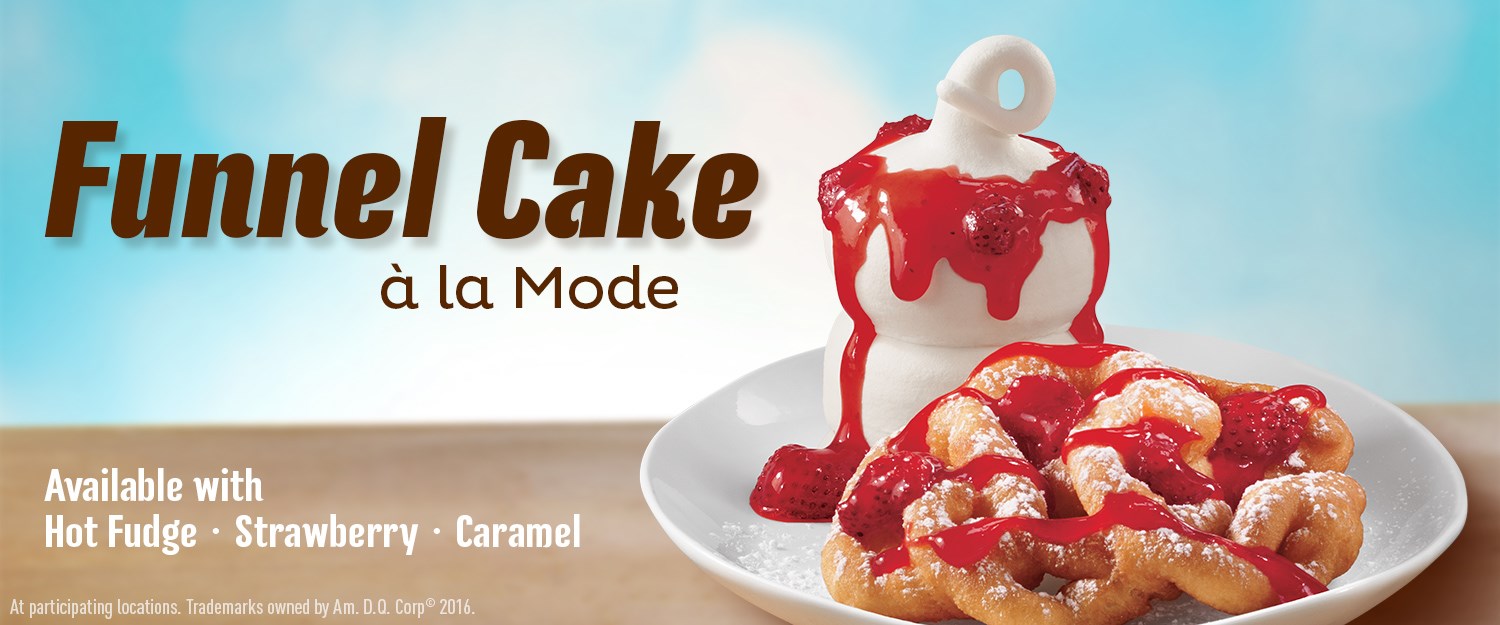 May 31, 2016 11:10 AM Eastern Daylight Time
MINNEAPOLIS–(BUSINESS WIRE)–Funnel cake has gone mainstream. Rather than waiting for that day at the ballpark, carnival or state fair, fans of funnel cake will find a new novel treat throughout the Dairy Queen® system beginning today at participating DQ® and DQ Grill & Chill® locations.
The DQ BAKES! new Funnel Cake á la Mode with famous soft serve & your choice of topping is now available
Tweet this
To kick off the unofficial start to summer, the Berkshire Hathaway (NYSE: BRK.A and BRK.B) company is serving up the next big mashup that delivers the fun of the fair and a uniquely DQ® twist with the debut of Funnel Cake a la Mode, which will delight fans year-round as a permanent addition to the menu.
Funnel Cake a la Mode is the newest hot-from-the-oven dessert on the DQ Bakes!® menu. Funnel Cake a la Mode begins with a hot, crispy, golden brown funnel cake that's dusted with powdered sugar and served with a side of cold, creamy signature DQ soft serve, all drizzled with a choice of hot fudge, caramel or strawberry topping.
"For dessert lovers looking for the next new and novel treat, we have it with a unique DQ twist," said Barry Westrum, executive vice president of Marketing for American Dairy Queen Corporation (ADQ). "We all love funnel cake, but we may not have had it in a while. For the very first time the DQ system is introducing this beloved treat it to our fans and in a way that only we can offer."
The Funnel Cake a la Mode is the latest innovation to come from the DQ Bakes! Institute, which was established to further inspire, develop and enhance future innovation coming from the DQ kitchen — ultimately, creating new and unique taste experiences fans can't get anywhere else.
In addition to the Funnel Cake a la Mode, fans also will find on the DQ Bakes! menu Artisan-style Sandwiches Chicken Bacon Ranch, Chicken Mozzarella and Turkey BLT; Hot Desserts à la Mode of Triple Chocolate Brownie, Apple Tart and Fudge Stuffed Chocolate Chip Cookie; and Buffalo Chicken, Chicken Bacon BBQ and Chicken Quesadilla Snack Melts.
The featured Blizzard®-of-the-Month in June is the Cotton Candy Blizzard Treat, delectable cotton candy topping and colorful sprinkles blended with DQ's creamy vanilla soft serve to create a sweet and unique treat for fans of all ages craving a taste of childhood. Blizzard Treats are made to order and are offered in four sizes, including the popular Mini.
For more information about the Dairy Queen system, visit DairyQueen.com. Connect with the DQ system on Twitter using #LOVEmyDQ and follow the system at twitter.com/dairyqueen. Visit the DQ Facebook fan page, which has more than 10.2 million friends and become a friend at facebook.com/dairyqueen.