Roar & Pour At The Palm Beach Zoo (West Palm Beach)
* Roar & Pour At The Palm Beach Zoo.
Got something real good for you guys, Rock N Roll-Food & Booze- Lions & Tigers Oh My!
Literally just this minute, Jeff Eats got the below e-mail from one of my favorite tribute bands- Roll The Stones…
This event sounds like it's gonna be an absolutel blast!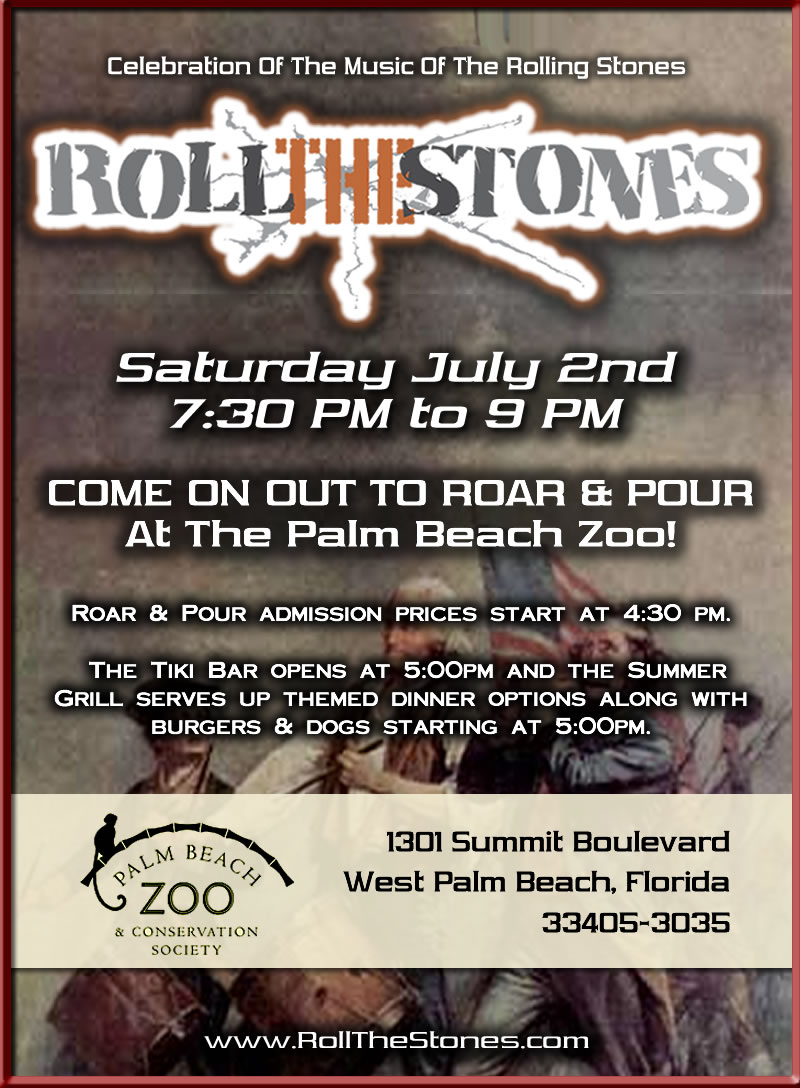 ROLL THE STONES / Roar & Pour
Palm Beach Zoo
1301 Summit Boulevard
West Palm Beach, Florida 33405-3035
Saturday July 2nd 7:30 PM to 9 PM
Experience a flashback to the songs that were… the soundtrack of your lives. Younger listeners appreciate the energy and power of the iconic songs that made the Rolling Stones a lasting force in popular music.
This is a great show based around the hall of fame songwriting team of "The Rolling Stones". NOT a look-a-like band or a Rolling Stones clone. This band are all about putting on a super high energy rock & roll show! Influenced by Blues, R&B, R&R and all great music from the decades., this more than simply a tribute act playing the best of the Rolling Stones' catalogue from the '70s and '80s. Possessing a similar energy to the Rolling Stones' phenomenal live sound, capturing the power and excitement of those now legendary stadium tours with all the big hits and a wide selection of rarities sure to please casual and hard core Stones fans alike
Roar & Pour. Featuring Live Music, Great Food, Drinks and More is back for the summer at the Palm Beach Zoo! All the fun of a party in the Zoo!
Roar & Pour admission prices start at 4:30 pm. The Tiki Bar opens at 5:00pm and the Summer Grill serves up themed dinner options along with burgers & dogs starting at 5:00 pm. The party goes til 9! Look for awesome up-close animal encounters and Zookeeper talks, too.
Check out the featured "Tap Takeovers" from your favorite South Florida breweries!
For more information about The Palm Beach Zoo and the Roar & Pour series- palmbeachzoo.org.
For more information about Roll The Stones- www.rollthestones.com.