Michael "Wheels" Parise (Boca Black Box- Boca Raton)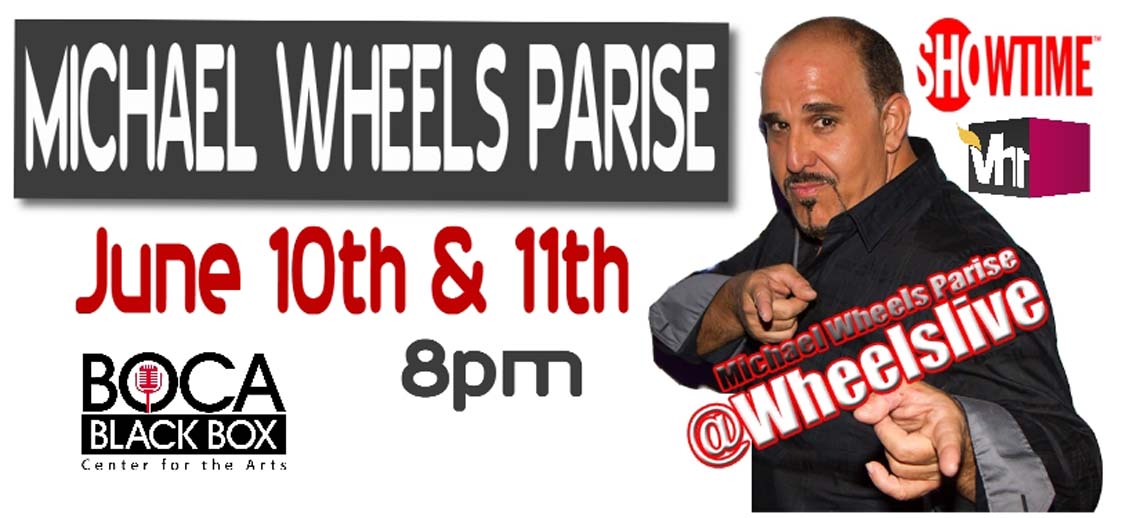 * Michael "Wheels" Parise.
This article first appeared on February 22, 2016. Jeff Eats just checked the Boca Black Box's box-office (bocablackbox.com use Code:DICEMAN and save $5 per ticket)) and goldstar.com (discount tickets) and there are a handful of tickets left for Michael "Wheels" Parises' June 10th & June 11th shows at the Boca Black Box. Trust Jeff Eats when I tell you, you don't want to miss this guy! FUNNY!
Posted February 22, 2016
* Michael "Wheels" Parise.
All I can tell you guys is that- Jeff Eats has seen Michael "Wheels" Parise three times and each and every time the "light blue" national touring headliner comedian had me literally peeing in my pants from laughing! Trust Jeff Eats when I tell you- that Parise puts on a terrific show!
Parise is in for 2-shows Friday, June 10th and Saturday, June 11th at the Boca Black Box in Boca Raton. There is absolutely no question in Jeff Eats' mind that both shows will be SRO! Just between you guys and Jeff Eats, the shows were added yesterday to Boca Black Box's schedule-so if you wanna go, you can play-the early bird and pickup some real nice seats before most people even know that the guy-is coming!
The Skinny:
Michael "Wheels" Parise
Friday, June 10th (8pm) & Saturday, June 11th (8pm)
Boca Black Box
8221 Glades Road #10
Boca Raton,FL 33434
Box Office: (561) 483-9036
Tickets: bocablackbox.com ($20-$35)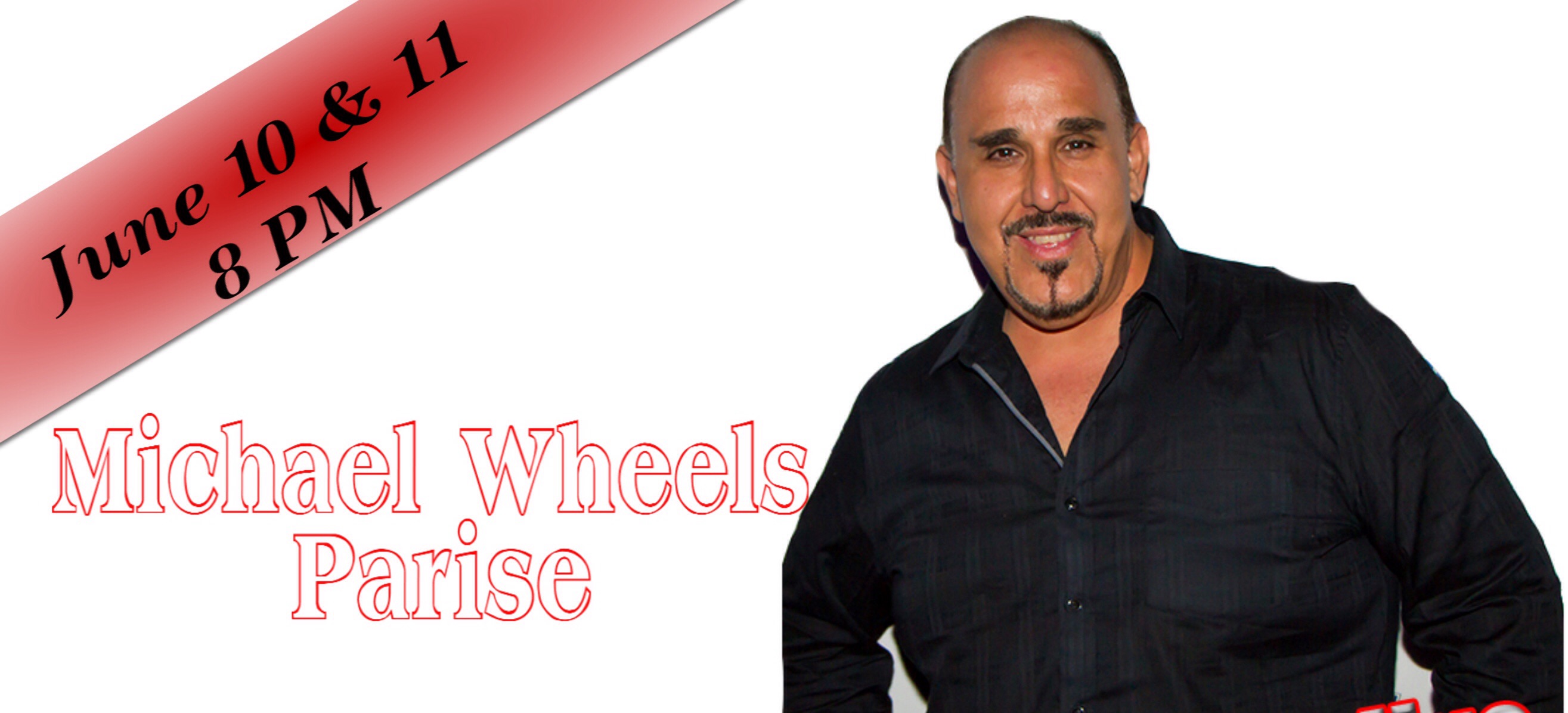 from bocablackbox.com
Stand-up comedy veteran Michael Wheels Parise has been making people laugh now for over 29 years. Once known for being Americas top fat comedians in the 90's, Wheels has decided to go from fat to fit, losing 160 lbs and re-inventing himself.
Michael Wheels Parise has been touring with the most controversial comedian of our time, Andrew Dice Clay, for over 28 years. Starting his colorful career in 1987 in Brooklyn NY. at PIPs Comedy Club, he soon became the club favorite and making it his home. That is where comedian Andrew Dice Clay found him and the rest is comedy history. In 1990 Wheels costarred in the concert film "DICE RULES" where he played Dr. Slaughter. Wheels moved to the West Coast in 1990 and soon became a regular at the Laugh Factory and a favorite at the World Famous Comedy Store where his name is on the Comedy Wall of Fame. Wheels started touring with Dice and opening for him nationally on the arena tour back in 1989. In 1993 Wheels did the "No Apologies" special at Westbury Music Fair which was televised on pay Per View, Wheels ended up with a standing ovation in front to 5000 people that night and that was the night he became a headliner in his own right. Wheels has worked with Rodney Dangerfield in the movie "Meet Wally Sparks", The Movie, "A Low Down Dirty Shame" with Keenan Ivory Wayans, Jada Pinkett Smith, costarred in the movie "Back to Back" with Michael Rooker and Bobcat Goldthwait and was featured in the movie "Chasing Destiny" with Lauren Graham and Christopher Lloyd… and the list goes on. Michael Wheels Parise also costarred as himself on the Reality Show, "Dice Undisputed" on VH1 in 2009. Wheels Parise is not shy when he decides to tell you what's on his mind and he does it with enough grace and poise that you cannot help getting sucked into his comedy mind.
Michael Wheels Parise is one of Las Vegas's top headlining comedians, he spent a one year residence at the Rio Hotel and Casino, his show Wheels Live was written up as the best comedy show in Vegas by the Las Vegas Review Journal. Wheels was the last headliner to perform at the famous Riviera Comedy Club the closing week where he taped his hit CD, "Driving you crazy" produced by Laughing Hyena Productions and is available in stores as well as iTunes. Still working with Andrew Dice Clay in Las Vegas and also headlining the Las Vegas stages on his own, The Laugh Factory in the Tropicana, and The Hard Rock Hotel and Casino are just a few of the places in Las Vegas where you can catch him. Michael Wheels Parise is currently starring in a SHOWTIME Special called Andrew Dice Clay Presents…The Blue Show, airing now. Coming in the spring of 2016 Michael Wheels Parise joins the cast as a Guest Star in the new series, "DICE" airing on SHOWTIME. Dice and Wheels still to this day remain best friends as well as a team on the hit Podcast, "Rollin with Dice and Wheels" which climbed the charts to #1 on iTunes, the show has 46 episodes out and can still be heard on iTunes as well as Rollin with Dice and Wheels official site plus numerous online stations with downloads exceeding 5 million with millions of subscribers. When Wheels is not onstage, you can catch him at the Las Vegas Athletic Club (LVAC) 6 days a week and he can also be seen nationally as a motivational speaker, telling his story of how he lost 150 pounds and is going from fat to fit. For more extensive info… Google him.