Bark at the Park (Mets v. Marlins- Marlins Park- Miami)
* Bark at the Park.
Jiggy Eats is a Red Sox's fan (go figure, the boy was born in Tucson)…
Anyway,
The last time I took Jiggy to a Marlins' game it literally cost me a fortune- he "ordered"-2 hot dogs with mustard, a large Coke, a bag of peanuts, an ice cream sandwich and a large popcorn- I also had to buy him a Marlins' cap and tee shirt!- and I'm not gonna get into the 'fight" he had with another fan over a foul ball that to this very day- Jiggy "claims" he chased down!
Just so you know, 5 minutes ago, Jeff Eats mailed a $25 check to the Human Society of Greater Miami!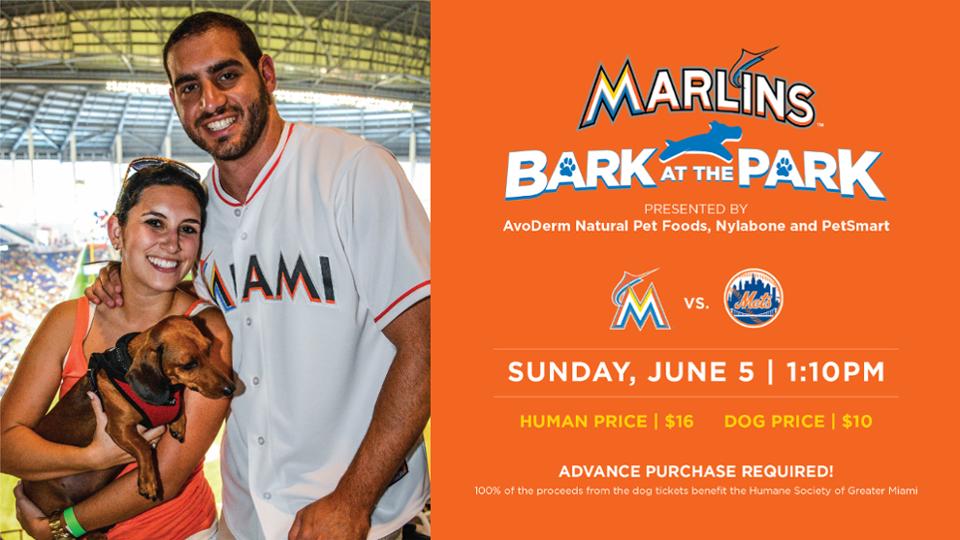 Bark at the Park benefiting the Humane Society of Greater Miami
Presented by AvoDerm Natural Pet Foods, Nylabone and PetSmart
2016_BarkAtThePark_WebDade2
Fans must sign the release form before they enter each game. Download the form in advance and bring the completed release with you to the game. For questions, email groups@marlins.com.
Groups of 10 or more humans should contact the Group Sales Department at (305) 480-2523 or groups@marlins.com.
Important Bark at the Park information:
All tickets are for reserved seating. This includes both human and dog tickets. All Bark at the Park participants and dogs need to purchase the Bark at the Park Package.
Purchase a special Bark at the Park ticket for yourself in one of the specifically-designated areas. Purchase a dog ticket at the same time for a $10 donation. All money from dog tickets sold will benefit the Humane Society of Greater Miami.
Advance purchase only. No walk-up sales
Important requirements:
Dogs must wear their rabies tags. Owners must bring their dogs' rabies certificates. Dogs who do not have proper proof of rabies vaccination may be prohibited from entering Marlins Park.
Entrance for "Bark at the Park" attendees will be through the Marlins Park First Base Entrance only. Disabled guests with dogs may enter through the First Base Dugout Club Entrance.
All dogs owners must sign a liability waiver upon entering Marlins Park.
Important to note: Human and dog seats are reserved seats located in the Vista Level.