Vince Neil (Pompano Beach Amphitheater- Pompano Beach)
* Vince Neil.
The Pompano Beach Amphitheater does-it-again…another amazing star studded concert- headlining Vince Neil, the legendary front man of Motley Crue, Great White and Krush- Saturday Night, June 18th at 8pm!
Jeff Eats just checked the Pompano Beach Amphitheater's box-office (theamppompano.org) and goldstar.com (discount tickets) and there are a handful of great seat left, so if you wanna go, time to make your move!
By the way, if Jeff Eats gotta tell you who Vince Neil is, it's time for you to scroll to another Jeff Eats' story!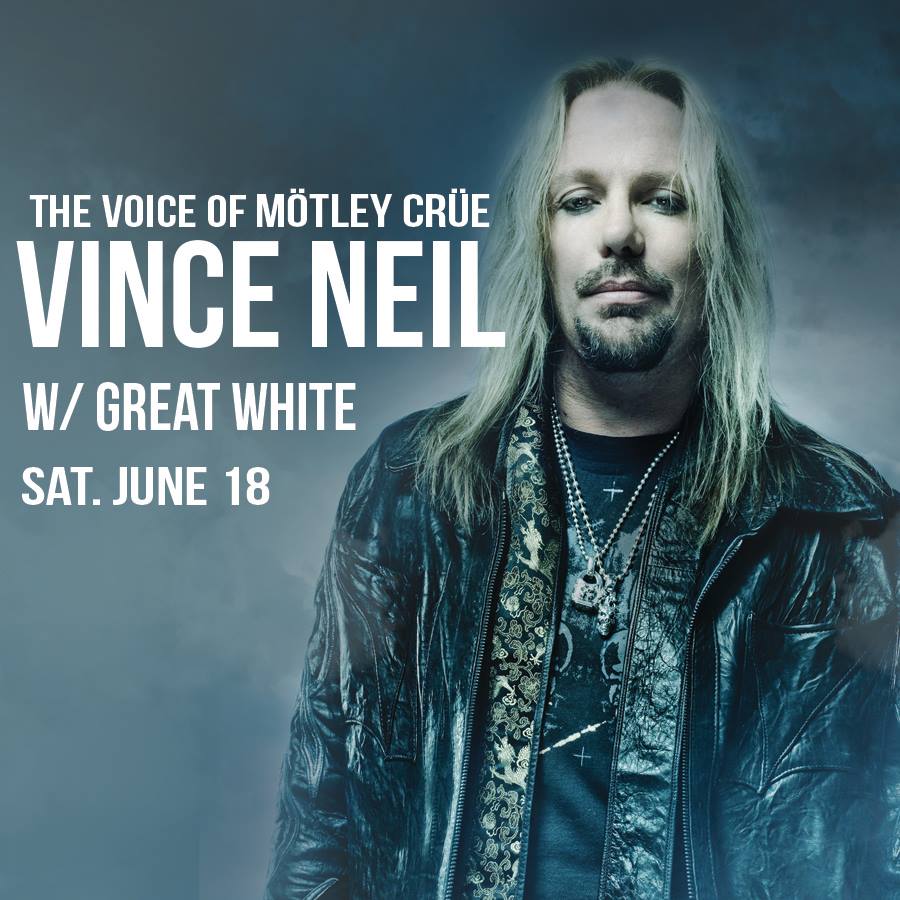 The Skinny:
from theamppompano.org
Vince Neil – The Legendary Voice of Motley Crue
Concert Date: Saturday, June 18 at 8pm (Gates open 7pm)
Ticket prices: $35-$75
Box Office: theamppompano.org & goldstar.com (discount tickets)
The legendary front man of Mötley Crüe is coming to Pompano! His unmistakable voice lead some of the greatest rock songs of this generation including "Shout At The Devil," "Home Sweet Home," "Girls, Girls, Girls," "Dr. Feelgood," "Kickstart My Heart," "Same Ol Situation," and "Saints of Los Angeles." Opening for Neil will be hard rock icons, Great White.
Vince Neil will be singing all of his classic hits at The Amp, from both his years with Mötley Crüe and his three solo albums. The badass performer is also working on new music, and he has hinted about performing some of it during this tour.
"I'll say that we are recording some stuff for a new record this year," he said in a Loudwire interview in January. "You often hear some surprises at our shows. I don't want to give away some of those surprises…The music is exciting. It's good, fun, nasty, raw energy and goods songs."
Neil has also signed on to be a contestant on the upcoming season of The Celebrity Apprentice, which will feature new host Arnold Schwarzenegger.
A respected philanthropist, Neil established The Skylar Neil Memorial Foundation (www.skylarneil.org), as tribute to his daughter whom he lost to cancer in 1995, the organization has raised over $2 million to help combat childhood cancer.
Opening for Neil is Great White, a band whose sound has captivated audiences worldwide with crushing blues-based guitar riffs and swagger that invokes an emotional high for anyone who listens. The band's core writing team of Michael Lardie and Mark Kendall forged numerous hits over the years, and when Audie Desbrow joined in '85, the grooves hooked an amazing stride. For nearly a decade, Scott Snyder has merged his unforgiving rhythm to Desbrow's relentless percussion. And, in 2011, Terry Ilous' feverish energy and far-stretching vocals melted perfectly into the Great White mold.
The band has sold 10 million albums worldwide, had has six Top 100 Billboard hits, nine Top 200 Billboard albums, two platinum albums. At The Amp show, Great White will be performing all their classic hits including, "Once Bitten , Twice Shy," " Rock Me," "Mista Bone," " Save Your Love," " Lady Red Light," " Something for You," "Hard to Say Goodbye" and more.
The AMP (Pompano Beach Amphitheater) 1806 NE 6th St – Pompano Beach, FL 33060. 954.519.5500 © 2014 Pompano Beach Arts