Maoz Vegetarian (Miami, Boca Raton, Orlando)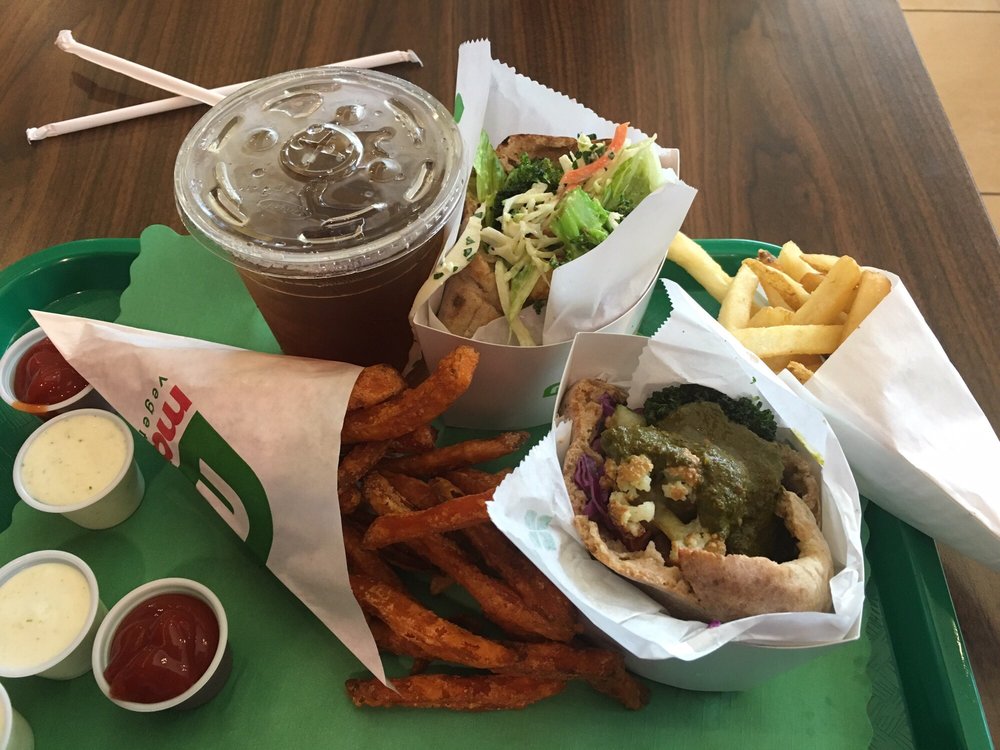 ***** Maoz Vegetarian.
A recent e-mail received by Jeff Eats.
Hey Jeff,
My college roommate and I will be graduating from the University of Arizona in May. We have put together a nice sum of money and want to buy into a fast food franchise that we can grow with. We are open to viable opportunities in any state. Any good ideas for us? By the way, both my roommate and I are born and bred Miamians.
Thanks,
JSA
_____
JSA:
There are 3- certainties in life- death, taxes and that you want to eat in restaurants not own them!
If you and your roommate still want to "play"- checkout Maoz Vegetarian…Jeff Eats loves the concept/brand!
Good luck!
Jeff Eats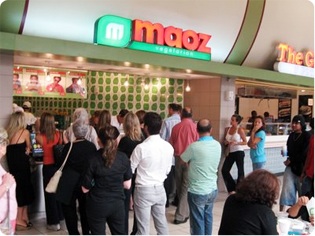 Posted May 16,2014
***** Maoz Vegetarian
Way back on May 3, 2012 Jeff Eats told you guys about Maoz Vegetarian- a fast food falafel/salad joint that I had tried in Boca Raton's- Town Center Mall's food court. That original "story" is reprinted below.
The gist of that story, was that this small fast food chain had a terrific product/operation and tremendous potential to expand to food courts- all over the United States.
From a Florida perspective, Maoz in 2013 had 1-Florida location (Boca Raton). Today, Maoz has 3-Florida locations… 1-Boca Raton, 1-Orlando (The Mall at Millenia's foodcourt), 1-Miami Beach (storefront/salad bar).
Jeff Eats recently "tried" the Miami Beach and Orlando joints–and I gotta tell you, this small chain has the right formula. The food is terrific, the prices are right.
Maoz is still an INFANT in the US fast food chain business. From its site www.maozusa.com Jeff Eats notes–1 Texas, 3 Florida, 1 Illinois, 1 New Jersey, 1 New Jersey, 6 New York, 1 Pennsylvania…of the 14 locations, 3 are in mall food courts (Boca Raton, Orlando, Chicago).
Let me wrap (pun intended) this up for you,
Go and try Maoz. The food is delicious..
Finally, take a look at YELP! The reviews on Maoz Vegetarian are extremely positive. Now, you and I know all about "bogus" reviews, but the sheer number of reviews- tells Jeff Eats that there are tons of people who love this chain.
Eventually-not exactly sure when, Maoz Vegetarian will be a tenant in mall food courts across America.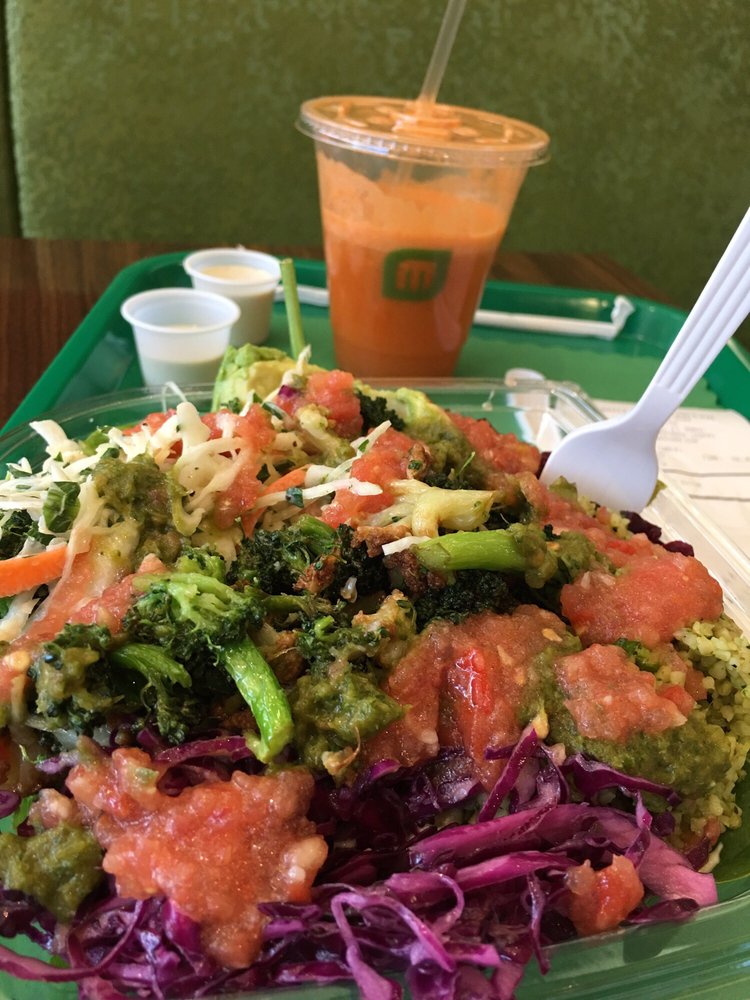 Posted May 3, 2012
***** Maoz Vegetarian, 6000 Glades Road (Town Center Mall), Boca Raton, Florida 33431, (561) 393-6269.
As I mentioned the other day, last Sunday afternoon I killed some time at Town Center Mall–while Mrs. Jeff Eats searched for "who knows what." Of course during my "stay"—I visited the mall's recently reconfigured-rebuilt food court. Suffice it to say, the court looks great, but in my humble opinion–there aren't enough fast-food outlets–and there is too much "duplication" with the outlets that are there. That said, I did come across an "interesting concept" in the fast-food business…Maoz Vegetarian, which- if I was a betting man, will be a "homerun" in the reconfigured Town Center Mall food court. Before I give you the skinny on Maoz Vegetarian, I gotta tell you that the folks behind Forever 21 (a national budget chain of women/men's clothing & accessories) have to be genuises. Forever 21 just opened a gigantic 2-story location in the back of Town Center Mall's food court and at 3pm last Sunday the store was jammed and I do mean jammed with people. Not to go off on a tangent here, but Mrs. Jeff Eats and Daughter Jeff Eats swear by this chain–trust me, these girls are professional shoppers. Anyway, let me get back to Maoz Vegetarian…
Maoz Vegetarian is a small fast food chain that does falafel…real simple concept- pita bread filled with falafel/salad (you pick combinations/dressings)—the joint also does belgian and sweet potato fries. You can check www.maozusa.com for menu/prices/prices. Just so you know, there are currently 13 Maoz locations in the United States (I told you it was a small chain)-the Boca outlet is the only Florida location. For the record, I did "one" of these pitas with sweet potato fries and it was delicious…real nice change from the burgers, pizzas, bourbon chicken that I usually get while killing time in malls.
Now nothing for nothing…but during the 20 minutes or so I was in the food court, Maoz had the longest and steadiest lines. Trust me, I know "20 minutes" isn't long enough for a scientific study to base any conclusions on– As I told you a few seconds ago the food was delicious–and in doing some due diligence (talking to several security guards, mall/store/food court employees) it seems that since the food court's re-opening a few months ago, Maoz has been doing some real nice business. For the record, if memory serves me correctly… the food court has a pretzel joint, salad joint, pizza joint, Chinese/Japanese joint, Earl of Sandwich joint, Chick-fil-A joint (which was closed on Sunday), yogurt joint—one other thing, in the bay next to the pizza joint there was an "opening soon" sign for another pizza joint–what's that all about?
Let me wrap Maoz Vegetarian up for you…
I have eaten more food court "meals" than I choose to remember. Not going to list them all but, I've been fed by the "best" of them…Nathan's, Subway, Panda Express, McDonald's, Burger King, Auntie Annes, Earl of Sandwich, Wetzels Pretzels, Tutti Frutti Yogurt, Dairy Queen/Orange Julius, Saladworks, Kohl's Frozen Custard, Tossed, Sbarro's…I've devoured more free bourbon chicken toothpick samples than you can shake a stick out. Now, I may be going out on a huge and I do mean huge limb here, but…I am going to predict that itsy bitsy tweeny weeny Maoz Vegetarian is going to grow into a huge brand. The concept is simple, relatively new and has "yet" to be exploited on a national level…plus the food is fresh, delicious and its $5-$10 price points are reasonable…there is one caveat to my prediction—unless the Simons (mall owners) of the world decide that food courts can "handle" more than one falafel joint at a time.
One final observation on Maoz (now, I'm not 100% sure on this)–I think that the Boca Raton "store" is the chain's first food court location. I believe that the other outlets are much larger and incorporate self-serve salad bars into the concept. If my thinking is correct on this, Maoz Vegetarian has two layouts that make the game even more interesting for potential franchisees.
The next time you are in Town Center Mall give Maoz Vegetarian a shot.
The joint is open, Monday-Saturday 11am-9pm, Sunday 11am-6pm.