Cantina Max (Boca Raton)
***** Cantina Max, 6450 North Federal Highway, Boca Raton, Florida 33487, (561) 609-2426.
Jeff Eats first told you guys about Cantina Max way-back on April 7, 2016…
Long story short, on April 9, 2016 Jeff Eats, Mrs. Jeff Eats and another couple ate dinner at Cantina Max and the joint's food absolutely killed! Just so you know, the 4-of us split beef (crunchy shell) tacos, chicken burritos, 1/2 roast chicken, pulled pork quesadillas, chicken/shrimp/steak sizzling fajitas and like I just said- everything was delicious! Throw in a terrific Motown tribute show fronted by Larry Johnson- and I gotta tell you, it was a great night out!
Here's the story's "kicker"…
The Motown tribute show was such a huge draw- that Cantina Max is bringing "it" back tomorrow night- May 7th (9pm). The show is complimentary- but trust Jeff Eats when I tell you- show or no show Cantina Max's kitchen is cranking out some real good stuff!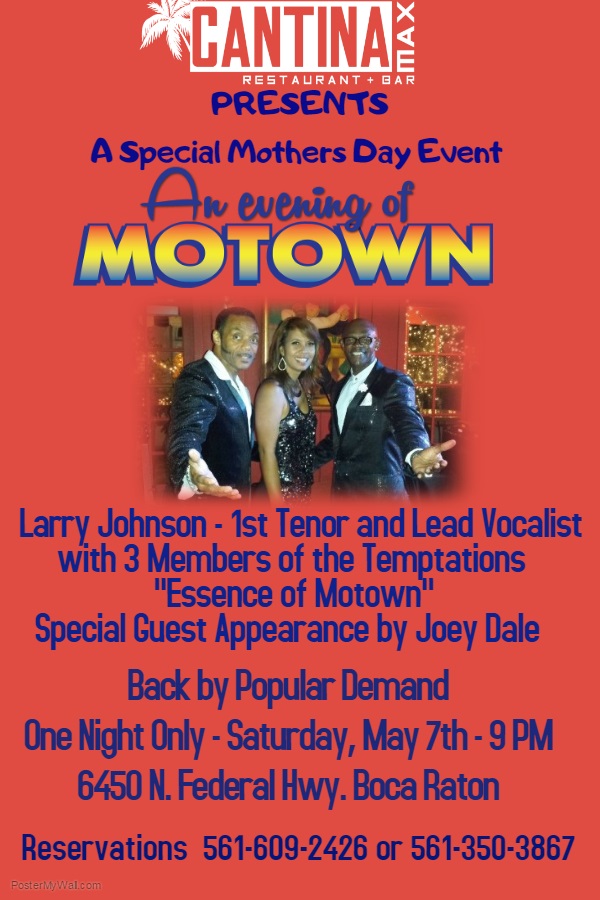 Posted April 7, 2016
* Cantina Max, 6450 North Federal Highway, Boca Raton, Florida 33487, (561) 609-2426.
Got something that maybe of interest to- some of you guys…Cantina Max in Boca Raton.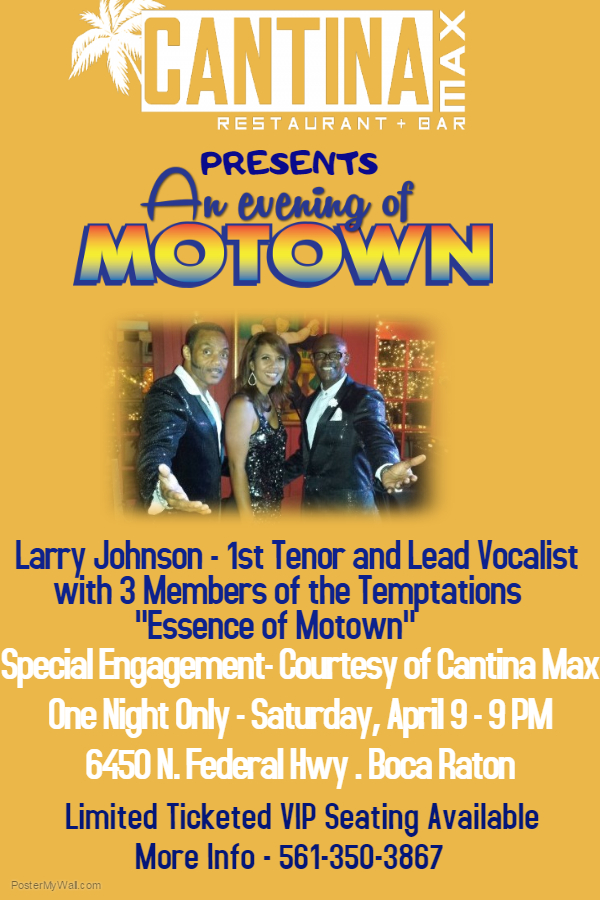 Real simple tale,
Cantina Max is a "semi-upscale" 10,000 square foot Mexican joint -which opened in Boca Raton about a month ago. The joint has a separate full bar, tons of tvs, table/booth seating, stage, dance-floor! Just so you know, Jeff Eats has "toured" but not yet tried Cantina Max out!
Anyway,
This coming Saturday Night, April 9th at 9pm, Larry Johnson- one of America's premier Motown tribute artists is performing a COMPLIMENTARY SHOW as a "promotion" to introduce the "new" Cantina Max to the public.
Jeff Eats and Mrs. Jeff Eats have seen Larry Johnson's show and it is nothing short of being terrific! So…on Saturday Night, we are going to kill 2-birds with one stone, that being- we are gonna eat (or shall I say dine?) at Cantina Max and also catch the show!
Like Jeff Eats said a few seconds ago, the show is COMPLIMENTARY…you don't have to buy a thing or spend one slim dime!
If you wanna go and want a VIP Table (complimentary as well) give Kim of Seaside Music Management a call at (561) 350-3867- she'll do the rest!
Now -you guys and Jeff Eats both know that Cantina Max's ultimate "goal" is for you to spend-something…just wanted you to know that Jeff Eats wasn't born under a turnip truck!
Anyway,
Jeff Eats is kinda thinking this is gonna be a real fun evening…
You can check Cantina Max's menu/prices/info out at cantinamax.com.
Cantina Max is open Sunday-Wednesday 4pm-11pm, Thursday- Saturday 4pm-2am.