Michael Winslow- Man of 10,000 Sound Effects (Boca Black Box- Boca Raton)
* Michael Winslow- Man of 10,000 Sound Effects.
Go see this guy…Winslow puts on a clever/funny/amazing show!
Jeff Eats saw Winslow at a Press Party at the Seminole Hard Rock Hotel & Casino in Hollywood a couple of years ago and he blew the crowd away with his non-stop hilarious "sound effects"…Like I just said, go see this guy!
The Skinny:
Michael Winslow
Saturday Night, April 30, 2016 (8pm)
Boca Black Box
8221 Glades Rd #10, Boca Raton, FL 33434
Tickets: bocablackbox.com, goldstar.com (discount tickets)
Box- Office: 561 483-9036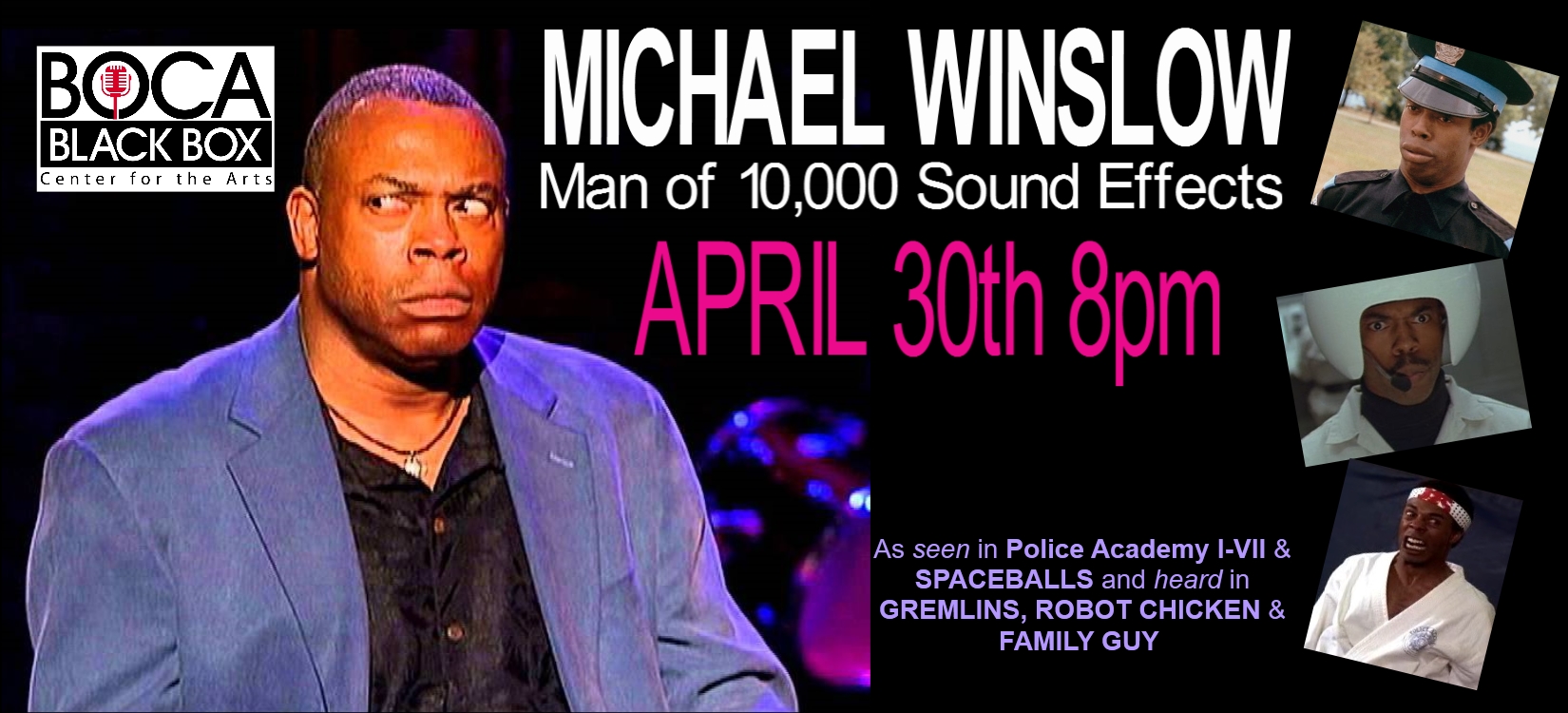 from bocablackbox.com
Michael was born September 6, 1958 to Robert and Verdie Winslow, on Fairchild Air Force Base with never a dull moment. The youngest of six brothers. His mom tells stories about when he was young he would imitate the airplanes, jet engines, basically anything that made a noise he copied with sounds that came out of his mouth. "Growing up in the Air Force Base made it difficult to have friends, so I created imaginary friends, dogs, cats, trucks, anything that would keep me occupied for the moment" says Michael.
After graduated High School and a short-lived college, he had his first professional performance at a club/theater in Boulder, Colorado named Tulagi's. This was very exciting for him because Jimi Hendrix, The Doors, Tommy Bolin and other famous bands played there (By the way Michael does an incredible imitation on Hendrix's guitar playing).
He opened and act for a group called "Nova" and Italian Rock Fusion Band, He heard through the grapevine that this group were fans of Jimi Hendrix, so why not portray him? He had lots of props including his mother's Afro wig. He was so nervous, but the audience was flabbergasted with his rendition of "Purple Haze". The ovation and the applause from the audience was overwhelming. From that moment on he knew his calling. He wanted to be an entertainer.
Mr. Michael packed his bags and hitchhiked to Venice Beach where he would be homeless for a short time….He Auditioned for the "Gong Show" hosted by the infamous Chuck Barris and he won a whoping $516.32 that finally got him out of homelessness and allowed him to by a vehicle, that took him to Los Angeles to all the local comedy clubs. At this point in time, Bud Friedman, believed in him and featured in him in the famous EVENING AT THE IMPROV (which we all known now as the Comedy Improve Clubs).
Until 1984 when he finally got his BIG CHANCE. Director Hugh Wilson and producer Paul Manslanski came to see him perform at Long Beach Theater where he was opening for the incomparable Count Basie & his Orquestra. Needless to say, Wilson and Manslanski were blown away! They immediately wrote him into the script of the unforgettable "Police Academy I through VII" As soon as this movie came out and it became an instant success so did Michael! His celebrity status was in place. He then went to play a part in Mel Brooks "Spaceballs". This film helped in furthering his spotlight as a unique comedian. A man with a special talent that made "families" laugh. Michael was also heard, but not seen, when he gave the voice to Stripe, the evil little creature, in another Hit Movie "Gremlins".
He also did voice-overs for Disney and Universal Studios in such rides as "Back to the Future and Terminator" Currently you can also hear him in the Television Hits "Robot Chicken" and "Family Guy" You can't miss him on those great "Geico" commercials. And in the spring of 2008 he will grace the red carpet premiere of National Lampoon's Robo Doc.
Michael, a master of vocal gymnastics, can imitate over 1000 sound effects using his voice alone. Whether he is recreating the frenzy of Jimi Hendrix playing the guitar, or the roar of a jet plane, his talent is truly remarkable and his versatility admirable and enjoyable for all ages!