Burger Beast's Hamburger House Party! (Magic City Casino- Miami)
* Burger Beast's Hamburger House Party!
Just in case you guys were wondering where Jeff Eats and Mrs. Jeff Eats are gonna be on Friday Night, May 6th…
Trust Jeff Eats on this one, this guy Burger Beast throws a great party!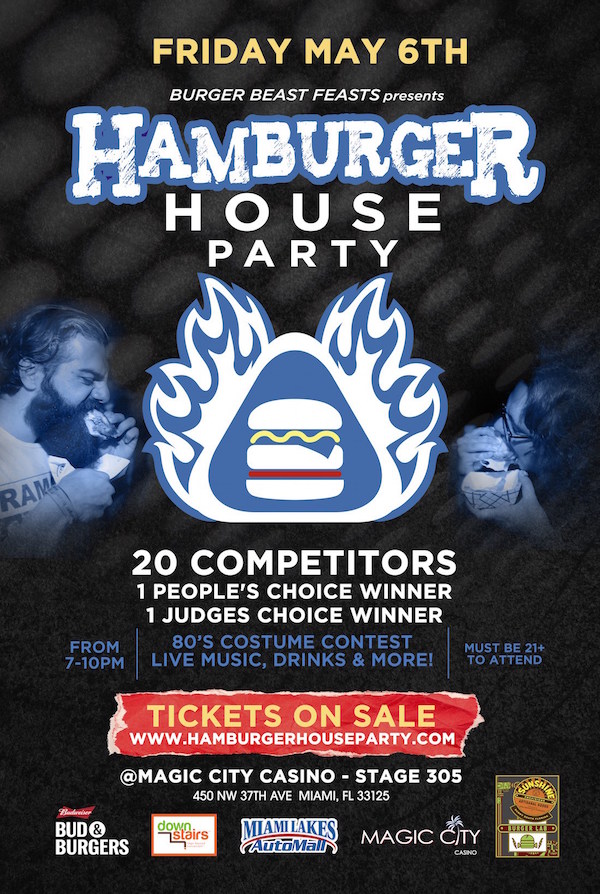 Burger Beast's Hamburger House Party!
Hamburger House Party!
We've done two Burger Brawls in the past but the question I'm asking this time is, are you ready for an 80s style Hamburger Party? We're talking Burgers, Rubik's Cubes, Jelly Bracelets and Arcade Machines.
Burger Beast Feasts presents the Hamburger House Party brought to you by Budweiser – Bud & Burgers (the Official Beer of Hamburger House Party), Downstairs Markets, Miami Lakes Auto Mall & Magic City Casino. It's happening on Friday May 6th (Yes, during National Hamburger Month) at Magic City Casino (450 NW 37th Ave, near the Miami Airport) from 7-10PM
19 of South Florida's Best Burger Restaurants (plus one from Bonita Springs) will be competing for your vote to be crowned the Best. This event replaces 2014 & 2015's sold out Burger Beast Burger Brawl.
This year we will also have a Celebrity Panel (South Beach Wine & Food Festival Founder Lee Schrager, Miami New Times' Laine Doss, Blue Collar's Chef Danny Serfer, Que Riko con Kiko's Kiko Suarez and Rebel House's Chef Mike Saperstein) choosing a Judge's Best Burger. The Judge's Winner will compete in the 2017 South Beach Wine & Food Festival Burger Bash.
We'll have Live Music from Retro Sky who's performing all 80s songs and DJ Volksmusik will be spinning your favorite 80s tunes, plus we encourage you to dress up in your best 80's clothes. Who knows….best 80s outfit might win something!
Here are the 20 Competitors:
1) 109 Burger Joint – Sweetwater
2) Burbowl – Juicy Smashed Burgers – Downtown Miami
3) Chefs on the Run – Homestead
4) Crackers Casual Dining – Miami Springs
5) Doce Provisions – Little Havana
6) Fat Moe's – Flagami
7) Gilbert's 17th Street Grill – Ft. Lauderdale
8) Hate Mondays Tavern – West Kendall
9) Jr's Gourmet Burgers – Miami Springs
10) Jersey Dawg – Food Truck
11) Latin House – Kendall
12) The Local – Coral Gables
13) MEAT Eatery & Taproom – Islamorada & Boca Raton
14) Norman Brothers Produce – Kendall
15) The Orange Bear Restaurant – Bonita Springs
16) Pincho Factory – Westchester, Hialeah & Coral Gables
17) Shake Shack – Coral Gables, South Beach & Boca Raton
18) Tucker Duke's Lunchbox – Deerfield Beach & Boca Raton
19) Wholesome Rollers – Food Truck
20) Woody's Burgers – Food Truck
General Admission Tickets which will be $45 at the door are now $35 for a limited time only and include Unlimited samples from all 20 of the Hamburger House Party Competitors plus Desserts (HipPOPs Handcrafted Gelato Bars, Night Owl Cookie Co. & Sweetness Bakeshop), Mini Chicken Parm Sandwiches from Magic City Pizza, Cocktail Samples from Jim Beam & Tito's Vodka, 1 Beer Sample from Budweiser and Soft Drinks & Water from Mist TWST & Aquafina.
All attendees must be 21 years of age or older.
Save $5 with code (good through Sunday May 1st Midnight): MeSavey5
Tickets & More Details http://HamburgerHouseParty.com
Copyright © 2016 Burger Beast, All rights reserved.