The Joey Dale Story
* The Joey Dale Story.
Real simple tale to tell you guys…
Jeff Eats has known Joey Dale seemingly forever. For you guys who don't know "Joey"- he's the lead singer of the incredibly popular-South Florida based doo-wop group Joey Dale & The Gigolos. Joey is also one of the most active promoters/producers of "oldies" shows in South Florida!
Long story short, 2 weeks ago- Joey self-published his "autobiography"- The Joey Dale Story!
Last night, Jeff Eats read the 250 page book- and I gotta tell you, this guy Joey sure has lived a very interesting and shall we say- a very exciting life!
No ifs, ands, or buts- the book won't make The New York Times' Best Sellers List- that said, I found it to be a real-good "light" read- and I'm thinking that many of you guys will too!
You can order a copy of the book and follow Joey Dale & The Gigolos' dates/productions at joeydale.com.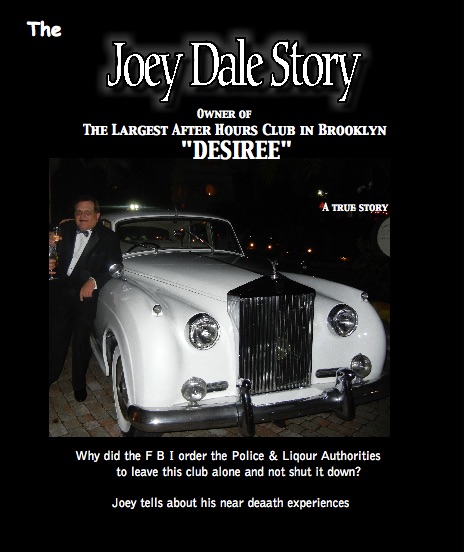 In the 1970's I owned the largest AFTER HOURS CLUB in Brooklyn.
10 years ago I was approached by a retired FBI Agent who told me that back then, he was assigned to my club.
The FBI had my club under surveillance . Mob members like John Gotti often visited my place.
The agent told me that the reason my club was never shut down was because they were able to keep an eye on the Mob through my club. Most after hour clubs were shut down within months after opening.
My club remained open for four years.
The FBI instructed the Liquor Authority and the local Police to leave us alone.
I witnessed a murder and many ugly events at that time in my life.
At present I am a successful entertainer and promote some of the best Doo Wop Shows here in South Florida.
I hope you enjoy my story.
Publication Date:
Apr 14 2016