Sal Richards (Boca Black Box- Boca Raton)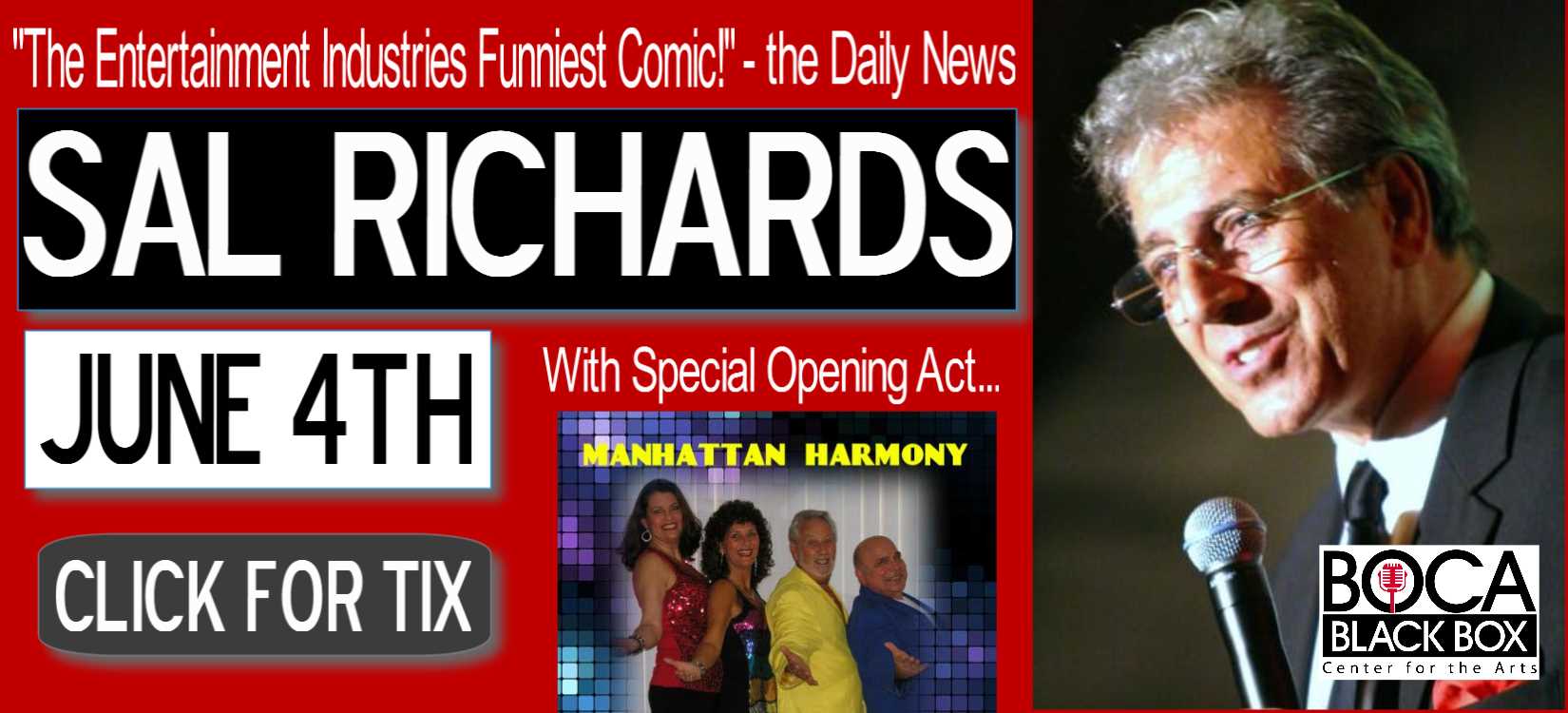 * Sal Richards.
First things first, a handful of Jeff Eats' readers recently mentioned that Boca Black Box in Boca Raton seems to get a "ton" of Jeff Eats' mentions …Just so you guys know, the reason why the Boca Black Box which opened in August, 2015 has gotten so many of these so-called "mentions"- is because this 250 seat theater…week-in and week-out has been producing-very reasonably priced shows- featuring some of America's top comedians/music acts as well as outstanding local talent! All Jeff Eats can tell you guys- is that if you haven't yet "heard" about the Boca Black Box- take a look at bocablackbox.com and checkout the joint's upcoming lineup and- you'll see why Jeff Eats is so "excited" about the Boca Black Box!
Anyway,
Boca Black Box just announced that legendary stand-up comedian Sal Richards is set to headline on Saturday, June 4, 2016 (8pm).
Trust Jeff Eats- Richards who works clean, is absolutely fabulous! The guy will have you crying from laughter! No question in my mind, SRO situation!
The Skinny:
Sal Richards
Saturday Night, June 4, 2016 (8pm)
Boca Black Box
8221 Glades Rd #10, Boca Raton, FL 33434
Box-office: (561) 483-9036
Tickets: bocablackbox.com (check goldstar.com to see if discount tickets are listed)
from bocablackbox.com
WHO IS HE: Showbiz veteran Sal Richards was called "one of the funniest guys in show biz" by the N.Y. Daily News. The Brooklyn native also was voted as the "Entertainment Industry's Funniest Comic" by the New York Friars Club. Richards has been a mainstay in both Las Vegas and Atlantic City for years and also has appeared in several movies including "Out for Justice" and "Rounders." His television credits include "The Sopranos," "Law & Order: CI" and "Bachelor Life."
WHAT TO EXPECT: Sal Richards' sharp wit and excellent singing voice are always the main highlights of his shows. The show business veteran has been performing on stages throughout the country, and has always been an Atlantic City favorite. Anyone planning on taking in one of Richards' shows look forward to an evening of laughter.