Amazing Benefits Of Oranges!
* Amazing Benefits Of Oranges!
Jeff Eats just finished reading "Amazing Benefits Of Oranges" on Hairstylescut.com and I thought I'd pass it onto you guys! Just between us, the article doesn't break any new ground- but every so often it doesn't hurt to refresh what one already knows!
Despite all the really good stuff that Jeff Eats eats like pizza, bbq pork ribs, fatty corned beef on rye, French fries, onion rings etc.- I do make it my business to drink plenty of fresh squeezed juices and eat all kinds of nuts/fruits/vegetables. So far so good- in the health department!
Anyway, on this orange juice thing, just make sure that you drink fresh squeezed stuff and not pastureized or concentrated crap!
Let's consider today's tale- "A Public Service Announcement."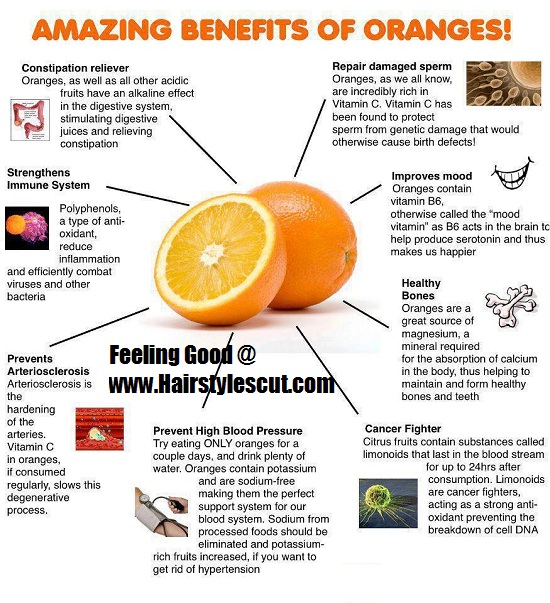 Orange Juice Provides
1. Drinking a glass of orange juice a day can keep the doctor away. Orange juice is known to contain a high percentage of Vitamin C, which is helpful in boosting the immune system. So, you will be less likely to catch various illnesses, such as colds or the flu.
2. Various medical studies show that orange juice may help lower both cholesterol levels and blood pressure levels, which are two very common problems among middle aged men and women.
3. Orange juice is thought to be very high in antioxidants. What this means is that this yummy juice may help prevent various forms of cancer, including breast cancer and prostate cancer.
4. Fairly large amounts of potassium, which is an essential nutrient for the body, can be found in orange juice.
5. Studies have shown that orange juice can help reduce the risk of heart disease, which is because it can help improve circulation.
6. Orange juice contains Folate, which plays a major role in the reproduction of new cells and can help with the healing process.
7. Research has shown that orange juice has anti-inflammatory properties. If you experience a lot of arthritis-related pain, orange juice may really help relieve it.
8. Due to the antioxidants found in orange juice, many people believe that drinking it on a regular basis may help aid in weight loss. Of course, with all of the other health benefits that orange juice has to offer, it is probably a good note to not drink the juice simply due to weight loss reasons, as it may or may not be effective.
Do you know the Nutritional Value of an Orange?
Calories: – 105 calories in 1 orange with peel
Fat: – Very less and has "good fats". So we can say that it is below 1% of RDA of fat.
Sodium:- about 3 mg of sodium
Carbohydrates:- 25g in one orange
Protien:- It has 2g of protien
Vitamins & Minerals:- Lots of vitamn C: thats 200% of RDA. Also has vitamin A and rich in calcium and iron.
You Need to Know:
Now you know about the benefits but what type of juice is Good? Lets learn more about commenrcial orange juice and concentrate form
1. Frozen concentrated Orange Juice
In this type of juice, the squeezed juice is pasteurized and then heated to evaporate all the water. Then, this concentrated juice is mixed with 60% sugar by weight and stored in freezer. Therefore, it is best to avoid "Juice from Concentrate" as it has high level of sugar and very less nutritional value because most of the vitamins is lost during evaporation process.
2. Labeled "Not from Concentrate"
These juice are also same as concentrated juice only but with less flavor and sugar.
3. Fresh Squeezed Juice
This type is juice is pure and comes in unpasteurized form. They have a typical self life of 12 days. So, it is advisable to drink squeezed juice that is free from extra sugars and flavorings.
Drink Orange Juice in Moderation
Always remember that you do not need to drink a whole lot of orange juice in order to get these healthy benefits. In fact, since orange juice is fairly high in calories, avoid drinking too much of the stuff. Be sure to check the sugar content on the label when choosing orange juice if you really want to get most benefits from your orange juice and, ultimately, prevent weight gain (since high sugar levels can cause it).
Orange Juice With Pulp
It is often said that orange juice containing pulp tends to even healthier for the body, but it is an issue that is often debated. If you have a stomach condition, remember that orange juice is very acidic and for that reason, it may cause you to feel an upset stomach. Due to its acidity, orange juice can also cause tooth damage if you do not care for your teeth properly after drinking it.