The Shindigs Surf Party- A Tribute To The Beach Boys
* The Shindigs Surf Party- A Tribute To The Beach Boys.
A recent e-mail received by Jeff Eats…
Hey Jeff,
Maybe you could help me out here.
My husband and I are planning a Summer party at our home here in Delray Beach. It's going to be an outside BBQ around our pool and we will have close to 80 people. We were hoping that you could recommend a local Beach Boys band for the party.
Thanks in advance,
Roberta K
____
Roberta K:
This one is a no-brainer.
Checkout- The Shindigs at theshindigs.com who will have you and your family/friends thinking that The Beach Boys are at your pool.
These guys are super talented and sound just like the real-thing!
Thanks for reading…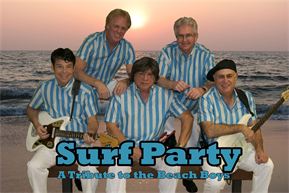 Posted December 1, 2008
***** The Shindigs *****
This past Friday Night (November 28, 2008) I attended a private party at the Woodfield Country Club in Boca Raton. The evening's entertainment featured a 4-piece South Florida based 1950's-60's-70's tribute band…The Shindigs.
I have to tell you, that The Shindigs had a crowd of 250 up and dancing all night. The band did absolutely amazing covers of the hits of such groups/acts as (now get ready for this partial list in no particular order)…The Beatles, The Dave Clark Five, The Zombies, The Monkees, The Grass Roots, The Bee Gees, K.C & The Sunshine Band, The Commodores, The Rascals, Bachman-Turner Overdrive, The Byrds, The Temptations, Barry White, Chubby Checker, James Brown, Frankie Valli & The Four Seasons, Dion & The Belmonts, Roy Orbison, The Beach Boys, Chicago, Gerry & The Pacemakers and Bill Haley & His Comets.
Take a look at The Shindigs' website www.theshindigs.us. If you check the members' bios…you will find that these guys aren't "kids" playing rock'n' roll, but rather… are seasoned-professional musicians with extensive music industry backgrounds. If you check "Events" you will find that in the upcoming months, The Shindigs have South Florida "free" gigs scheduled at such venues as the Hollywood Band Stand (12/3/08) and the Seminole Hard Rock Hotel & Casino (12/26/08)…
I am telling you, that if you like great classic rock 'n roll/disco music from the 50's-60's-70's, you will absolutely love The Shindigs. By the way, The Shindigs also perform a Beatles' tribute show–costumes and all…under the name The Beatles Remembered. If you check You Tube, you will find a number of videos starring The Beatles Remembered and the performances are amazingly accurate…
The Shindigs are a band/act that you should make it your business to see. By the way, unlike many bands…The Shindigs' music is 100% live, no tracks or tapes are used to enhance the band's performance.
Don't miss these guys!!