Uncle Gary's Rock & Rib Fest- Kids Cancer Foundation Benefit (Wellington Amphitheater- Wellington)
* Uncle Gary's Rock & Rib Fest- Kids Cancer Foundation Benefit.
Jeff Eats and Mrs. Jeff Eats are gonna be there!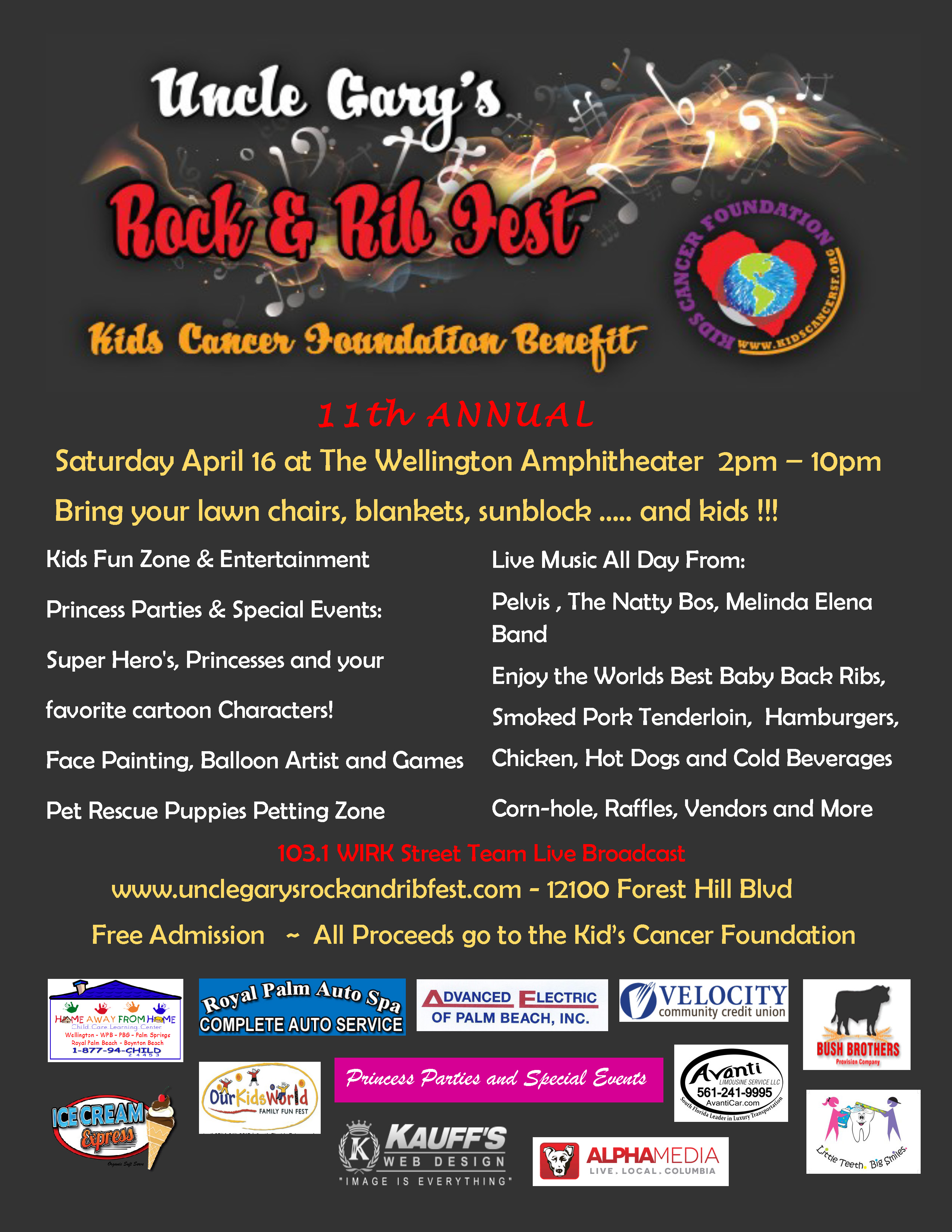 from unclegarysrockandribfest.com

What started out as a family get together has turned into a great community event. 13 years ago, Uncle Gary lost his 3 year old daughter, Ashley, to cancer. A couple of years later, he started a BBQ event in her honor. After realizing the outreach he had received from friends and family alike, Uncle Gary decided it was time to grow the event, and dedicate his event proceeds to "Kids Cancer Foundation" in Royal Palm Beach. Uncle Gary's Rock and Rib Fest now includes great live music, bounce houses, kid's Fun-zone, grab bags, raffles, face painting, playgrounds and so much more!
The "Kids Cancer Foundation" was Founded by Michelle O'Boyle RN, CPON, and is located in Royal Palm Beach FL, providing support services to over 300+ children with cancer. Visit their website at: http://www.kidscancersf.org
Located this year at the Wellington Amphitheater, located at 12100 Forest Hill Blvd. Wellington, FL. This facility has a beautiful playground area for the kids with fencing all around for their protection. I will have volunteers all day to watch them. There will be face-painting and balloon artists there from 3-7 to entertain the children.
For the adults there will be a parking lot full of vendors to enjoy and we will feature three live bands throughout the day. The event will be from 2-10 pm and the first band, "Pelvis" – will start at 2:00pm and end at 3:00pm. The second band will be the "The Natty Bõs", starting at 3:30pm and going till 5:30pm. Final group with be "Melinda Elena Band", from 6:00pm to 8:00pm. Melinda and Clay Goldstein will perform together from 8:30-10:00.
There will be fun and excitement throughout the day for all.
No admission fees! Bring your lawn chairs, blankets, sunblock and kids
EVENT: 11th Annual Uncle Gary's Rock and Rib Fest
TO BENEFIT: Benefit for the Kids Cancer Foundation
WHEN: April 16th 2016 at 2 pm – 10 pm
WHERE: Wellington Amphitheater. 12100 Forest Hill Blvd., Wellington, FL 33414
UPDATES: There will be souvenir cups, T shirts, 50/50 raffle tickets, donations will be raffled off…. etc. / No admission fees! ….all proceeds go to the Kids Cancer Foundation