The Three Tenors who can't sing- Vic DiBitetto, Richie Minervini, Fred Rubino (Boca Black Box- Boca Raton)
* This story first appeared on March 5, 2016. Jeff Eats just checked the Boca Black Box box-office and there are a handful of tickets left for this show. I also checked- goldstar.com and it has "discount" tickets listed. Trust Jeff Eats on this one, DiBetetto, Minervini and Rubino are gonna crack the Boca Black Box up! Jeff Eats and Mrs. Jeff Eats got tickets, so we'll see you guys there-that is, if you go!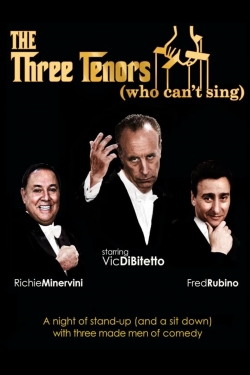 Posted on March 5, 2016
* The Three Tenors who can't sing- Vic DiBitetto, Richie Minervini, Fred Rubino.
Simple tale to tell…
DiBitetto, Minervini and Rubino are three of the funniest "clean" comedians currently working America's comedy club/casino/convention/country club circuit!
Trust Jeff Eats on this one, I've seen all three of these national headlining comedians' acts and they all kill!
If you want to laugh your ass off…go see The Three Tenors who can't sing- DiBitetto, Minervini and Rubino!
The Skinny:
The Three Tenors who can't sing- Vic DiBitetto, Richie Minervini, Fred Rubino
Sunday, March 27, 2016 (7pm)
Boca Black Box
8221 Glades Road, Boca Raton, Florida 33434
Box Office: (561) 483-9036
Tickets: bocablackbox.com
from bocablackbox.com
Vic DiBitetto
An incredibly powerful performer, comedian Vic DiBitetto churns energy, honesty and humanity into nonstop laughter. His pace is frenetic. His material vivid and true. He's been called a cross between Rodney Dangerfield and Ralph Kramden. The bottom line is, DiBitetto leaves his audiences breathless with laughter.
Referred to by most other comics as a "killer", it means you just can't follow Vic onstage. And that has been uttered by many very famous stand-ups over the years.
Vic is currently:
Featured in Kevin James' new movie Mall Cop: Blart 2 coming out in April 2015
Writing and Producing his Ticked Off Vic segment for WPLJ in New York City (reaches 3 million people) an Internet Sensation with over 20 million YouTube views and his now famous Bread and Milk rant
Featured in a video roll-in segment in the play Italian Bred currently in LA and coming to Broadway (Fall 2014)
Starring in an untitled prime time Hulu Original scripted sit-com Fall 2014
Featured performer on the online Funny For Money site (Comedy Central and YouTube venture)
Vic has appeared on television's America's Funniest People (ABC) where he was a $10,000 Grand Prize winner as well as Stand-Up Spotlight (VH1) and Last Laugh at Pips and acted in a pilot with Woody Allen and Danny Aiello. In addition, he has warmed-up hundreds of audiences for hit shows such as Who Wants To Be A Millionaire and The Ricki Lake Show.
Richie Minervini
Richie Minervini knows how to keep an audience laughing. Richie is well known for his rapid-fire style delivery of good, clean comedy. Richie is the former owner of Long Island's premier comedy club, The East Side Comedy Club, where celebrities such as Rosie O'Donnell, Jay Leno, Eddie Murphy, Kevin James and Ray Romano started their stand-up careers. Having been "dubbed" The Cameleon of Comedy" by his peers, Richie Minervini adapts easily to any audience or venue.
Fred Rubino
In 2005 Fred became a published author with the release of his conspiracy driven book Nazi Princess: The Final Deception which actually isn't funny at all!!!
Three years later, Fred turned his interest to writing and performing stand up comedy. Opening up for comics such as Nick Dipaolo and Vic Dibitetto, Fred quickly became the featured comic everyone wanted to use! He has also appeared on Radio Opie and Anthony's top ten funniest listeners radio show, recently had his performance broadcast live on the internet via Action Audio and has made many appearances on local cable talk shows where he has performed his hilarious standup.
In 2013 he co-starred in a TV pilot with YouTube sensation, movie and TV actor and major comedy headliner Vic Dibitetto. Soon after he signed with Best Entertainment, Fred has been performing at prestigious East Coast clubs and theatres such as Stress Factory , Governors , Bananas and Broadway Comedy Club to name a few. He also has recently been signed to perform at Resorts World Casinos as well as the Tarrytown Music Hall, two very large, important and exclusive venues.
Fred has now successfully transitioned from Featured Comic to Star and Headlining Comedian in his own right!
You can watch him in Vic's Vignettes on Youtube!