Jackie "The Joke Man" Martling (Boca Black Box)
This story first appeared on February 27, 2016. Jeff Eats just checked the Boca Black Box box-office and there are a handful of good seats left for both tonight & tomorrow night's shows! I also checked goldstar.com and it has "discount" tickets listed. Mark my words, both shows will be SRO situations, so if you wanna go- time to make your move!
Posted February 27, 2016
* Jackie "The Joke Man" Martling.
The guy is very-very R-rated funny.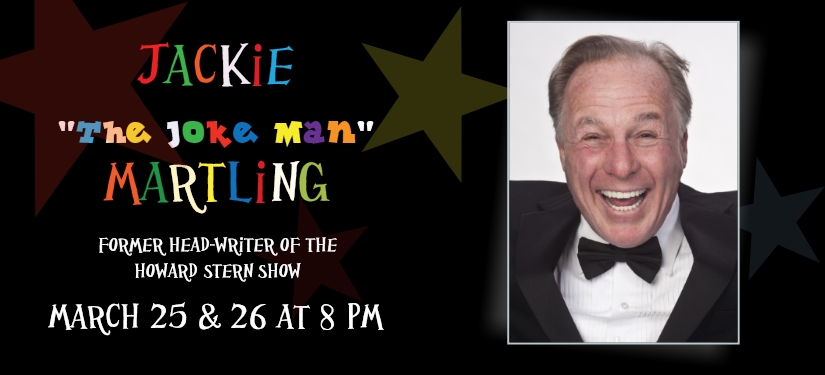 The Skinny:
Jackie "The Joke Man" Martling
Friday, March 25, 2016, (8pm)
Saturday, March 26, 2016 (8pm)
Boca Black Box
8221 Glades Road, Boca Raton, Florida 33434
Box-Office:(561) 483-9036
Tickets: bocablackbox.com (also check goldstar.com for discount tickets)
from bocablackbox.com
In 1982, after founding "Governor's Comedy Shop" in Levittown on Long Island and touring as a national headliner, on a suggestion from a Washington DC comedy club owner, he blindly sent his three LP's to Howard Stern upon Howard's arrival at WNBC-AM in New York City. Howard called him to make a guest appearance on his radio show. In 1986, Jackie became a full-time cast member and the head writer of Stern's show, and as they say, the rest is history. Remarkable radio as well as show business history.
Jackie left the Stern show in 2001 after fifteen-year run as head writer of the radio show, four television series, and three Pay-Per-Views. He's released six dirty joke CD's … "The Joke Man," "Sgt. Pecker," "Hot Dogs & Donuts," Come Again?!," F. jackie," and "snart," as well as three videos, five joke books and countless joke gadgets of all kinds, for children as well as adults.
In 2006 he released a CD of his original music entitled "Happy Endings," that he co-produced with guitar legend Frank Vignola.
From 2007-2014, Jackie wrote and performed his own radio show on SiriusXM Satellite Radio, "Jackie's Joke Hunt," and he wrote the joke page for Penthouse magazine for 17 years.
Jackie is featured in the red-hot comedy documentary, "The Aristocrats," over a dozen other independent films, and has appeared on many television shows.
He still works all around the country performing his solo act of rapid-fire filthy jokes and the classic finale, "Stump The Joke Man." and guests on many of the top national radio shows and podcasts.
He Tweets a joke every day at 4:20pm … you can follow him on Twitter: @jackiemartling