Pop, Rock & Doo Wopp Live! (Clermont Performing Arts Center- Clermont)
This article first appeared on February 21, 2016. Jeff Eats just checked the box-office and there are just a handful of tickets left for tomorrow night's show! Soooo- if you wanna go, time to make your move!
Posted February 21, 2016
* Pop, Rock & Doo Wopp Live!
Very impressive lineup!
Just between you guys and Jeff Eats, Jeff Eats and Mrs. Jeff Eats saw The Duprees last night- and they alone are worth the price of admission. If the Merriam-Webster Dictionary had pictures, under the word smooth you'd find The Duprees' photo!
The Skinny:
Pop, Rock & Doo Wop
Clermont Performing Arts Center
3700 South Highway 27
Clermont, Florida
Sunday, March 20, 2016 (7pm)
Box Office: (352) 394-4800
Tickets: clermontperformingarts.com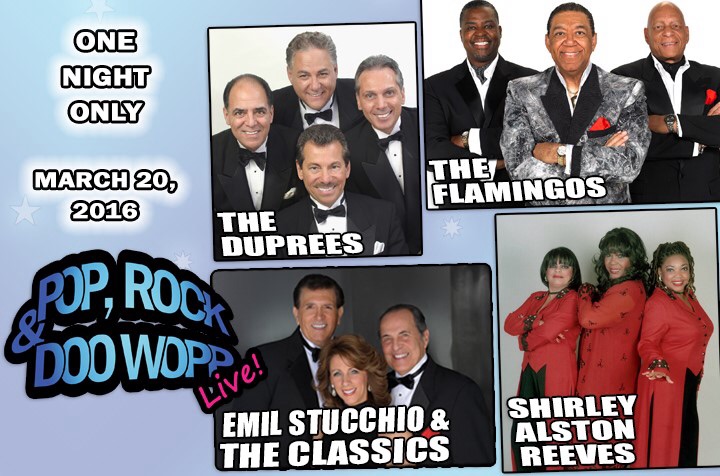 Pop, Rock & Doo Wopp Live! comes to the Clermont Performing Arts Center for one night only featuring some of the biggest names in American pop music history, including not one, but TWO Rock-and-Roll Hall of Famers!
Starring: The Flamingos featuring Terry Johnson ("I Only Have Eyes for You", "Lovers Never Say Goodbye"), Shirley Alston Reeves, original lead singer of The Shirelles ("Will You Love Me Tomorrow", "Soldier Boy"), The Duprees ("You Belong to Me", "Have You Heard"), and Emil Stucchio & The Classics ("Till Then"). Legend-packed show, not to be missed!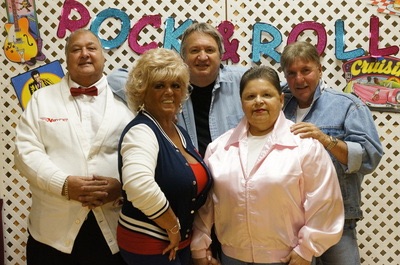 APPEARANCE BY CLERMONT'S OWN PAST TENSE,
including Lynda Caracci, an original member of '60s girl band, The Angels, with hits like "My Boyfriend's Back," and Joe Fatone, father of boy band N*SYNC star Joey Fatone.Jr.