DeNucci's Soft Serve (Ferandina Beach)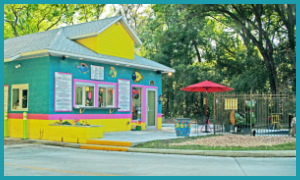 ***** DeNucci's Soft Serve, 2210 Sadler Road, Ferandina Beach, Florida (904) 310-6387.
Got an absolutely terrific fast food ice cream/burger/hot dog joint for you guys- DeNucci's Soft Serve in Ferandina Beach.
Just between you guys and Jeff Eats, if DeNucci's which is open Sunday noon-8:30pm, Monday-Thursday 11am-9pm, Friday-Saturday 11am-10pm was "by" my house in Boca Raton- I'd probably weigh something like 347 lbs.- because, I'd literally eat there every day!
DeNucci's (denuccis.com) describes itself as…"DeNuccI's Soft Serve an ice cream / frozen yogurt / frozen custard shop based in Fernandina Beach – Amelia Island, Florida. We feature BOTH soft serve and hard hand dipped ice cream products. We also serve Nathan's hot dogs, sandwiches, wraps and large soft pretzels. We have walk up windows, a drive up window and inside and outside seating. We're proudly family owned and operated and our shop is catered toward families. You'll notice our outdoor eating area and children's play place. DeNucci's is a great stop for the whole family to enjoy eats, sweets & treats!"
Long story short, the other day Jeff Eats and Mrs. Jeff Eats "tried" DeNucci's for lunch and the joint absolutely killed- the 2 grilled Nathan's hot dogs, bacon cheeseburger, onion rings, French fries, chocolate base Toffee Coffee Twister and vanilla base Turtle Twister were all right on the money delicious! By the way, if you think-Dairy Queen's Blizzards- you'll know what DeNucci's Twisters are "all about."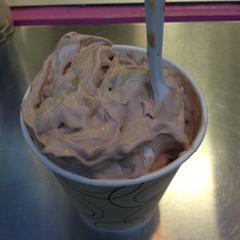 Like I said a couple of seconds ago, if DeNucci's was closer to Jeff Eats' Boca Raton home- I'd literally eat there every day- and if that isn't a good enough endorsement of the joint, then I don't know what is!
If you're into- real easy going casual stress free no waitstaff delicious food dining- then you gotta try DeNucci's Soft Serve!