Wolfgang's Steakhouse (Miami)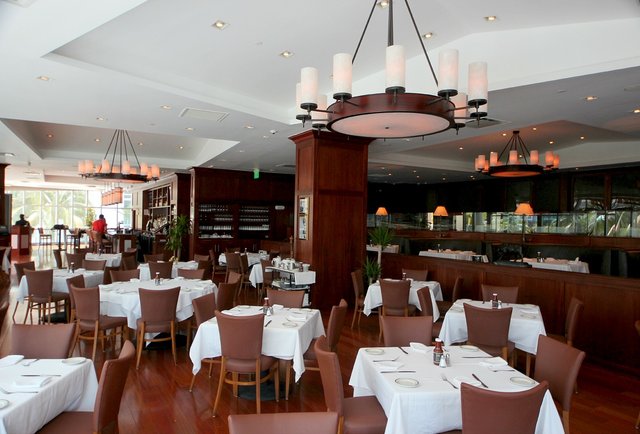 ***** Wolfgang's Steakhouse, 315 South Biscayne Boulevard, Miami, Florida 33131 (305) 487-7130.
Got a real good "upscale" steak joint for you guys, Wolfgang's Steakhouse in Miami.
If Wolfgang's works for you, it also has 5-locations in Manhattan, 1-in Beverly Hills, California, 1- in Somerville, New Jersey, 1-in Waikiki, Hawaii, 1-in Roppongi, Japan, 1-in Marunouchi, Japan, 1-in Osaka, Japan and 1-in Seoul, Korea For our purposes, the Miami joint is open Monday-Thursday noon-11:30pm, Friday noon-midnight, Saturday 5pm-midnight, Sunday 5pm-10:30pm. You can check menu/prices/locations at wolfgangssteakhouse.net.
Wolfgang's "claim" to fame as stated on its website is:
"After 4 decades of experience, it is fair to say that Wolfgang Zwiener learned his craft well. Taking the core principles from his years as Peter Luger's head waiter, Wolfgang didn't just duplicate an exceptional steakhouse; he improved upon it making Wolfgang's Steakhouse extraordinary. Wolfgang's Steakhouse is serving lunch and dinner seven days a week including all major holidays."
Just between you guys and Jeff Eats, if you told me that you'd been Peter Luger's Head Chef or maybe even Peter Luger's Assistant Head Chef, or maybe even Peter Luger's Assisant's Assistant Head Chef you might have gotten a "rise" out of me- but Head Waiter, I don't think so! Look at it this way, when Jeff Eats lived in Manhattan, Bill Cosby was a neighbor that I saw something like 3-4 times a week for something like 5 years- and I'm not a "charged" sex offender! See what I mean? 🙂
Anyway,
Last night Jeff Eats, Mrs. Jeff Eats and another couple ate at Wolfgang's- sizzling bacon appetizer, fresh mozzarella and beefsteak tomato salad, porterhouse for 2, grilled Chilean sea bass, veal chop milanese, fried onion rings, lobster mac & cheese, sautéed onions and I gotta tell you- everything was right on the money! If you promise not to tell Wolfgang- all four of us were very impressed by his- upscale but easy going décor, his pleasant-easy going and very competent wait-staff and his "prices"- which weren't too over the top for the delicious food we had!
Let me wrap this up for you…
Jeff Eats loved Wolfgang's Steakhouse- and on second thought, I'm thinking- that Wolfgang definitely learned a trick or two from his Peter Luger- "gig."