D'Apple Cafe (Coral Springs)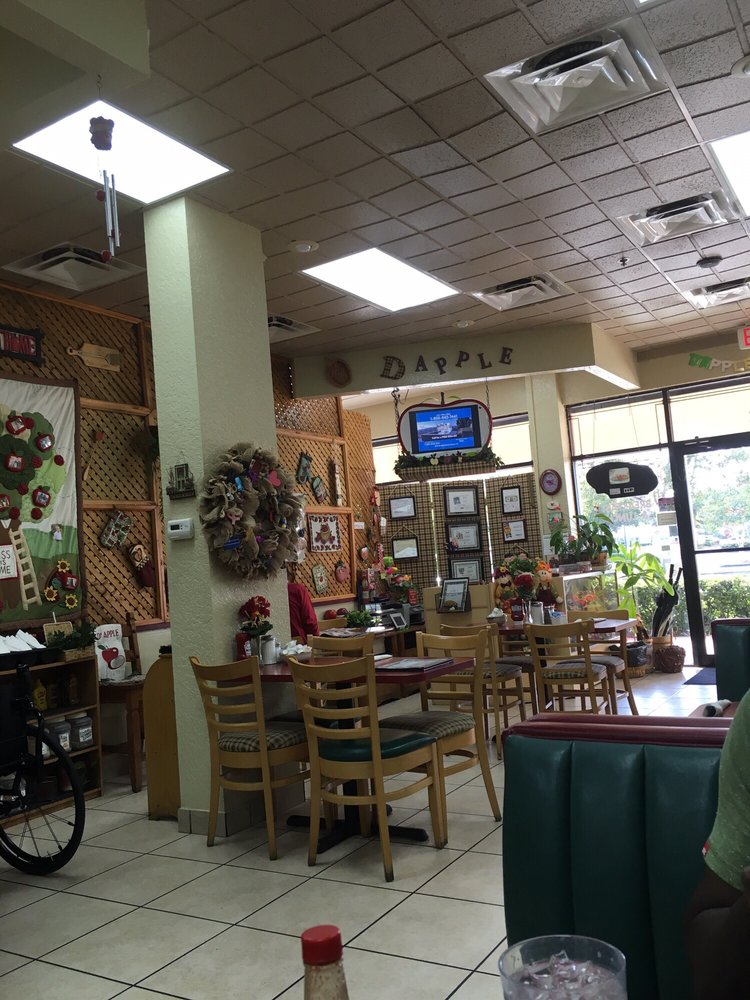 ***** D'Apple Cafe, 10645 Wiles Road, Coral Springs, Florida 33076, (954) 341-5850.
Here's another "out of sight out of mind" joint for you guys…D'Apple Cafe in Coral Springs.
Jeff Eats first told you guys about this "mom & pop" diner way-back on October 6, 2012. Just between you guys and Jeff Eats, this is another "one" that I screwed-up…having not been back until this morning for breakfast-some 3 1/2 years later!
Real simple story to tell you guys,
Jeff Eats and Mrs. Jeff Eats did breakfast…nova ($7.29) and meat lover ($7.49) omelets and both killed! Service was great and the joint's prices were very reasonable!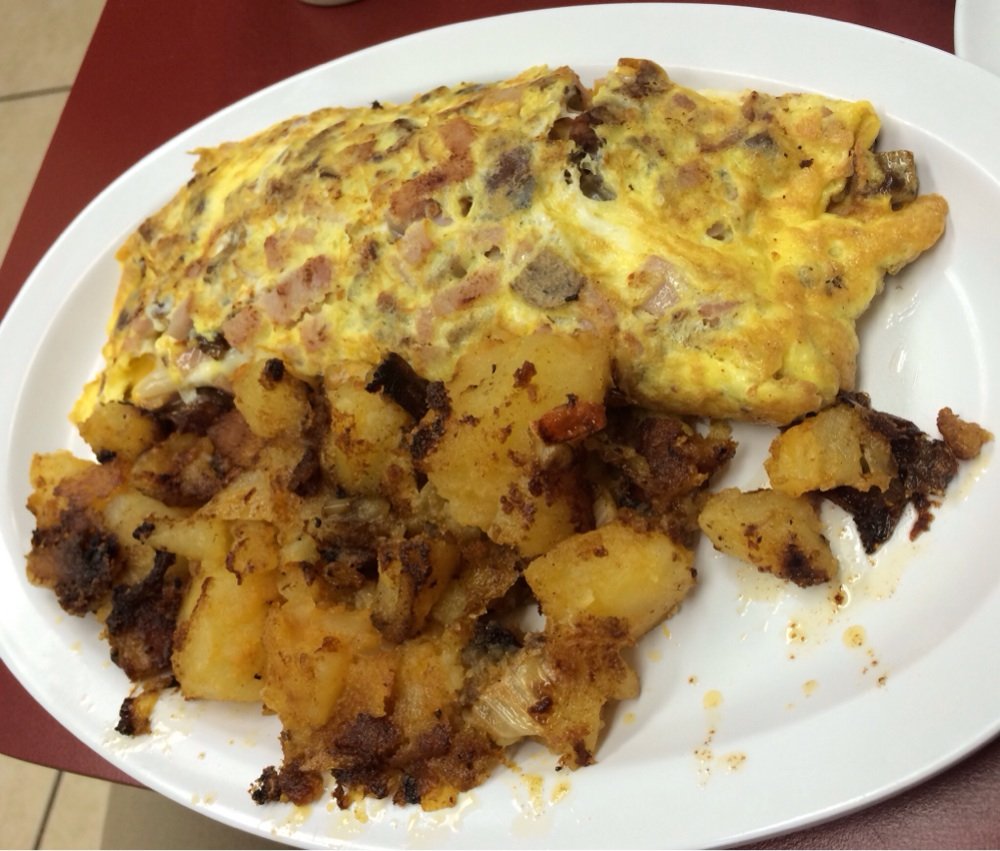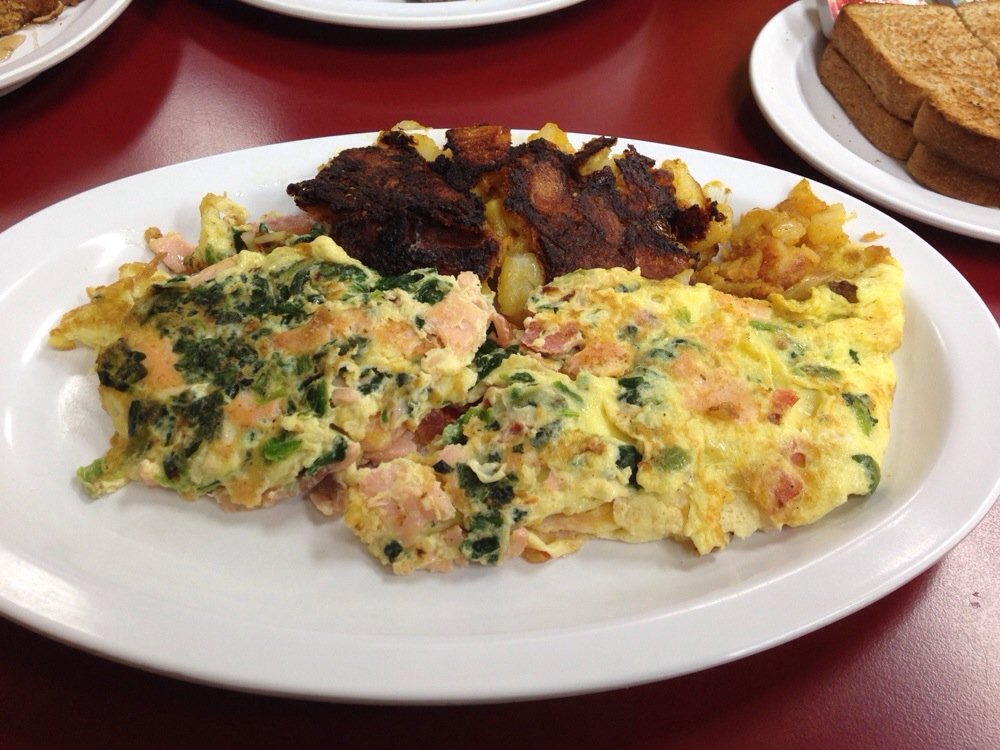 You regular Jeff Eats' readers know, that I am really into the "mom & pop" neighborhood diner concept! To me (I know that it may sound a bit patriotic)-joints like D'Apple Cafe are part of America's fabric and cultural background! To me, you can't beat leisurely eating a big breakfast-with loads of hot coffee and just shooting the "sh@t with family and friends before the real start of the day! No bs here…if you haven't yet "tried it"- do a Sunday breakfast with family/friends at "your" local mom & pop diner, trust me you'll all probably be better for it! By the way if "Sundays" don't work for you- there are still 6 other days of the week to give the concept a shot!
D'Apple Cafe is open Tuesday-Sunday 7am-3pm closed on Monday.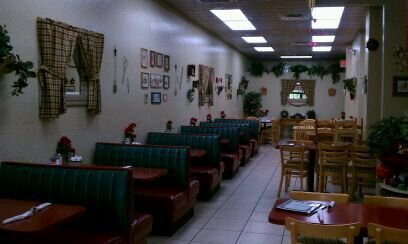 Posted on October 6th, 2012 · American Breakfast Coral Springs
***** D'Apple Cafe, 10645 Wiles Road, Coral Springs, Florida 33076, (954) 341-5850.
D'Apple Cafe…"mom & pop" 7 days a week 7am-3pm diner in Coral Springs. You can check menu/prices/pictures at www.dapplecafe.com.
You regular readers know that Jeff Eats is a huge fan of "mom & pop" diners…personally "they" are right up there with my favorite places to eat breakfast and lunch. You regular readers also know, that America literally has 22,000,786 joints just like D'Apple. For sure, some are better than others…but over the past 6 years or so, only a handful of South Florida "diners' didn't get the job done for Jeff Eats.
D'Apple's menu has loads of breakfast stuff, salads, sandwiches, burgers, "special" entrees and desserts.
A recent outing had me doing breakfast at D'Apple…western omelet ($6.79), corned beef hash ($6.49), French toast ($4.49), home fries hash browns. Everything was A-OK…Nice sized portions, very friendly wait-staff, reasonable prices, decent enough coffee. D'Apple delivered a good solid diner-breakfast.
The advertisers of this world want you guys to believe that America runs on Dunkin'…trust me it doesn't. It's joints like D'Apple that make America-America…Hopefully you can appreciate Jeff Eats' sentiments here.
One final thought, to the owners of D'Apple (not that you care)–but I don't like the D'Apple name. Names like Z Best Pizza, Da Best Sandwich just don't ring right to this boy's ears.