Win 2 Tickets To: An Intimate Evening with AMBROSIA- Special Guest Appearance by Martin Dube (The Plaza Ballroom- North Palm Beach)
This article first appeared on February 11, 2016. Jeff Eats got a winner, so if you wanna go- you can catch tickets at seasidemusicmgmt.com. Trust Jeff Eats on this one, great venue for an "up close" concert- great group…gonna be a great show!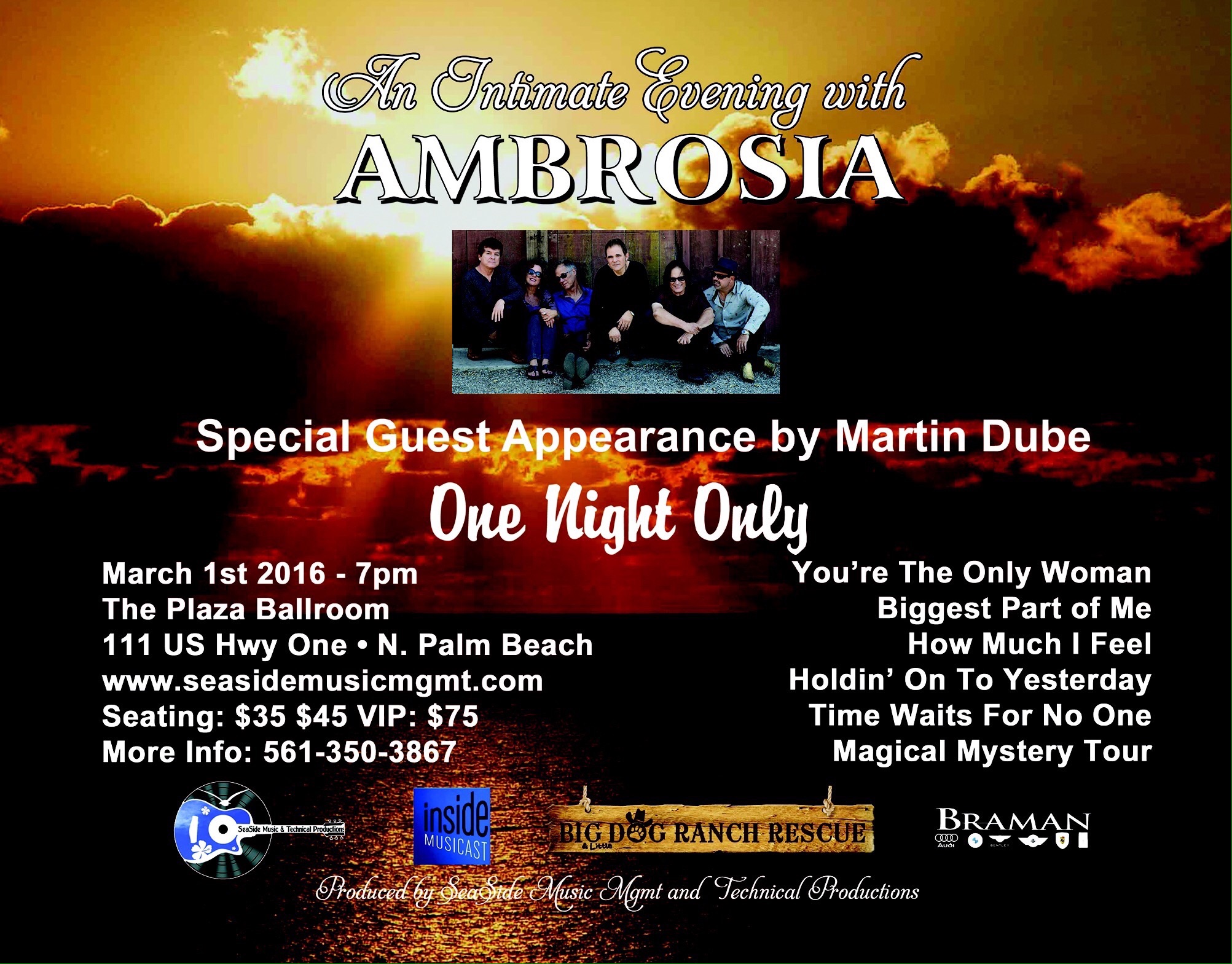 Posted February 11, 2016
* Win 2 Tickets To: An Intimate Evening with Ambrosia- Special Guest Appearance by Martin Dube.
Here's the game…
Be the 20th reader to post a "Comment" and you got 2 Tickets To: An Intimate Evening with Ambrosia- Special Guest Appearance by Martin Dube. One "Comment" per reader per day (IP Adresses don't lie)! If #20 isn't received by February 27, 2016- then #19, #18, #17 so forth and so on will be the winner! By the way, "Comments" will be published after Jeff Eats got a winner!
Posted February 10, 2016
* An Intimate Evening with AMBROSIA- Special Guest Appearance by Martin Dube.
Got something absolutely terrific for you guys…An Intimate Evening with Ambrosia- Special Guest Appearance by Martin Dube.
Real simple tale to tell you guys, on Tuesday, March 1st- Ambrosia who from 1975-1980 received 5 Grammy Nominations, had 5 top 20 singles, sold millions of records and played to SRO concerts all over the world-is set to appear at the intimate 400 seat The Plaza Ballroom in North Palm Beach. Trust Jeff Eats on this one, this concert is gonna be a SRO AFFAIR! This past January, 2016- Jeff Eats and Mrs. Jeff Eats saw Ambrosia at the Pompano Beach Amphitheater and the SRO crowd of 3,000 absolutely loved the band's appearance. If you can keep a secret, Ambrosia today, is as good as Ambrosia of 1975-1980. For you guys not familar with The Plaza Ballroom- the joint seats something like 400 and every seat works! The facility employs a gigantic video "wall" that enhances the music and sound – producing an indoor concert "experience" that is simply amazing.
If you guys can keep a secret, Martin Dube, the Canadian Superstar Singer Impressionist also on the bill- is alone worth the price of admission. Jeff Eats has seen Dube a number of times and the man is absolutely amazing, but that's just between you guys and Jeff Eats.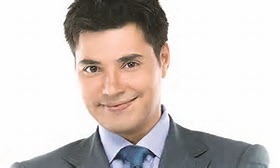 The Skinny:
An Intimate Evening with Ambrosia- Special Guest Apperance by Martin Dube
Tuesday, March 1, 2016 (7pm)
The Plaza Ballroom
111 US Highway One
North Palm Beach, Florida 33408
Tickets: seasidemusicmgmt.com (561) 350-3867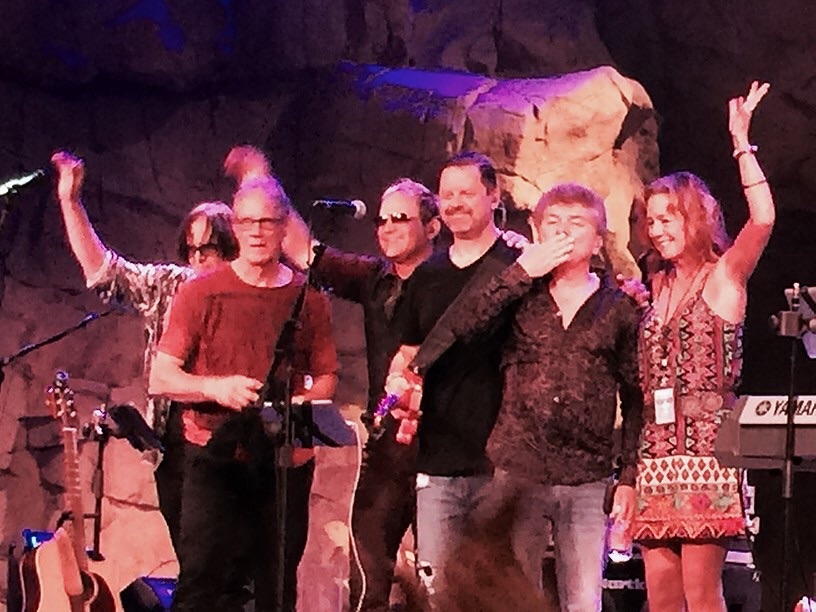 from ambrosialive.net
Ambrosia (formed in 1971) is a hit-producing and eccentric progressive rock band, known for their seductive ballads and post-disco sound, hailing from Los Angeles, California, U.S.
Originally comprised of frontman David Pack, bassist Joe Puerta, keyboard player Christopher North, and drummer Burleigh Drummond, Ambrosia's earliest inspiration came from the melodic pop of The Beatles and The Beach Boys. The group was subsequently influenced by the vocal harmonies of Crosby, Stills, Nash & Young, before attending a King Crimson concert and having their musical perceptions altered greatly. Following a poorly performed audition at A&M Records, the group impressed Rubicon Management with a demo and later inked a deal with 20th Century Fox Records.
With major-label backing Ambrosia issued their eponymously-titled debut album in February 1975. Spawning the hits "Holdin' On To Yesterday" and "Nice, Nice, Very Nice", the latter a musical composition set to Kurt Vonnegut Jr.'s "Cat's Cradle", the album was subsequently nominated for the Grammy for Best Engineered Album. Produced by the extolled Alan Parsons, the group subsequently appeared on Parsons' project album "Tales of Mystery and Imagination" in 1976. Despite its progressive nature and occasional inaccessibility, Ambrosia's debut sold remarkably well and earned a host of favourable reviews.
Following a period of constant worldwide touring, the band returned to the studio with Alan Parsons to release their sophomore album "Somewhere I've Never Travelled" in September 1976. The album earned Ambrosia their second Grammy nomination and spawned the popular radio singles "Somewhere I've Never Travelled" and "Can't Let A Woman". With the success the record afforded the group, Ambrosia subsequently signed with Warner Bros. Records, later contributing the song "Magical Mystery Tour" to the musical Beatles documentary "All This and World War II".
Taking a step back from the rich vocal arrangements and luscious orchestration, the band's third full-length "Life Beyond L.A." saw Ambrosia adopt R&B and jazz influences. The album spawned Ambrosia's biggest hit to date "How Much I Feel", reaching No. 3 on the Billboard Hot 100, with a number of other singles receiving regular radio airplay. Subsequent touring alongside Fleetwood Mac, Heart, and the Doobie Brothers did wonders for the group's live reputation, however the release later marked the departure of keyboardist Christopher North.
In 1980 Ambrosia issued the full-length "One Eighty", which produced two of the year's biggest hits "Biggest Part of Me" and "You're the Only Woman (You & I)". Later securing three Grammy nominations, the album was toured internationally, notably with guitarist Cliff Woolley on the Japanese leg. Following the arrival of Bruce Hornsby with the departure of David Lewis, Ambrosia released their fifth full-length album "Road Island" in 1982. Despite the minor hit "How Can You Love Me" the album was a commercial disappointment and after which the group parted ways. The greatest hits compilation "Anthology" hit the shelves in 1997, three years later the group reformed with Doug Jackson permanently replacing Pack, for Ambrosia's 30th anniversary tour.