Darlene Love (Parker Playhouse- Fort Lauderdale, The Lyric Theatre- Stuart)
* Darlene Love.
Real simple tale, Darlene Love is one of pop music's greatest vocalists!
If you haven't seen her, GO! If you have, GO AGAIN!
The Skinny:
Darlene Love
February 20, 2016 (8pm)
Parker Playhouse
707 Northeast 8th Street
Fort Lauderdale, FL
Box Office: (954) 462-0222
Tickets: parkerplayhouse.com
February 22 & 23, 2016 (7:00pm)
The Lyric Theatre
59 Southwest Flagler Avenue
Stuart, FL
Box Office: (772) 286-7827
Tickets: lyrictheatre.com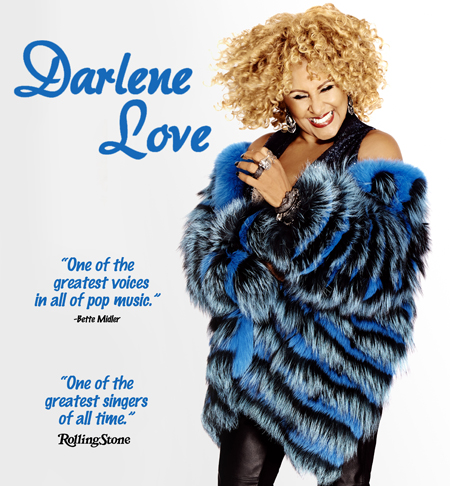 from lyrictheatre.com
After a powerful debut performance at The Lyric Theatre last December, vocalist and diva Darlene Love returns for another night of soaring vocals and heart-wrenching emotion. Considered "one of the greatest singers of all time" by Rolling Stone Magazine, Love is known for her vital role as a vocalist in the biggest hits of the '50s and '60s, from The Ronnette's "Be My Baby" to Bobby Pickett's "Monster Mash." Darlene Love will perform some of her greatest singles, including "Christmas Baby (Please Come Home)" and "He's a Rebel" in downtown Stuart this February.
Darlene Love got her start in show business when the young singer was in high school, forming the little-known girl-group called The Blossoms. By 1962, Love had attracted the attention of record producer Phil Spector, who immediately signed her. Darlene Love quickly became one of the most recorded vocalists in the music industry, working with major artists such as Elvis Presley, Sam Cooke, and Sonny and Cher. Aside from her success as a singer, Love has also enjoyed a career as an actress, performing both on stage and in film. Notably, Love played the role of Danny Glover's wife in all four of the Lethal Weapon movies. With roles in Grease, Carrie, and Hairspray, Darlene Love has also appeared on television programs including Late Night with David Letterman and Saturday Night Live.
Most recently, Darlene Love was featured in the Academy-award winning documentary 20 Feet from Stardom, which highlighted the careers of the often under-represented back-up vocalists from the '50s, '60s, and '70s. A 2011 Rock and Roll Hall of Fame inductee, Darlene Love will bring her powerhouse of a voice to The Lyric stage this season for an unforgettable, soulful performance.
*Partial proceeds to benefit St. Paul African Methodist Episcopal Church