Attack Of The Burgie Awards (Magic City Casino- Miami)
* Attack Of The Burgie Awards.
Trust Jeff Eats on this one, The Burger Beast (burgerbeast.com) is the consummate-pro at throwing great food truck events!
Jeff Eats and Mrs. Jeff Eats are gonna gas the car up for this one!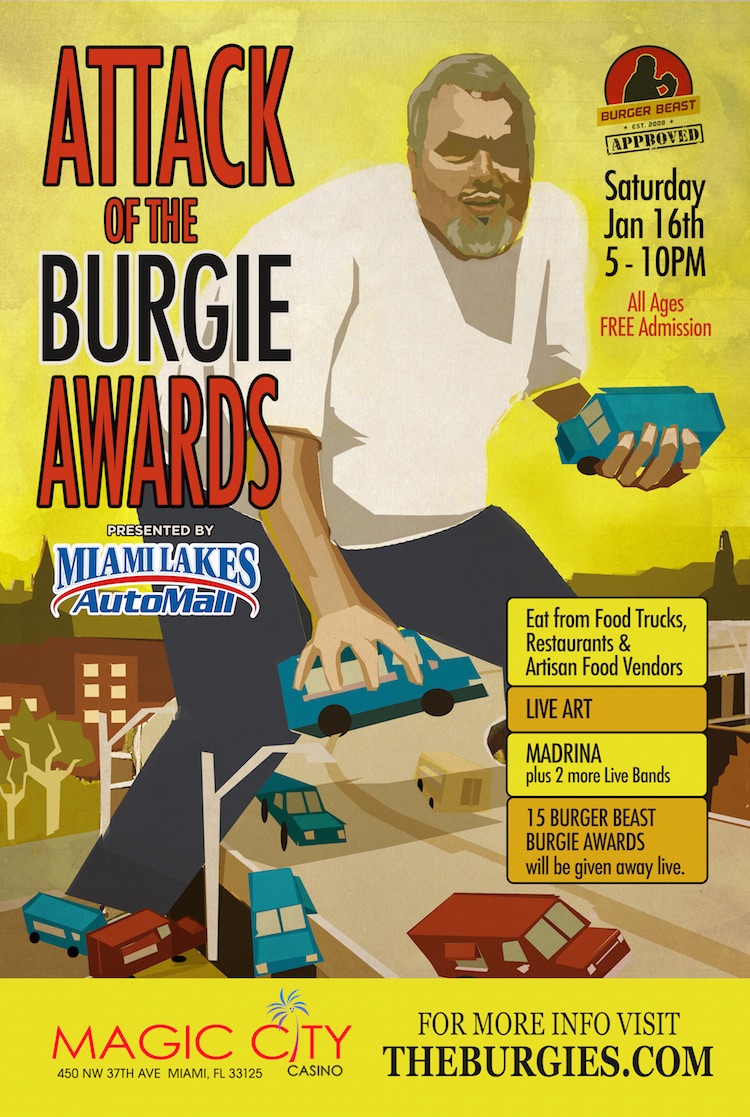 from burgerbeast.com
7th Annual Burgie Awards
Celebrating the Best in South Florida Comfort Food
Miami, FL – In 2009 South Florida Food Entity Burger Beast wanted to honor the unsung heroes of the South Florida Food Scene with Awards. His "Burgie Awards", the first of their kind were a sensation. SFL Restaurants & Food Trucks have now taken to proudly displaying their "Burgie Awards" year round in their establishments.
After a 2 month long voting period on the Burger Beast Blog which ends on Wednesday January 13th, the 14 Burgie Award Winners will be decided. Those Winners will be announced & receive their Awards LIVE at the Burgie Awards.
The 2016 Burger Beast Burgie Awards Categories:
Best Appetizers/Starters
Best Artisan Food Vendor
Best Burger
Best Chef
Best Croqueta
Best Dessert
Best Food Truck
Best Frita Cubana
Best Hot Dog/Sausage
Best Pan con Lechon
Best Pastelitos
Best Pizza
Best Restaurant
Best Sandwich
Miami Lakes Auto Mall is bringing the 2016 Burger Beast Burgie Awards back to Magic City Casino on Saturday January 16th. Last time the Burgie Awards took place in Miami was 2011!
If you're a food fan then this is the event for you.
Over 25 different food vendors will be on hand selling to the public a variety of great eats including:
Artisan Food Vendors, Food Trucks & Restaurants
Aja Food Truck
Arepas Las Gorditas
Babe Froman
Box of Chacos
Che Grill
Cool Beans
Daddy's Grill
El Rey de las Fritas
El Rincon del Coqui
Exquisito Fine Chocolates
Fat Moe's
FOAR
Frankie's Pizza
HipPOPs Handcrafted Gelato Bars
Ice Cream Express
Jersey Dawg
King of Racks BBQ
The Lobsta Guy
The Magic Box
Miami Roasted Corn
Monster Burgers
Ms. Cheezious
Palate Party
Palomilla Grill
PG Bakery
Pincho Factory
Scrumptious Sweets
Taco Fresh
Top Fries
Velvet Creme Doughnuts
Wholesome Rollers
Woody's Burgers
Zombie Ice
DJ Volksmusik along with bands Madrina, Retro Sky & the Osceola Brothers will be handling the music for the night.
Nate Dee will be handling the Live Art for the night.
The 2016 Burger Beast Burgie Awards are sponsored by Miami Lakes Auto Mall and Food Truck Invasion.
The Details:
7th Annual Burger Beast Burgie Awards
Facebook: Burgie Awards
Website: http://theburgies.com
Hashtag: #BurgieAwards2016
Date: Saturday January 16th
Time: 5PM – 10PM
Location: Magic City Casino (450 NW 37th Avenue, Miami, FL 33125)