Sarge's New Years Eve Laugh Blast (Boca Black Box- Boca Raton)
This article first appeared on November 9, 2015. Jeff Eats just checked the box-office and there are just a handful of tickets left for both the 8pm and 10pm shows, so if you wanna go, do what you gotta do, but do it fast!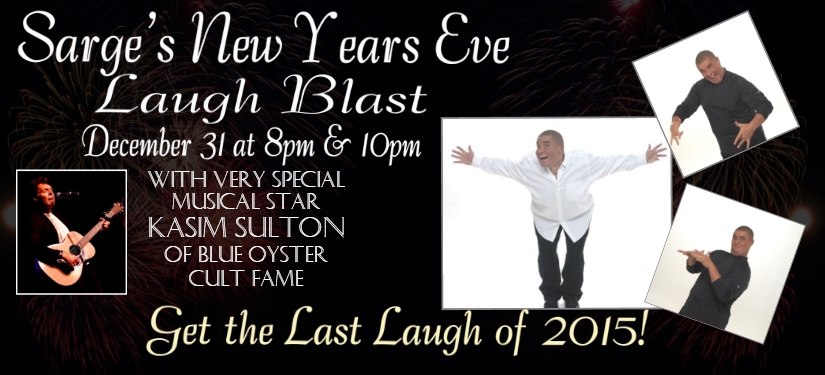 * Sarge's New Years Eve Laugh Blast.
Got absolutely no idea as to exactly- what National Comedian Headliner- Sarge has planned! All I know is that Jeff Eats and Mrs. Jeff Eats are gonna be there for the late-show. The way we got it figured- the combination of Sarge's hilarious comedy routine- with the music of the legendary Rock N Roll vocalist/bass player- Kasim Sulton of Utopia/Blue Oyster Cult fame- at the intimate 250 seat Boca Black Box in Boca Raton- is gonna be a can't miss way to celebrate New Years Eve!
The Skinny:
Sarge's New Years Eve Laugh Blast With Very Special Musical Star Kasim Sulton
BOCA BLACK BOX
8221 Glades Road, Boca Raton, FLorida 33434
(561) 483-9036
Info/Tickets: $40 (8pm)- $50 (10pm) bocablackbox.com
THURSDAY, DECEMBER 31 2015
8:00 PM — 10:00 PM
THURSDAY, DECEMBER 31 2015
10:00 PM – 12:30 AM FRIDAY, JANUARY 1 2016
from bocablackbox.com
Sarge's New Years Eve Laugh Blast with very special musical celebrity guest from Utopia and Blue Oyster Cult Kasim Sulton… Get the LAST LAUGH of 2015!
This night will consist of Live Music, Dancing, Comedy (with all the trimmings), and a midnight toast at the last show!