New Year's Eve- The Motortown All-Stars (The Delray Beach Marriott Beach- Delray Beach)
This article first appeared on August 5, 2015. Jeff Eats just checked with the folks at PopRockDooWopp.com and there are only a handful of tickets left for this event! So if you wanna go, no time to waste! I'm thinking that this is gonna be a tremendous New Year's Eve Party! Check PopRockDooWopp.com for further info and tickets
_______
Posted August 5, 2015
* New Year's Eve- The Motortown All-Stars.
This is the 3rd go-round for…"New Year's Eve- The Motorman All- Stars" at The Delray Beach Marriott Beach in Delray Beach. Years #1 & #2 were complete sell-outs!
THIS IS GOING TO BE A GREAT AND I DO MEAN A GREAT…NEW YEAR'S EVE PARTY!
Check PopRockDooWopp.com for further info and tickets!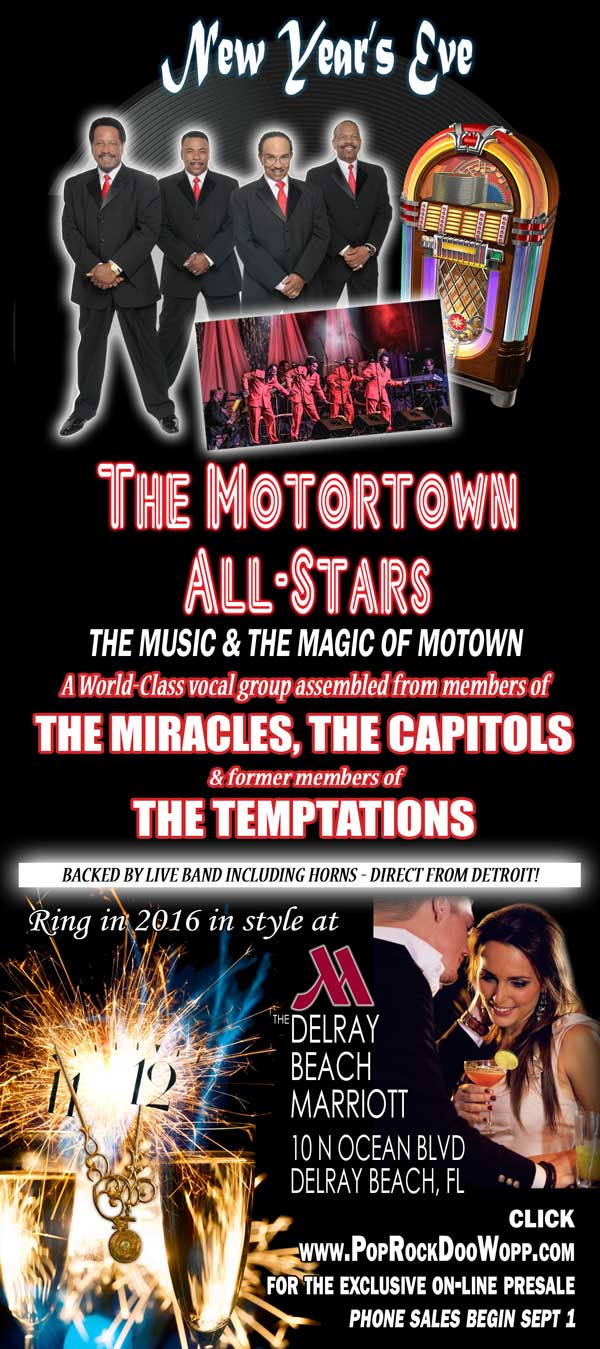 From can catch tickets at
It's never too early!
(Our New Year's Eve celebrations always sell out.)
Comedy CabanaThe early bird gets the worm AND $10 off per person. (Just use the code EARLY to save $10 each on your New Year's Eve reservation. This is a limited-time offer.)
Join us and the Motortown All-Stars on Delray Beach's enchanted Gold Coast for an unforgettable New Year's Eve of dining and dancing to the greatest Motown hits of all time! From the creators of "Pop, Rock & Doo Wopp" comes an evening filled with old friends and new, award-winning cuisine and dancing to the soundtrack of our lives – the music of The Temptations, The Miracles, The Four Tops, The Jackson Five, The Supremes, Stevie Wonder, Martha & the Vandellas and The Capitols. The Delray Beach Marriott is an exquisite 4-Diamond resort, conveniently located at the corner of A1A & Atlantic Avenue. Ticket prices include a gourmet dinner, champagne toast, broadcast from Times Square and more!
THIS IS A PRE-SALE FOR ON-LINE SALES ONLY. PHONE SALES WILL OPEN ON SEPTEMBER 1. THIS EVENT WILL SELL OUT.
All the details are here. Just click!
Dinner and delicious desserts… The Delray Beach Marriott has long been known for its delectable offerings at special events and, needless to say, New Year's Eve will feature some of the resort's finest. We are pleased to offer a world-class buffet loaded with their very best and a dessert display that has to be seen to be believed. There will also be plenty of Seasonal Fruit for those who instate their New Year's resolutions early.
Dancing… If you've got the stamina, the dance floor will be open all night! We do things the old-fashioned way – with live singers, live musicians and even live horns. Drums thumping, bass pumping, saxophones and trumpets blaring just like on those great original Motown recordings. It'll be just the right volume and just the right groove for a discerning audience that knows what good music is.The Motortown All-Stars
The Motortown All-Stars… The real deal! They rocked the house last year and our survey revealed an overwhelming majority of you prefers to rock, roll and ring in the New Year with these amazing entertainers again! It will be a brand new show and – tough to believe but true – even better than last year. Every vocalist and musician you will see and hear is flying in from Detroit for this exciting event. Assembled from members of the Capitols, the Miracles and former members of the Temptations, this super-group of Hitsville stars will sing all your favorites live, just the way you remember them – "My Girl", "Ain't Too Proud to Beg", "Signed, Sealed, Delivered", "Get Ready" and those slow dances – "Ooh Baby, Baby", "The Tracks of My Tears" and "Just My Imagination."
The tickets… are priced at $159 and $179 which includes reserved seating, live entertainment throughout the evening, dinner, dessert, a champagne toast at midnight and a live broadcast from Times Square. We've even included your parking, for which there is usually a charge.
Delray Beach Marriott
10 North Ocean Blvd
Delray Beach, FL 33483
We'll see you there!
THIS IS A PRE-SALE FOR ON-LINE SALES ONLY. PHONE SALES WILL OPEN ON SEPTEMBER 1. THIS EVENT WILL SELL OUT!