J. Mark's Restaurant & Bar (Pompano Beach, Fort Lauderdale)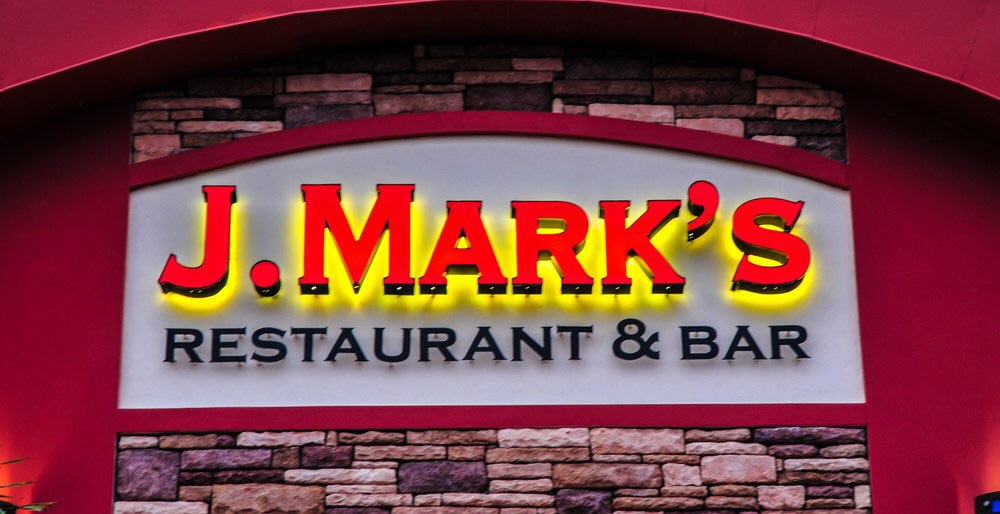 ***** J. Mark's Restaurant & Bar, 1490 Copans Road, Pompano Beach, Florida 33062, (954) 782-7000.
Let's consider this one- a PUBLIC SERVICE ANNOUNCEMENT!
Jeff Eats knows that at this time of the year…a ton of you guys got a ton of out of town relatives and friends visiting…
J. Marks with 1-location in Pompano Beach and 1-location in Fort Lauderdale is a terrific reasonably priced American-Style joint to feed everybody at!
Jeff Eats and Mrs. Jeff Eats have been eating at the Pompano Beach joint for years- and the food and service have always been right on the money! For what it's worth, we've also eaten in J. Mark's Fort Lauderdale location (1245 North Federal Highway, Fort Lauderdale, Florida 33304, (954) 390-0770) a good handful of times- same great food and service- just a much bigger drive from the Jeff Eats' Boca Raton Homestead- so Pompano gets most of our action!
You can check menu/prices/locations/info at jmarksrestaurant.com.
__________
Posted December 7, 2008
***** J. Mark's Restaurant & Bar, 1490 Copans Road, Pompano Beach, Florida 33062, (954) 782-7000.
Last night I had dinner at J. Mark's which is an "American-Style" joint located in Pompano Beach. Take a look at J. Mark's website at www.jmarksrestaurant.com for menu/prices/photos…so you will have some idea of what I am yapping about.
J. Mark's reminds me of Houston's which has five South Florida locations (Palm Beach, Boca Raton, North Miami Beach, Coral Gables and Winter Park) in decor/menu…so, if you are a fan of Houston's or know anything about it, you now have a point of reference to work with. By the way, J. Mark's menu-prices are far more reasonable than those charged at Houston's
Now let's get down to brass tacks…I think that J. Mark's is an absolutely terrific restaurant. J. Mark's is a very handsome looking joint, doing the "stone-wood" look… bar area, dining room, out-door patio for dining. This joint is not a sports bar, but there are enough flat screen tvs to keep you updated on your favorite team.  On Saturday nights a small jazz band works the joint.
J. Mark's menu is loaded with appetizers, salads, pastas, burgers, sandwiches, meat/seafood/chicken entrees and desserts. Now for the taste test…fabulous, no make that sensational mini-cheeseburgers, delicious baby back ribs-roast chicken-orange chicken and grilled tuna steak. The shoe-string french fries were okay, but nothing to write home about. As for service, Clint our waiter was terrific and didn't miss a beat.
Just so we are straight…over the years, I must have eaten in Houston's something like 10 times. I consider Houston's and for that matter The Cheesecake Factory to be the "middle ground" between the "just borderline passable" T.G.I. Friday's-Applebee's-Duffy's-Ale Houses and the "upscale-over priced-pretentious" steak/seafood joints like New York Prime- Morton's- Ruth's Cris-Abe & Louie's.
The bottomline is this…J. Mark's is a terrific restaurant. It looks upscale, but tee shirts/shorts are just fine…the food is very good, the service is excellent…and the prices are extremely reasonable…appetizers run $7.95-$10.95, salads $8.95-10.95, burgers-sandwiches $8.95-$9.95, entrees $10.95-25.95. By the way, those sensational mini-cheesburgers that I previously mentioned, run $9.95 for 4 with french fries…each burger is topped with cheddar cheese-ketchup-pickles-fried onion ring and they are not to be missed.
You now know about J. Mark's. Give this joint a try…I really think that you will enjoy this restaurant. By the way, J. Mark's is open Sunday-Thursday 11am-10pm and Friday-Saturday 11am-11pm.