The Greatest Holiday Show On Earth! (Boca Black Box- Boca Raton)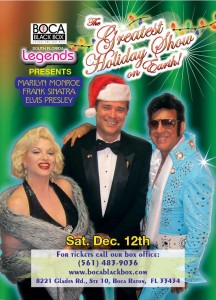 * The Greatest Holiday Show On Earth!
Jeff Eats is thinking- this "legends" show (8pm-10pm) will be real fun!
Jeff Eats just checked …goldstar.com has some $10 & $15 tickets listed.
from bocablackbox.com
Join Marilyn Monroe with two very special guests, Frank Sinatra and Elvis for the Ultimate Holiday Tribute Show…..Marilyn and Elvis and Frank will sing all your holiday favorites as well as the classics that each one of these icons are famous for. This trio will have you laughing, smiling and singing in the aisles. Bring your camera, for our holiday trio will stand under the mistletoe and pose for pictures for a one on meet and greet. So put on your sleigh bells, your mittens and your best holiday cheer and come enjoy the holiday spirit with these three legends.