John Ford Coley (Boca Black Box- Boca Raton)
This article first appeared on October 9, 2015…Jeff Eats just checked the box-office and there is just a handful of tickets left for this show. I also checked goldstar.com and its got a few discount tickets available. So if you guys wanna go, time to get busy!
Posted October 9, 2015
* John Ford Coley.
Don't say Jeff Eats never gave you a great heads-up!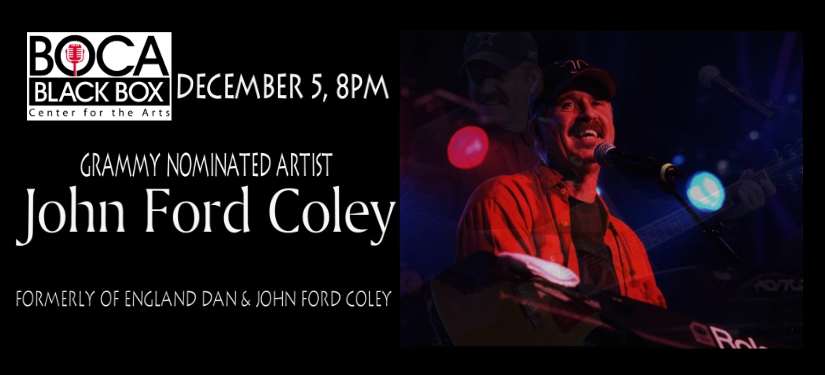 Boca Black Box
8221 Glades Road, Boca Raton, Florida 33434
(561) 483-9036
SATURDAY, DECEMBER 5, 2015
8:00 PM — 10:00 PM
GET TICKETS: bocablackbox.com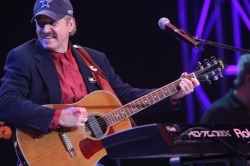 from boca'blackbox.com
There are songs you hear in your life that transport you to a certain time period or give you a special feeling. You associate those good times to the group that made them famous. Songs like "I'd Really Love To See You Tonight," "Nights Are Forever Without You" and "Love Is The Answer" have that kind of effect on people. Those songs and numerous others have made John Ford Coley a singing legend. He has spent decades touring, writing, recording, and producing. John is most revered as half of the Grammy nominated duo England Dan and John Ford Coley. He continues with an active roster performing the platinum and gold record hits for audiences around the world. Classically trained on piano and an avid guitarist, John loves the craft and enjoys every audience he encounters.
With double platinum and gold records behind him, John has also produced other artists. Most recently, he co-produced several sides on Eddie Money. Country musician, Vince Gill added vocals along with John to give the sessions a country feel. Additionally, John has produced CD's on Country Artist Tom Wurth and another talent, Lynn Bryant. Of late, John recorded a live album while he was on tour in the Philippines with many of the hits. It is available on the internet, and at concerts. John is currently going into the studio to record new material for an acoustic album. Some of John Ford Coley's hits are as follows: "Love Is The Answer", "Gone Too Far", "I'd Really Love To See You Tonight", "We'll Never Have To Say Goodbye Again", "Nights Are Forever Without You", "Soldier In The Rain", "Come Back To Me", "Sad To Belong", "Simone", "Westward Wind", "Part of Me, Part of You." Some of John's songs have appeared in feature films such as "Nights are Forever Without You" in "Dickie Roberts Former Child Star". Another hit "I'd Really Love To See You Tonight" appeared in the film "Long Kiss Goodnight" with Geena Davis and Samuel L. Jackson. Over the years John has shared the stage with many of the music industry's famous hit makers. Some of those include: Elton John, Heart, Fleetwood Mac, Chicago, Carole King, Bread, Loggins and Messina, Led Zepplin, Carly Simon, Bill Cosby, Steve Miller Band, Randy Bachman, Jesse Colin Young, Air Supply, Ambrosia, Poco, Terry Sylvester (formerly of the Hollies), Orleans, Lou Gramm and Gordon Lightfoot, to name a few. John's television exposure crosses all demographic boundaries. He's hosted "The Midnight Special" and co-hosted "The Mike Douglas Show". He's appeared on "The Tonight Show", "Merv Griffin", "David Soul and Friends", "Dinah", "American Bandstand", "Hollywood Squares" (A Special Rock Edition), "Make Me Laugh", "Don Kirshner's Rock Concert", "Prime Time Country", and the "Trinity Broadcasting Network." Some of John's Television and Movie Theme Songs written or performed include: "Just Tell Me pYou Love Me", "Dr. Pepper", "Major League, Back To The Minors", "James At 16", "Joe Panther", "The Spy Within" "Cold Case" and "Maxwell House Coffee" with Paul Newman in Japan.
In the mid-1980's, John entered acting. In "Dream A Little Dream", Coley performed as the boyfriend of actress Susan Blakely. In this role he enjoyed playing an antagonist and pushing teen Corie Feldman down some stairs and spiking Feldman's girlfriend's wine to keep her from sneaking out. Previously, in his first acting role in "Scenes From The Gold Mine", Coley played a drummer alongside Eagles Timothy B. Schmidt. The film also featured Joe Pantoliano (The Sopranos). In another film "Aces and Eights", John played in a deadly 1870's poker game against Steve Railsback and Doug McClure. Most rewarding though was an episode of "America's Most Wanted". Here, John played a drug dealer who was killed by his partner. In this re-enactment, the capture of John's character's real-life killer was among the fastest captured in the show's history. 2 John's experiences stem from a broad background, since he is very eclectic in his interests. Although John performed throughout high school and college as a classical and rock pianist, he chose to major in English Literature in his university studies and is an avid student of history. In between the extensive road duty, John lives in the Nashville area with his family, where he's penned a book on his years in the music industry entitled "Backstage Pass", and is writing another book about his spiritual journey back from another religion to Christianity. He also speaks in churches about his experiences