Pop, Rock & Doo Wopp Live! ( Port Saint Lucie Civic Center- Port Saint Lucie)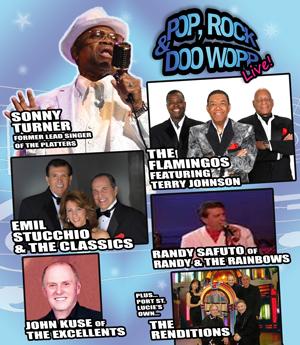 
* Pop, Rock & Doo Wopp Live!
This one should be really good!
Earlier this year, Jeff Eats saw- Turner/The Flamingos/The Classics- and they killed! The rare play here, Safuto and Kuse who in recent years haven't exactly been "staples" on the oldies circuit…just between you guys and Jeff Eats, "one-hit-wonders" but in my book, DENISE and CONEY ISLAND BABY are alone worth the price of admission!
The Skinny:
Pop, Rock & Doo Wopp Live!
Thu. Feb 11, 2016 at 7:30pm EST
Port St. Lucie Civic Center 9221 SE Civic Center Pl.
Port St. Lucie, FL 34952
(772) 871-5225
Tickets: $39, $49, $59 at poprockdoowopp.com
from poprockdoowopp.com
Rock & Doo Wopp Live!
Pop, Rock & Doo Wopp Live! returns to the Port St. Lucie Civic Center just in time for Valentine's Day with some of the greatest voices singing some of the greatest love songs of all time…
The Flamingos featuring Terry Johnson ("I Only Have Eyes for You", "Lovers Never Say Goodbye", "Mio Amore")
Sonny Turner, the former lead singer of The Platters ("Only You", "With This Ring", "My Prayer", "The Great Pretender", "Smoke Gets in Your Eyes", "I Love You 1,000 Times")
and a New York Doo Wopp Reunion…
FROM BROOKLYN… Emil Stucchio & The Classics ("Till Then")
FROM QUEENS… Randy & The Rainbows' original lead singer Randy Safuto ("Denise")
FROM THE BRONX… The Excellents' original lead singer John Kuse ("Coney Island Baby")
and Port St. Lucie's own pop, rock and doo wopp stars, The Renditions.