Restaurant.com- $68 Gets You $400 Deal!
* Restaurant.com- $68 Gets You $400 Deal!
Just between you guys and Jeff Eats, I've been "using" Restaurant.com for years- and it hasn't screwed me- yet!
If you check, Jeff Eats first told you about Restaurant.com on September 10, 2009- like I just said, it hasn't screwed me- yet!
This- $68 Gets You $400 Deal looks real interesting…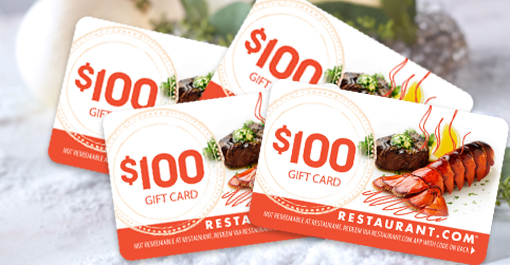 Description:
Start your holiday season with taste, savings and the ability to discover amazing restaurants across the nation. For only $68 you'll receive (4) $100 Restaurant.com Gift Cards—that's an 83% discount.
Tuck them into stockings, use them as hostess gifts or keep them on hand as thank yous for neighbors, the postman, teachers and those unexpected gift givers.
We can also ship the bundle anywhere in the U.S.A. Recipients can use them in their choice of 20,000 (and growing!) restaurants across the nation. The cards can be redeemed online at Restaurant.com or with their FREE app.
This is one of our best deals! But it's only for a limited time. So be early—save more! Just don't wait until this merry little offer ends.
Details:
RESTAURANT.COM:
• Restaurant.com Gift Cards ship within 5-7 business days of purchase.
• Restaurant.com eGift Cards Never Expire.
• May be redeemed solely for services at www.restaurant.com.
• Have no cash value and are not redeemable for cash at any time.
• Must be redeemed online for restaurant-specific certificates.
• Resale is prohibited unless authorized by Restaurant.com.
• This eGift Card cannot be brought directly into restaurants and must be redeemed online.
• Minimum purchase is required at the restaurant.
About Restaurant.com
What We Do:
Restaurant.com, the leading provider of restaurant savings nationwide, has been in the online deal business for more than a decade. Restaurant.com's core consumer offering, a $25 gift certificate for $10, has been pleasing diners, filling empty tables and improving restaurant revenue since 2001. The profitable, private company consistently offers more than 40,000 unique daily deals that never expire, available at more than 20,000 restaurants nationwide.
Why We Launched Specials by Restaurant.com:
Specials by Restaurant.com is a natural extension of more than a decade of experience in the online deal space. Our Specials offer daily deals designed to complement the dining experience and support the company's brand promise to offer consumers not only the best daily dining deals, but the best dining, travel, and entertainment experiences. It's a natural extension of a business model that has been successful for both the consumer and our industry partners