DISH OF THE WEEK (Sunday – 11/8/15- Pizza Squared- Tampa)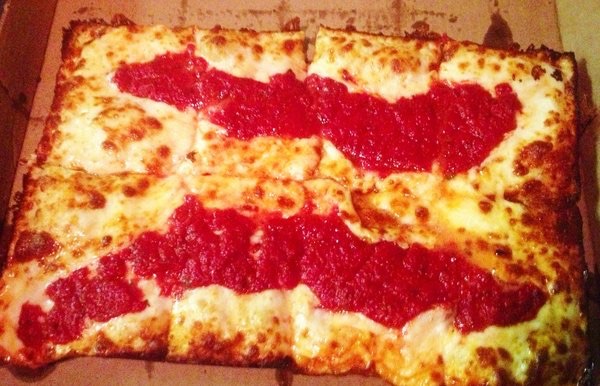 ***** DISH OF THE WEEK (Sunday- 11/8/15).
One of Jeff Eats' favorite menu items…
DETROIT STYLE 8 SQUARE PiZZA
$12.99
Pizza Squared
11124 North 30th Street
Tampa
(813) 632-0000
pizzasquaredpizzatampa.com
Latest Review: 6/16/14
This joint makes amazing- delicious Detroit Style Pizza!
Just between you guys and Jeff Eats, my "knowledge" about Detroit is kinda limited- you know- cars, Al Kaline…what I do know- if Pizza Squared was by my Boca Raton house, I'd weigh something like 347 lbs and be wearing a 52 long suit!

____________
______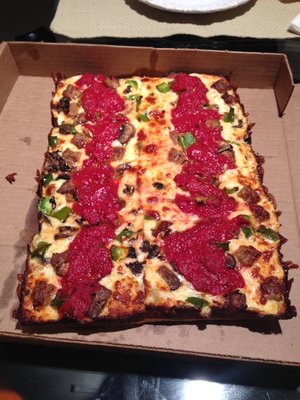 Posted June 6, 2014
***** Pizza Squared, 11124 North 30th Street, Tampa, Florida 33612, (813) 632-0000.
I know-I know–Tampa! Next time your in Bush Garden's neighborhood- remember that Jeff Eats told you about Pizza Squared.
Just so you know, there is also a second location at 3424 South Dale Mabry Highway, Tampa, Florida 33629, (813) 832-9606.
Pizza Squared is basically a "takeout"…it does have 3- tables that seat 4 each–like I just said, takeout!
Pizza Squared makes Detroit Style Pizza–rather than Jeff Eats knocking -himself trying to describe Detroit Style Pizza-just check the photos that came with this "review." The joint also makes round pizza, wings and a handful of salads/gyros/sandwiches. The game here–Detroit Style Pizza!!!!!
You can check www.pizzasquaredtampa.com for menu/prices.
Let me wrap this up…
Pizza Squared makes some of the most delicious PIZZA that Jeff Eats has ever eaten.
Absolutely- positively loved Pizza Squared.
If you "come" anywhere near this joint—get the pizza!
Pizza Squared is open Monday-Thursday 11am-11pm, Friday-Saturday 11am-midnight, Sunday 2pm-10pm.