Stingers Bar & Pizzeria (Pompano Beach)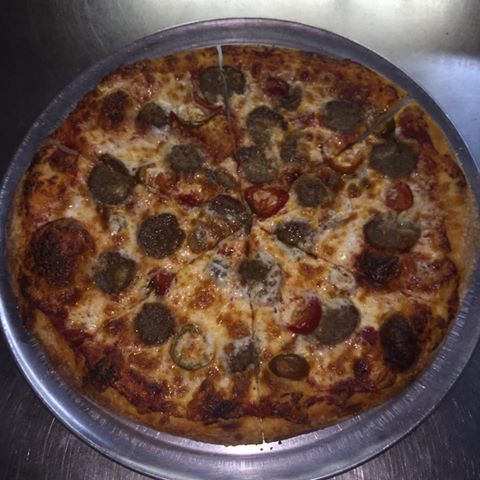 ***** Stingers Bar & Pizzeria, 1201 South Ocean Boulevard, Pompano Beach, Florida 33062, (954) 782-2344.
Not gonna name-names, but a long time reader (Jon G) who "knows his stuff"- has been telling Jeff Eats for almost-forever that I had to try Stingers Bar & Pizzeria!
Long story short, last night Jeff Eats and Mrs. Jeff Eats gave Stingers a shot…and the man once again- was right on the money…real good- burger/French fries, meatball pizza and philly cheese steak sub!
Just so you know, Stingers Bar & Pizzera is a neighborhood/sports bar-that has been around for something like 21 years- and is as far from being fancy- as can be! The joint is located in a small strip center-right across A1A from the beach…based on what I saw- the crowd is a mix of locals- and tourists that inhabit the hotels/motels that dot the beach-landscape. I'm thinking that Stingers does a ton-of hotel/motel deliveries, but that's just Jeff Eats thinking!
Stingers got indoor table/booth -outdoor table seating- a separate bar area, and tons of flat screen tvs… like I said 1.5 seconds ago, real casual joint. Just between you guys and Jeff Eats, if you wear anything "more" that a tee shirt/shorts/flip flop ensemble you're gonna look pitifully overdressed!
Stingers does breakfast, lunch and dinner…
For more info-stingerspizza.com.