Southern Jam 2016 (Sunset Cove Amphitheater- Boca Raton)
* Southern Jam 2016.
Just between you guys and Jeff Eats, this one really isn't for me! That said, Southern Jam 2016 is gonna be a huge-great concert, but like I just said- the music really-isn't my bag!
I am thinking that a ton of you guys will really love this concert- so here you go…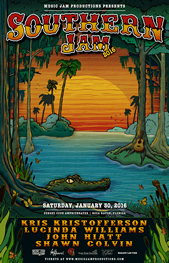 Saturday, January 30|3:30 pm
Music Jam Productions Presents: Southern Jam 2016. Featuring the exclusive Florida performance of Kris Kristofferson, plus Lucinda Williams, John Hiatt, and Shawn Colvin. Gates open at 2 pm, Showtime is approximately 3:30 pm. Tickets will remain available online the day of show or at the Sunset Cove Box Office starting at 12 pm. Tickets are $65 for General Admission plus a minimal service fee for online purchases. A Parking Fee of $15 for premier lot parking and $10 for general lot parking will be assessed on site. Tickets are now on sale and can be purchased at: http://musicjamproductions.com/
Music Jam Productions Presents the First Annual Southern Jam on Saturday January 30, 2016, at the beautiful Sunset Cove Amphitheatre in Boca Raton, Florida, featuring true legends and the best of Americana County Music.
Southern Jam 2016 features the exclusive Florida appearance of the legendary three-time GRAMMY winner Kris Kristofferson. Heralded as an artist's artist, Kristofferson has recorded 27 albums, including three with pals Willie Nelson, Johnny Cash and Waylon Jennings as part of the Highwaymen.
Southern Jam 2016 also features three-time GRAMMY Winner and 2015 winner of the Americana Award for Album of the Year, Lucinda Williams. Also shining on the Southern Jam 2016 Stage is a winner of both the Nashville Music Award Artists of the Year and the AMA Lifetime Achievement award for songwriting artist, John Hiatt. In addition, three-time GRAMMY Winner Shawn Colvin will kick off Southern Jam 2016 when she hits the stage at approximately 3:30.