The BeatleManiacs (Boca Black Box- Boca Raton)
This article first appeared on October 23, 2015…Just checked goldstar.com and its got a bunch of $20 tickets for 10 bucks…so if you wanna go! Just between you guys and Jeff Eats, these "lads" put on quite a show!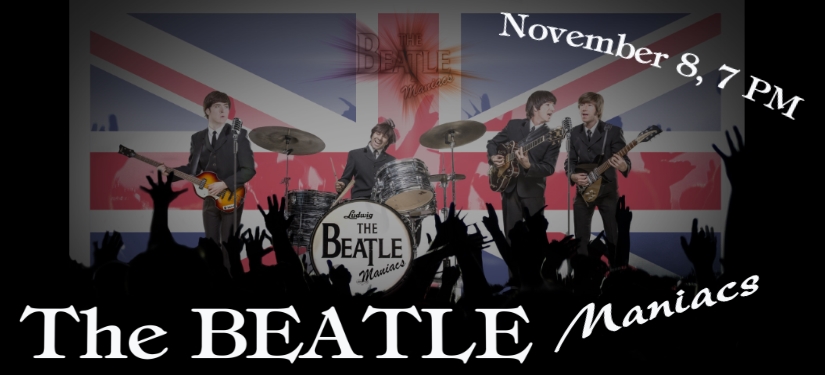 * The BeatleManiacs.
Trust me, Jeff Eats wouldn't dare insult your intelligence…of course you know exactly what The BeatleManiacs' show is all-about…
That said, with Mrs, Jeff Eats having seen The Beatles at Shea Stadium, Jeff Eats and Mrs. Jeff Eats having seen Ringo and Paul countless times in concert, Jeff Eats and Mrs. Jeff Eats having seen The Pete Best Band and Jeff Eats and Mrs. Jeff Eats conservatively guessing that we've seen at least 50 Beatles' "tribute" bands-and 797,090 Beatles' cover bands, Jeff Eats and Mrs. Jeff Eats without any reservations whatsoever can tell you that- The BeatleManiacs are one of the best Beatles' tribute/cover bands that we haver-ever seen!
Now you guys know and Jeff Eats knows, that THE BEATLES are THE BEATLES…that said, checkout The BeatleManiacs'website- beatlemaniacs.com- I'm thinking you're gonna be real-impressed!
If you wanna go…
Sunday Night, November 8, 2015 (7pm)
Boca Black Box, 8221 Glades Road, Boca Raton, Florida 33434, (561) 483-9036
Tickets: $20, $25, $35 at bocablacbox.com
Just a suggestion here, keep an eye on goldstar.com- just maybe you-catch some real nice discount tickets!

from bocablacbox.com
The Beatlemaniacs turn imagination into reality, bringing The Beatles back together in a fully produced live reunion concert! As top headliner for Royal Caribbean Cruise Line, The Beatlemaniacs have been rocking international audiences from North America to Europe, Asia and South America. Nominated for "Entertainer of the year" and voted "Best Musical Act" on Princess Cruises in 2011, The Beatlemaniacs are the only group to reunite The Fab Four in a one of a kind post-Beatles experience, including several of the band's solo album hits never performed live as "The Beatles." Costume changes highlight the band's progression through the 1960's in a continuously running production. Exciting choreographed lighting and multimedia videos re-create classic moments from famous Beatles movies such as A Hard Day's Night, Help and Yellow Submarine. The Beatles reunion concert that Beatles fans dreamed of is finally happening