Tacos And Tattoos (Miami/Kendall)
***** Tacos And Tattoos, 10720 Southwest 113th Place, Miami, Florida 33176, (786) 803-8316.
Got a real good one for you guys…Tacos And Tattoos a Mexican/Latin "hole in the wall" joint that makes outrageously delicious Mexican/Latin-stuff (Surprise, Surprise! – Gomer Pyle, 1964). Something like 15 seats inside, same number outside.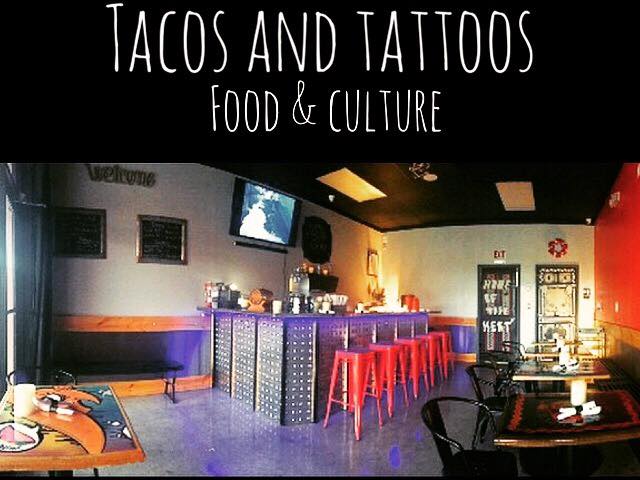 Tacos And Tattoos' menu is printed down-below…not exactly a super-gigantic selection- but trust Jeff Eats you'll find what to eat- and like I just said- its stuff is off the chart delicious!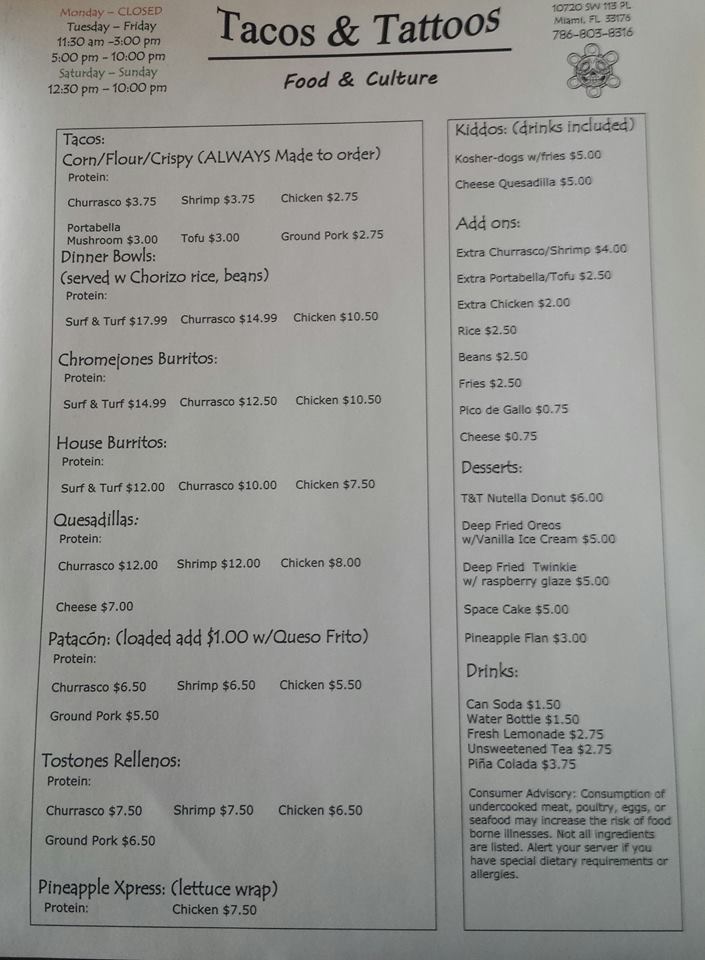 Now, just between you guys and Jeff Eats, my Spanish isn't too good…wasn't much of a Spanish-Student at Ditmas Junior High School, Erasmus Hall High School or for that matter Ithaca College…that said, I kinda know when I've eaten killer-food and the stuff that Jeff Eats and Mrs. Jeff Eats recently had for dinner at Tacos And Tattoos- killed! By the way, Mrs. Jeff Eats who "took" French at Public School 197, Midwood High School and Brooklyn College- also thought that the food was absolute dynamite!
Tacos And Tattoos is an absolute must try.
Check the joint's website tacosandtattoos.com for menu/prices/info.
Tacos And Tattoos is open Tuesday-Friday 11:30am-3pm (maybe- they take a siesta or something!) 5pm-10pm, Saturday-Sunday 12:30pm-10pm, closed on Monday.
Finally, just a word to the wise, Jeff Eats has heard- that if you bitch about the food or don't tip right- the help grabs you, holds you down and gives you a facial tattoo just-like the one that Mike Tyson sports- (what in the world could that man have been thinking?)- thus the word Tattoo in the joint's name!