Kam Wah Chinese Take Out Restaurant (Lake Worth)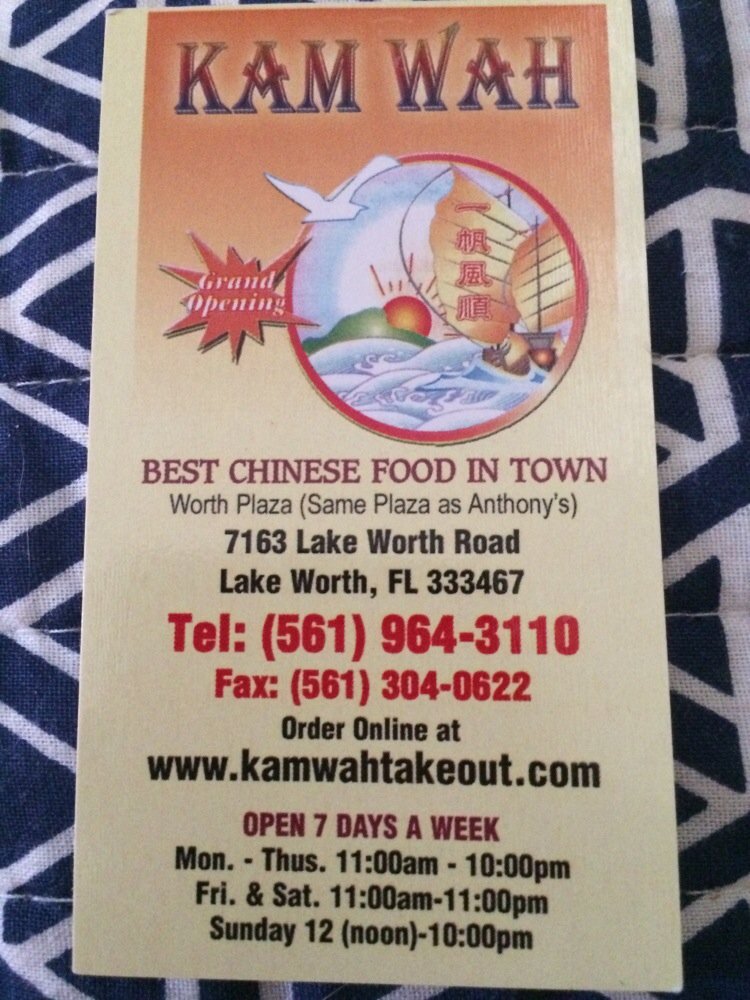 ***** Kam Wah Chinese Take Out Restaurant, 7163 Lake Worth Road, Lake Worth, Florida 33467, (561) 964-3110.
Got a very good Chinese take-out joint for you guys…Kam Wah in Lake Worth.
For those who don't read so good- TAKE OUT, so don't be planning EAT AT!
Kam Wah's Hours:
Monday-Thursday 11:00 AM – 10:00 PM
Friday-Saturday 11:00 AM – 11:00 PM
Sunday Noon- 10:00 PM
Now for the tale…
Last night Jeff Eats' pickup- order:
wonton soup
egg rolls
bbq ribs
roast pork fried rice
General Tso's chicken
shrimp with black bean sauce
beef with broccoli
and I gotta tell you- very impressive! Applying Jeff Eats'- Brooklyn-Jewish-American Chinese Taste Test circa 1957, like I just said- very impressive!
Now, just between you guys and Jeff Eats, over the years- I've eaten a ton of Chinese food down here in South Florida- after awhile, one egg roll runs into another- if you get my drift? Let's just say, that if Kam Wah was closer to my Boca Raton home- I'd be a pretty steady customer. Like I said before, very impressive!
You can check menu/prices/info at kamwahlakeworth.com