Pizza Girls (West Palm Beach)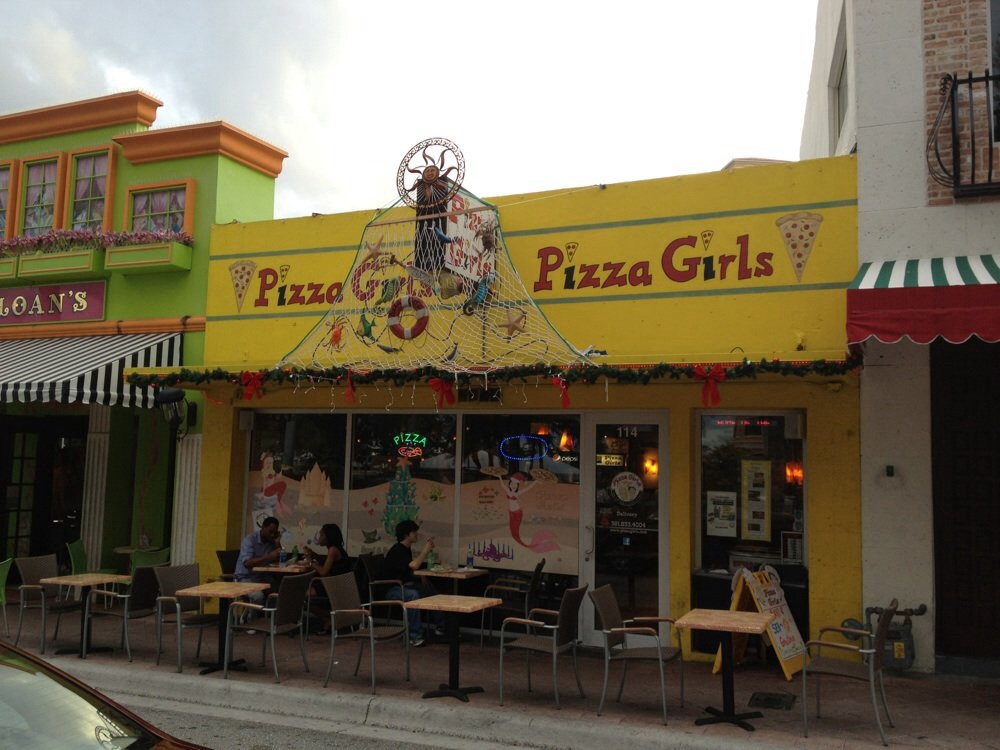 ***** Pizza Girls, 114 South Clematis Street, West Palm Beach, FLorida 33401, (561) 833-4004.
Got a real good pizza joint for you guys, Pizza Girls in West Palm Beach.
Real easy concept to explain…handful of tables inside/outside, order at/pickup at the counter, menu loaded with- subs (Pizza Girls calls them heroes), pizza slices/pies, calzones, pizza rolls, salads, wings and a handful of other stuff…By the way, in addition to the Clematis Street joint, the Pizza Girls have a food truck that works Dade, Broward and Palm Beach counties-you can peruse Pizza Girls' menu and food truck schedule at pizzagirls.com.
Jeff Eats and Mrs. Jeff Eats recently did-dinner which netted us…an All Beef Hot Dog Rolled in Mozzarella Cheese & Pizza Dough, a Chicken Parmesan Sub (Pizza Girls calls it a Chicken Parmesan Hero), a Calzone stuffed with Ricotta, Mozzarella & Parmesan Cheese, a Slice of Cheese Pizza and a Greek Salad and I gotta tell you- everything was pretty much right on the money! For those of you who insist on "gory details"- Jeff Eats really enjoyed the cheese pizza- thin/crisp/sweet sauce same for the sub-calzone-salad, could have done without the hot dog! Now, on the other hand, Mrs. Jeff Eats who "rated" everything as being delicious- had the hot dog as her favorite item!- which once again proves Jeff Eats' point that this food "reviewing" gig is purely a subjective exercise and what I may like, you on the other hand- may hate!- or as the legendary philosopher Sly Stone famously pronounced:

"Everyday People"
Sometimes I'm right and I can be wrong
My own beliefs are in my song
The butcher, the banker, the drummer and then
Makes no difference what group I'm in
I am everyday people, yeah, yeah
There is a blue one
Who can't accept the green one
For living with a fat one
Trying to be a skinny one
Different strokes
For different folks
And so on and so on
And scooby dooby dooby
Oh sha sha
We got to live together
I am no better and neither are you
We are the same, whatever we do
You love me, you hate me, you know me and then
You can't figure out the bag I'm in
I am everyday people, yeah yeah
There is a long hair
That doesn't like the short hair
For being such a rich one
That will not help the poor one
Different strokes
For different folks
And so on and so on
And scooby dooby dooby
Oh sha sha
We got to live together
There is a yellow one
That won't accept the black one
That won't accept the red one
That won't accept the white one
Different strokes
For different folks
And so on and so on
And scooby dooby dooby
Oh sha sha
I am everyday people
Pizza Girls is open:
Mon 11:00 am – 10:00 pm
Tue 11:00 am – 10:00 pm
Wed 11:00 am – 10:00 pm
Thu 11:00 am – 11:00 pm
Fri 11:00 am – 4:00 am
Sat 11:00 am – 4:00 am
Sun 12:00 pm – 9:00 pm