THE NYSE GUYS (Century Village- Deerfield Beach)
* THE NYSE GUYS.
Jeff Eats has been a huge- NYSE GUYS' fan for years. Absolutely love these guys. Three first class-lead singers who "cover" the greatest hits of the 40s-50s-60s-70s.
The reason for today's mention- saw them the other night at the Boca Black Box in Boca Raton and once again The NYSE Guys blew me away with 2-hours of great vocals/audience patter…so Jeff Eats thought he would share that…
THE NYSE GUYS' next scheduled "public" show- Century Village, 2400 Century Blvd, Deerfield Beach, FLorida 33442, (954) 421-2556 on Saturday Night, November 28, 2015 at 8pm…if you're a Century Village Resident- tickets are $10, if you are a Non-Resident- tickets are $15…tickets can be purchased at cveevents.com.
Trust me on this one, if you like the music of the 40s-50s-60s-70s, then you will love The NYSE Guys!
Just in case you need some convincing as to how good these guys really are…
youtube.com/watch?v=4VGH4k1Gsgk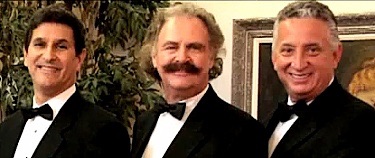 from cveevents.com
THE NYSE GUYS
Willie, Peter and Chas are The NYSE GUYS — a three-man vocal group from Orlando. The trio performs Motown, Oldies, Doo-Wop… featuring the hits of Frankie Valli & The Four Seasons,
Neil Diamond, The Beach Boys, Dion & The Belmonts, Jay & The Americans and plenty of "Rat Pack" tunes with their own twist. With their three different and distinct vocal styles, each sings solo, duet and then accent it with some very smooth three-part harmonies.