FALL FEST 2015 (Royal Palm Beach Commons Park- Royal Palm Beach)
* FALL FEST 2015,
This one looks real-good!
Just between you guys and Jeff Eats… "stuff" like this, is why some of you no longer live in freezing-cold, Marlboro. New Jersey (if you like, you can fill in your own town/city/state)?
The Skinny:
Royal Palm Beach Commons Park
11600 Poinciana Drive,
Royal Palm Beach, Florida 33411
(561) 790-5140
Free Event:
Friday, October 30th (5pm-10pm)
Saturday, October 31st (1pm-10pm)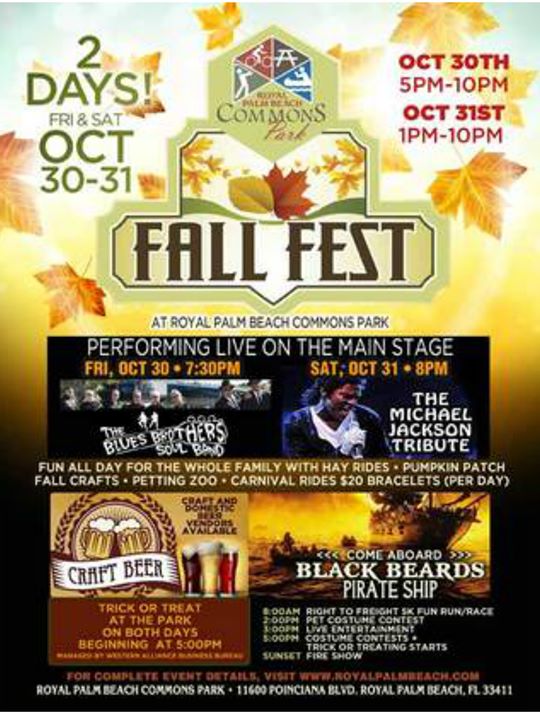 from royalpalmbeach.com
Fall Fest 2015
Friday, October 30 & Saturday October 31st!!
Join us on Friday, October 30th & Saturday, October 31st at Commons Park. Evoke that nostalgic feeling of a community festival as we kick off the fall season with great family fun.
Activities consist of a Saturday morning "Right to Fright" 5k costume run, and live entertainment by the "Blues Brothers Soul Band", a Blues Brothers Tribute performing on Friday night.
On Halloween night enjoy a memorable "Tribute to Michael Jackson" a live singing and dancing show that will embrace both a musical and vocal style, making the performance of the King of Pop a Saturday night 'Thriller". The park will be filled with a variety of food vendors, a line-up of Beer vendors, and Fall Crafts. Kids of all ages can enjoy interactive Carnival Rides, a Pumpkin Patch, and a Petting Zoo. Trick or treat each night at the park. Come aboard Blackbeard's Pirate Ship for a memorable photo opportunity. Halloween costume contests for all ages, with a special category for your favorite pet on Saturday.
For more information, please call the Cultural Center at 790-5149