Giant Pizza (Hollywood)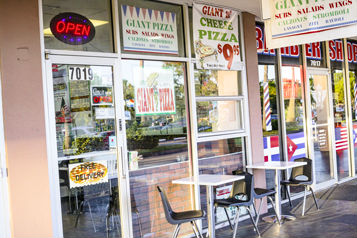 ***** Giant Pizza, 7019 Taft Street, Hollywood, Florida 33024, (954)-963-2273.
Got a real good pizza joint for you guys…Giant Pizza in Hollywood.
Real simple tale to tell,
Yesterday, Jeff Eats and Mrs. Jeff Eats' friends Richie and Lynn- had something like 30 people over to their Hollywood-house to watch- some Sunday football!- the food served came from Giant Pizza in Hollywood! Just so you know, Giant Pizza is basically a "takeout" but does have a couple of tables inside/and a couple outside if you insist on eating there.
The food ordered included…philly cheesesteak/ meatball parmigiana/ chicken parmigiana/ sausage & peppers parmigiana/ tuna salad subs- chef/antipasto salads- NY Style cheese/Sicilian pizzas- garlic rolls, boneless breaded buffalo wings, zeppoles, cannolis and I gotta tell you, I really enjoyed Giant Pizza's food! I'm also thinking, that everyone else- also liked the food because they were like Mahatma Gandhi- breaking a fast! Now for sure, free is always good- but Jeff Eats and Mrs. Jeff Eats did contribute a cheap bottle of red wine and a large Publix fruit-platter to the mix- so it wasn't exactly a free-outing! To their credit, everybody – brought something- cakes, wine, booze, beer, pastries…and a real-real good time was had by all! Like I said, I enjoyed Giant Pizza's stuff- with its 30″ New York Style cheese pepperoni pizza being -a really cool "sight"…the freaking thing was huge and delicious!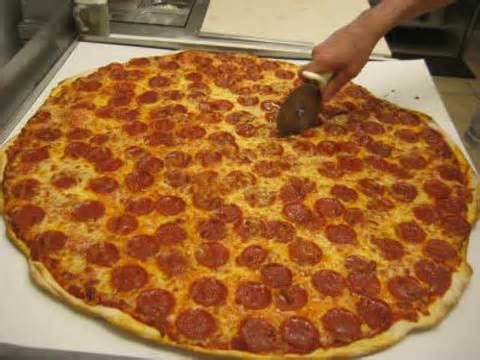 Now- Jeff Eats appreciates that my "eating" was done buffet style- with a load of friends-a load of noise-but trust me, the food was real solid…no ifs, ands or buts- I would definitely "patronize" Giant Pizza if the joint was in my-neighborhood!
For menu/prices/info- giantpizzaflorida.com.
Giant Pizza is open:
Mon, Tues, Thurs 11:30am-9:30pm
Fri, Sat 11:30am-10:30pm
Sun 12:00pm-9:00pm
Wed Closed