The Daily Meal- 35 Best Sushi Bars in America for 2015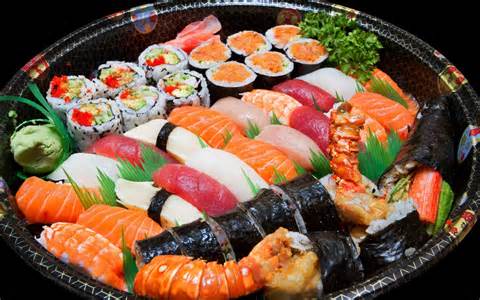 * The Daily Meal- 35 Best Sushi Bars in America for 2015.
Now just between you guys and Jeff Eats- we both know what "BEST" lists are worth! So you guys can do or not do what you want-with this one…to save you some time, #33, #28, #15, #10 may or may not be of interest to you!
Anyway,
The Daily Meal (thedailymeal.com) one of America's largest food/drink/lifestyle sites-just released…
________
The Daily Meal Announces the 35 Best Sushi Bars in America for 2015
NEW YORK – October 12, 2015 – The Daily Meal, the world's largest food and drink lifestyle site, just unveiled its annual list of the 35 Best Sushi Bars in America. The top restaurants featured were spread throughout the country, with this year's list featuring 12 states.
"It's hard to believe that as recently as 25 years ago, sushi was still considered by many to be an exotic delicacy," said Dan Myers, Senior Eat/Dine Editor at The Daily Meal. "Today, however, there are sushi restaurants across America of just about every stripe, from holes-in-the-wall turning out serviceable California rolls and tuna sashimi to sprawling emporiums run by internationally renowned chefs."
To compile the list, The Daily Meal reached out to leading culinary authorities to identify their favorite sushi restaurants. Their suggestions were supplemented with sushi restaurants featured in local reviews and pre-existing regional and local rankings, as well as the many restaurants considered for last year's ranking. The Daily Meal then graded more than 150 restaurants from across the country on qualities including freshness of fish, variety of offerings, reviews from both professionals and everyday diners, and level of recognition both local and national.
"Some of the top restaurants were easy to identify," said Myers. "Temples to the craft like Matsuhisa, Sushi Yasuda, and Masa naturally rose to the top, but we were also able to feature some lesser-known places that have yet to be discovered by legions of sushi fans and that deserve attention."
New York City took the lead with 10 restaurants included in the rankings this year, followed by Los Angeles with eight restaurants, Florida with four, and Hawaii with three. This year, the Western U.S. took the lead with 15 restaurants. Other leading regions included the Northeast (12), the South (six), and the Midwest (two).
The team at The Daily Meal encourages readers to provide feedback on this year's list. Did your favorite sushi bar make the cut? You can let The Daily Meal know which restaurant on the list is your favorite — or if we missed one that you love — by tweeting @TheDailyMeal using the hashtag #35bestsushibars.
More details about the 35 Best Sushi Bars in America is available at http://www.thedailymeal.com/eat/best-sushi-america.
Rank
Name of Restaurant
Location
35 Hide Sushi, Los Angeles, California
34 Sansei, Multiple Locations, Hawaii
33 Japanese Market, North Bay Village, Florida
32 Arami, Chicago
31 Sushi Paradise, Kihei, Hawaii
30 Sakedokoro Makoto, Washington, D.C.
29 Bamboo Sushi, Portland, Oregon
28 Zuma, Miami
27 Tomo, Atlanta
26 Arigato Santa Barbara, California
25 Sushi Sasabune, Honolulu
24 Shuko, New York City
23 Kabuto, Las Vegas
22 Uchi, Austin
21 Akiko's, San Francisco
20 Sushi of Gari, New York City
19 Ichimura at Brushstroke, New York City
18 Matsuhisa, Los Angeles
17 15 East, New York City
16 Asanebo, Los Angeles
15 Makoto, Bal Harbour, Florida
14 Kiriko, Los Angeles
13 Nobu, New York City
12 Katsu, Chicago
11 Mori, Los Angeles
10 Naoe, Miami
9 Oishii, Boston
8 Sushi Zen, New York City
7 Sushi Zo, Los Angeles
6 Nobu, Las Vegas
5 Sushi Nakazawa, New York City
4 Urasawa, Los Angeles
3 O-Ya, Boston and New York City
2 Sushi Yasuda, New York City
1 Masa, New York City
About The Daily Meal
The Daily Meal covers all this food and drink, creating a complete epicurean experience for cooks, food lovers, wine, beer and spirit connoisseurs, discerning diners and everyone in-between. Comprised of original content and video from Award winning editors, industry insiders, tastemakers and the user community, features range across the site's multiple channels: Cook, Eat/Dine, Drink, Travel, Entertain, Healthy Eating, Best Recipes, Holidays, and Lists. The Daily Meal also produces much anticipated annual reports including the 50 Most Powerful People in Food, America's Most Successful Chefs, 101 Best Restaurants in America, and 150 Best Bars in America. Helmed by editorial director Colman Andrews, The Daily Meal is one of the largest food sites on the Web and the first property of Spanfeller Media Group, founded by Jim Spanfeller. Visit The Daily Meal on Facebook; follow us on Twitter.