Completely Unchained (The Backyard- Boynton Beach, Seminole Casino Coconut Creek- Coconut Creek)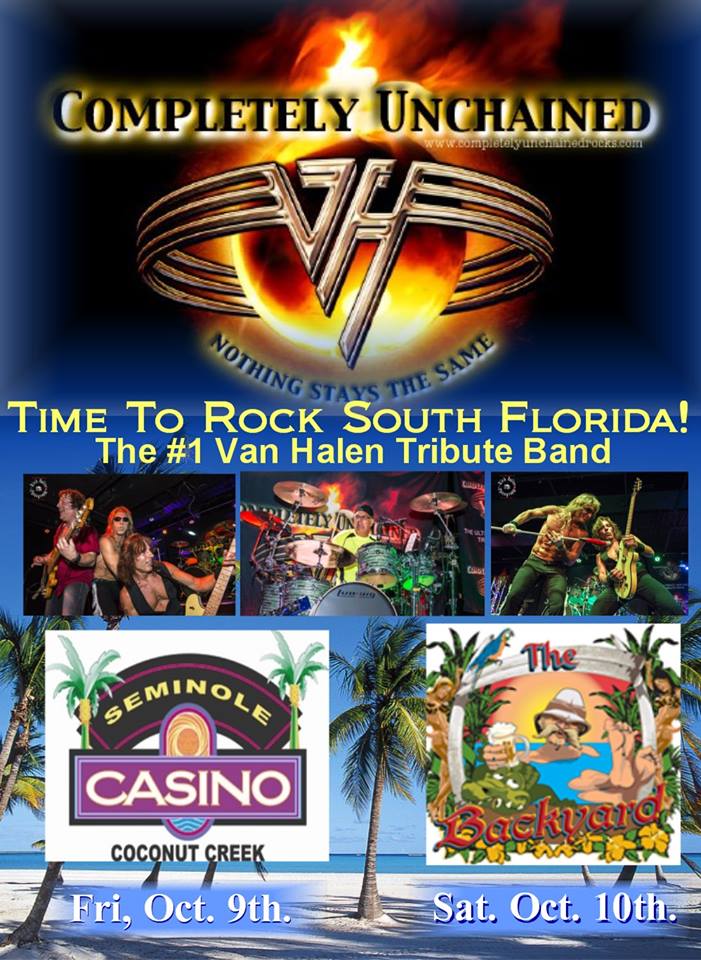 * Completely Unchained.
Like Van Halen? Jeff Eats does!
If you're like me, you'll love Completely Unchained- one of America's top Van Halen tribute bands!
Completely Unchained has 2 upcoming South Florida Shows… Friday Night, 10/9/15- Seminole Casino Coconut Creek and Saturday Night, 1010/15- The Backyard. No Cover!
You can check-out Completely Unchained at completelyunchainedrocks.com.
Now, if you guys can keep a secret- Jeff Eats and Mrs. Jeff Eats are gonna catch Completely Unchained this coming Saturday Night- at The Backyard…down below- Jeff Eats' 5/18/14 The Backyard "review"…
_____________________
Post on May 14, 2014
***** The Backyard Of Boynton Beach, 511 Northeast 4th Street, Boynton Beach, Florida 33435, (561) 740-0399.
Got an absolutely terrific joint for you…The Backyard Of Boynton Beach.
Now if you can, imagine a gigantic OUTDOOR TIKI BAR that has 2 -full service bars, loads of tables/booths, loads of craft beers, a raw bar, appetizers, salads, burgers, tacos, fajitas, sandwiches, desserts, wings, tvs and a stage area that has blues/country/rock/folk bands-performers working almost all of the time–you got The Backyard Of Boynton Beach. Oh! One other thing, the joint's kitchen is a converted Airstream trailer.
Jeff Eats has been hearing about The Backyard Of Boynton Beach for a couple of years…Mrs. Jeff Eats and I finally got there today for lunch. Very eclectic crowd–bikers, young families, handful of 60ish formerly from Brooklyn Jewish lawyers, 2 plumbers, some guys who looked like they played football for Notre Dame Football in 1991, 10 former US Navy Seals circa 1987, handful of 50ish women who looked like they were Dollywood Dancers circa 1994 …to the man-woman, everyone was in shorts/tee shirt/sneakers-flip flops (except the bikers who were wearing boots/closed toed shoes) and everyone was having an absolute blast–drinking, eating and enjoying a pretty decent folk singer.
Jeff Eats did a cheeseburger/French fries, and Mrs. Jeff Eats did a chicken fajitas–we split an order of honey garlic wings-Caesar salad-slice of key lime pie. Now trust me here, top-notch sports bar stuff at sports bar prices. Real cool pierced and tattooed waitresses.
At this stage of the game if you want, you can check www.TheBackyardBoyntonBeach.com for menu/prices/music schedule/other info.
Like I said earlier-or maybe I didn't-although there is some "cover"-The Backyard Of Boynton Beach is basically an outdoor joint…so if it rains, your up SC or SOOL!
If you are some fancy dancy–this joint ain't for you.
Jeff Eats and Mrs. Jeff Eats LOVED–The Backyard Of Boynton Beach…I think you will too! By the way, the joint is extremely dog friendly.
The Backyard Of Boynton Beach is open Sunday-Tuesday 11:30am-midnight, Wednesday 11:30am-2am.