Simply Tina (Boca Black Box- Boca Raton)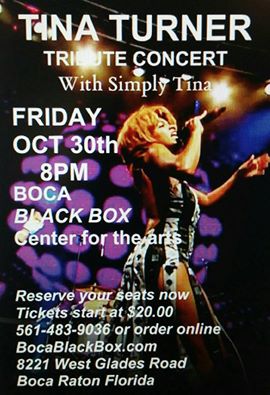 * Simply Tina.
You guys and Jeff Eats know- that "tributes" to Billy Joel, The Eagles, Elvis, Journey, The Beatles, The Temptations, Neil Diamond, The Rolling Stones-are a dime a dozen down here in South Florida- not to mention across the United Sates…now real quick, when was the last time that you saw or even heard about a Tina Turner tribute act?
With that in mind…
Simply Tina is a 120 minute- "show" featuring the music of the legendary- Tina Turner!
Jeff Eats has seen Simply Tina and it's real-good!
You can catch tickets at bocablackbox.com. By the way, If you check goldstar.com its got some $20 tickets going for 10 bucks!