Halloween Costume Contest (Mardi Gras Casino- Hallandale Beach)
* Halloween Costume Contest.
This is a good one!
You won't believe some of the get-ups!
By the way, I've seen Kiss Alive The Tribute and they kill (pun intended)!
Jeff Eats and Mrs. Jeff Eats are thinking of going-as…a happyily married couple!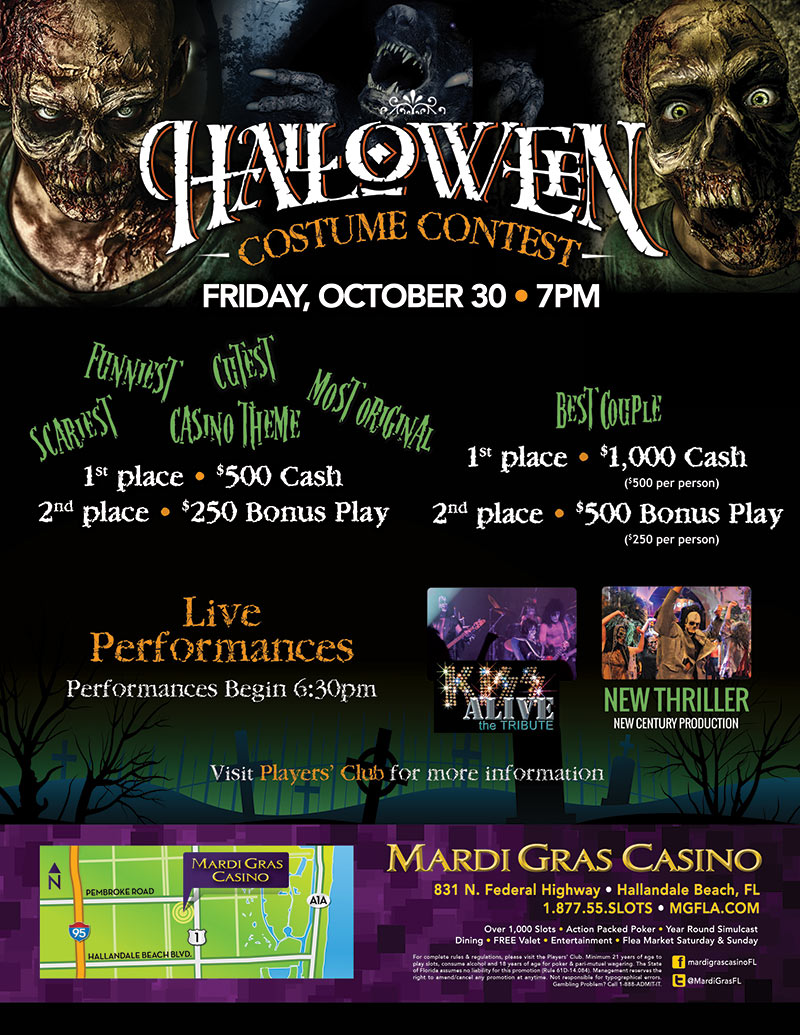 from mardigrascasinofl.com
Don't miss the best Halloween Party in town! On Friday, October 30th at 7:00pm, dress in your scariest or most creative costume and get to the veranda at Mardi Gras Casino to join the fun in the Halloween Costume Contest, with $4,500 in cash and bonus play awarded for the winning costumes. Prior to the contest, enjoy a special performance by the headless dancers of New Century Dance Company and KISS Alive, the Tribute at 8:00pm
Categories and Prizes:
Scariest / Funniest / Most Original / Best Casino Theme
1st Place – $500 Cash / 2nd Place – $500 Bonus Play
Best Couple
1st Place – $1,000 Cash ($500 per person)
2nd Place – $500 Bonus Play ($250 per person)
*Must be a Players' Club member to participate
Register now at Players' Club.
ABOUT MARDI GRAS CASINO
Mardi Gras Casino is located at 831 North Federal Highway on the corner of US-1 and Pembroke Road. The casino offers over 70,000 square feet of casino excitement featuring over 1,000 of the hottest slot machines, including Progressive slots, virtual roulette and blackjack, as well as The Dog Pound, Mardi Gras' smoker-friendly slot area; 30 action-packed poker tables; simulcast and greyhound racing; entertainment; and various dining options. For more information, call 954-924-3200 or visit www.mgfla.com. Become a fan on Facebook at http://www.facebook.com/mardigrascasino or follow us on twitter at http://www/twitter.com/MardiGrasFl.