Eddie Brill (Boca Black Box- Boca Raton)
This story first ran on September 25, 2015. I just noticed that goldstar.com has $20 tickets for 5 bucks. Trust Jeff Eats on this, Brill is absolutely hilarious. Jeff Eats and Mrs. Jeff Eats got plans to catch tomorrow night's show.
* Eddie Brill.
Got something real good for you guys…that is, if you're into laughing your ass off!
His name may not exactly be a household name, but in the "business" comedian Eddie Brill is known as one of the funniest clean-comedians currently working the comedy club/casino circuit.
Trust Jeff Eats on this one, Eddie Brill will absolutely crack-you-up! Jeff Eats and Mrs. Jeff Eats have seen him a a couple of times-and the guy really gets the job done!
Brill is set to play the Boca Black Box (8221 Glades Road, Boca Raton, (561) 483.9036 on Friday Night 10/2/15, Saturday Night 10/3/15 and Sunday Night 10/4/15 at 8pm.
For you guys not familiar with the Boca Black Box, it's a 2-month old "live theater" which seats something like 250…its got a wine/beer bar, great sound/light systems and having been there a couple of times I can tell you- every seat in the house is good! You buy a "seat"- there are no minimum drink/food purchase requirements.
You can catch tickets and more info at bocablackbox.com.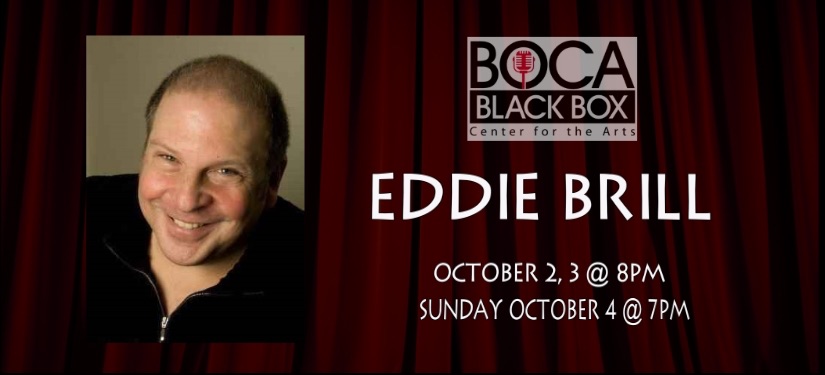 from bocablackbox.com
Eddie Brill, raised in Hollywood, Florida, is a well respected and very funny stand up here in the USA and abroad.
For seventeen years, he worked on The Late Show with David Letterman. He was the audience warm-up and for eleven of those years he was the Stand Up Comedy Talent Coordinator.
Eddie has taped more than 100 TV shows in six different countries…including ten appearances on The Late Show…and the FX hit series, "Louie."
He has been seen in many films including, "30 Years To Life" with Tracy Morgan.
He also stars in the popular web series, "Famous Phrases," on the HooplaHa network.
A 3-time MAC award winner for Outstanding Male Comic in NYC, Eddie is also the creative director of The Great American Comedy Festival which honors Johnny Carson in his hometown of Norfolk, NE