NY Comedy Night Presents Barry Diamond with host Bruce Smirnoff (Boca Black Box- Boca Raton)
This article first appeared on 9/4/15. Just happened to notice that goldstar.com is running a deal-offering $15 tickets for 5 bucks. Trust Jeff Eats, I know that 10/1/15 (tonight) is a Thursday night- and that most people-down here in South Florida don't exactly "run" to see comedians-on Thursday nights. Long story short, $5 for a ticket- and I know that Diamond and Smirnoff are absolutely hilarious-so just maybe you go see them live and leave the tv-on record!
Posted September 4, 2015
* NY Comedy Night Presents Barry Diamond with host Bruce Smirnoff.
You wanna laugh your ass off? If you do, buy tickets and go see Barry Diamond & Bruce Smirnoff who are set to play the Boca Black Box on Thursday Night- October 1, 2015 at 8pm…
Trust Jeff Eats, these two guys are really-really funny!
Tickets are 15 bucks…bocablackbox.com.
Boca Black Box, 8221 Glades Road, Boca Raton, Florida 33434, (561) 483-9036.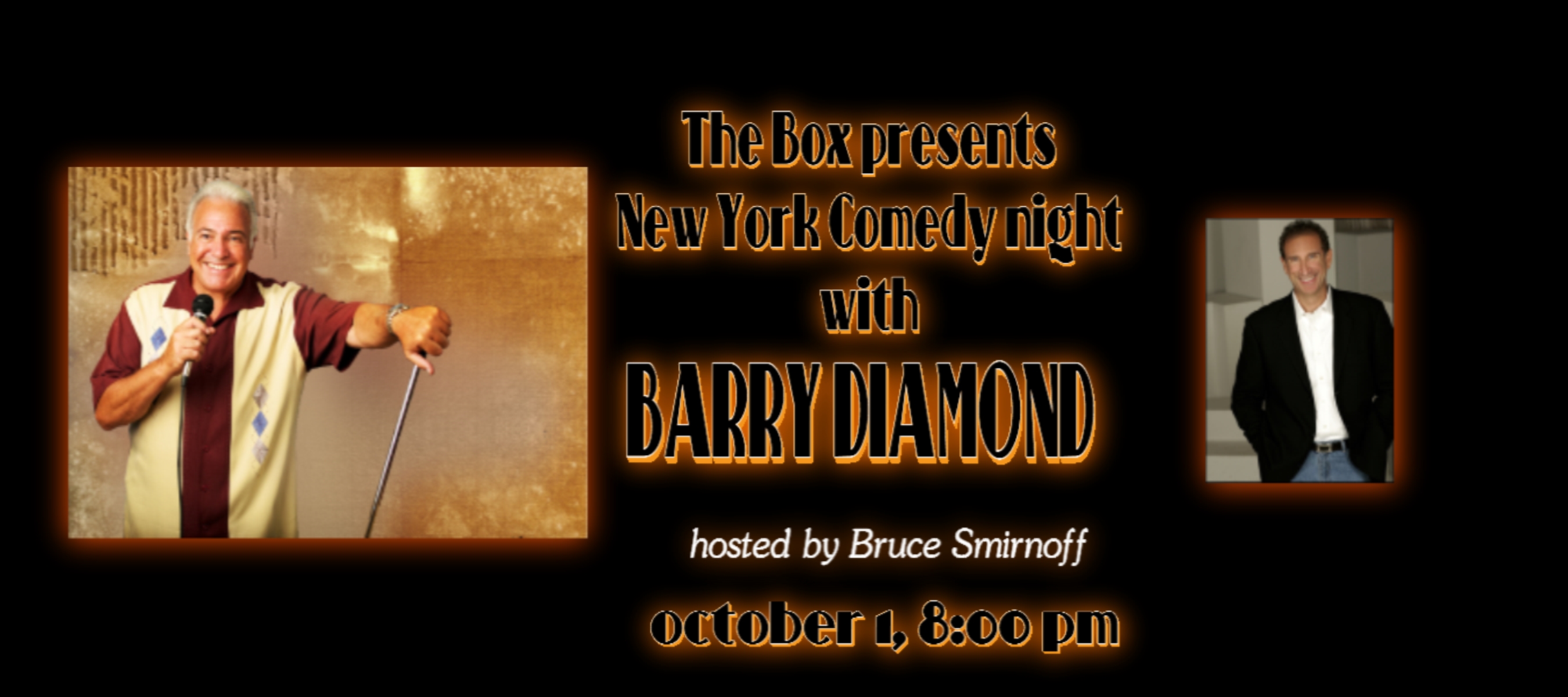 From bocablackbox.com
Barry Diamond could have chosen to do anything he wanted to do. He could have been an astounding teacher or a financial wizard or a priest or a shepherd. Instead he chose comedy in spite of his actual talents. His credits are impressive. Diamond has appeared in "Seinfeld", "Friends", "Politically Incorrect", "Curb Your Enthusiasm" and every movie with the word "party" in it. Bachelor Party, House Party I and II.
Barry Diamond is an absolute hit on stage; he's a cut above the rest, with a high-calibre repertoire, which sees him undergo numerous character driven and personality changes with great effect. Seamlessly going from one to the other. He also has a powerful singing voice and opens and closes his performance with two superb numbers. Then he dances. He dances until he is shot in the neck with a tranquilizer dart.