The Bronx Wanderers & The Motortown All-Stars (Barabra B. Mann Performing Arts Hall- Fort Myers)
* The Bronx Wanderers & The Motortown All-Stars.
This is going to be "some" show… The bet here, is SRO!
Jeff Eats and Mrs. Jeff Eats plan on being there!
Trust Jeff Eats on this one, I personally know both groups…they will absolutely positively blow you away!
Tickets go on sale 9/25/15 at 10am.
Tickets: bbmannpah.com and poprockdoowopp.com
Event Date: Sun, Jan-3-2016
Event Time: 7:00 pm
Barbara B. Mann
13350 FSW Parkway
Fort Myers, FL 33919
(800) 440-7469
(239) 481-4849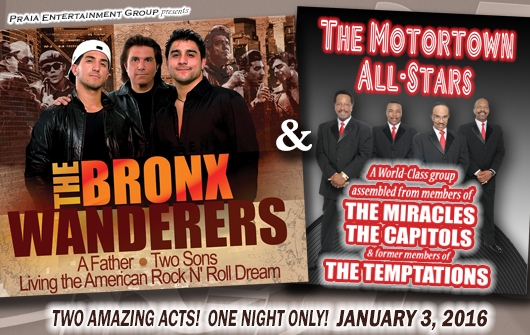 The Bronx Wanderers meet the Motortown All-Stars for a night of the greatest classics hits of all time! It's a New York vs Detroit rock and roll rivalry featuring a father and two sons living the American rock 'n' roll dream facing off against a supergroup of Motown luminaries
The Bronx Wanderers: A powerful romp through America's rock 'n' roll songbook from the first generation right through the music of today. One part "oldies" and two parts rock 'n' roll – from Dion and Frankie Valli to a spine-tingling recreation of Queen's "Bohemian Rhapsody". The Bronx Wanderers have been called the "perfect musical storm," effortlessly creating the perfect level of synergy between generations, the music, the family and the rockin' band that pulls it all together. United by their passion for great music, former gold record producer Yo' Vinny along with sons Vinny "The Kid" and Nicky "Stix" form the heart and soul of this pitch perfect band that delivers a non-stop barrage of hit after hit after delicious hit.
The Motortown All-Stars feature an all-star line-up of vocalists and musicians assembled from the ranks of the Capitols and the Miracles and former members of the Temptations. They are back by popular demand with their full-length Motown show for the New Year! These vocalists have each performed with Motown legends on stages around the world and now they've come together to deliver the biggest Motown hits, complete with impeccable harmonies, dazzling choreography, flashy outfits and a 12-piece orchestra of live strings and brass, adding yet another level of excitement to those instantly recognizable grooves: My Girl; Ain't Too Proud to Beg; Ooh Baby, Baby; Signed, Sealed, Delivered; and so many more! So, Get Ready… this will be their only area appearance this season!